Last week, I promised to tell you a bit more about my trip to Hawaii, and one of the adventures I went on.

Several friends that were with us are scuba divers, and Steve (who I worked with at the Jet Propulsion Laboratory), told us about a dive trip that he enjoys there: swimming with manta rays. (But Steve ended up with the flu and had to cancel at the last minute. Sorry, Steve!)
The rest of us went anyway, with more than one humming the theme to "Gilligan's Island" as we set out on our three hour tour (a three hour touuuur. OK, it was really 4-5 hours, but still!)
On the Water
We went out with Jack's Diving Locker, whose very experienced employees are probably the top Hawaii-based experts on this sort of dive. (Not scuba certified? You can snorkel instead.)
They take you to a cove off the Kona coast on the Big Island and anchor in about 30 ft of water. On the way there we got to see a pod of spinner dolphins, who declined our invitation to come play in our wake, and a trio of humpback whales — two adults and a baby. The mother and baby followed us to the anchor point, and we watched the baby nurse from mom just 200′ off our bow. Amazing to see, but the resulting photos are hard to make out:
Humpback Whales
We then did an hour's dive among the tropical fish (and lots of them), then got back aboard the boat for a snack — and to wait for the sun to go down. (Now there is where I got a great photo!):
Sunset from the Boat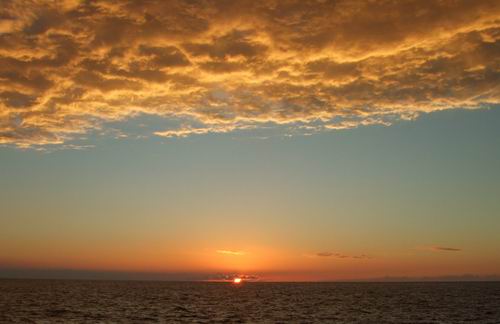 Manta rays can have a "wing span" of 25′ across — over 7 and a half meters — and weigh up to 5,000 lbs. More typically they're around 15′ across and 3,000-4,000 lbs. These aren't "sting" rays — they have no barbs and are very gentle plankton eaters. The best way to see them reliably: dive at night and attract them with lights.
Yes: At Night
Also attracted by lights: plankton, their food. Jack's crew dropped a big battery-powered light into the water and settled it on the bottom. As the sun sank we could see the eerie glow in the water. Once it was plenty dark, we all got back into the water with hand lights.
Let me tell you: it's really freaky to be in the ocean when it's so, so dark.
The divers went to the bottom and shined their lights up into the column, and the snorkelers stayed at the top, shining their lights down. As time went by the water got more and more cloudy with plankton and tiny shrimp attracted by the lights: a feast for a gulping manta.
Yes, it is quite safe: mantas don't even bother the swarms of fish that are also attracted by the lights. But (dang!) no mantas showed up this time. The accommodating folks at Jack's gave me a photo to show you from an earlier dive:
Mantas Feeding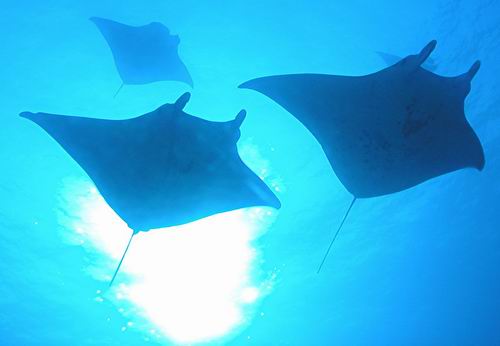 (Photo by Wayne Burger of Jack's Diving Locker, used with permission.)
And check out this amazing video of mantas feeding at this same site, taken by another Jack's employee. You can see the divers and snorkelers as the mantas circle from surface to floor, gulping up food. Swimming in the open ocean in the dark was wild; I can't imagine the thrill of having a 20′ ray brushing up against me in that environment, too!
The whole idea was for our group to have an amazing group bonding experience. Even though no mantas showed up, the trip, the dolphins, and the humpback whales made it a fantastic success. Even Steve was jealous of our great humpback sighting (but no, darn it: we didn't hear any whale songs while we were in the water). I can't recommend this trip more to avid divers and snorkelers.
Need Fuel?
I guess this is for the people who didn't like New Coke, either. I mean really: classic gasoline?! I guess they have to do something to justify the $3.91 price; most stations I saw on the island were charging around $3.25/gal.
Punalu'u Beach
Yes, it's Really Black