I thought many readers would like to see the photos that go with a story from the 10 February 2008 issue, and maybe you will have examples of other "inappropriate" products, especially for children. First, the story:

Who?
The staff of the U.K. branch of the Woolworths department stores didn't see anything wrong with the bedroom set designed for 6-year-old girls: it was dubbed the "Lolita Midsleeper Combi" and sold for 395 pounds (US$769) on the store's web site. The store refused to withdraw or rename the product because it wanted to "follow current trends," but a U.K.-based child-raising online forum continued to raise a fuss until the store bothered to investigate why "Lolita" might be an inappropriate marketing tactic. The 1955 book Lolita, which was adapted to film in 1962 and 1997, is about the narrator's sexual relationship with a 12-year-old girl. "We had to look it up" online to understand why shoppers were upset, a Woolworth's spokesman said, claiming no one knew who "Lolita" was. "We certainly know who she is now." The bed has been taken off the market, the spokesman confirmed. "We will be talking to the supplier with regard to how the branding came about." (London Times) …Surely it was suggested by the children's department manager, Mr. Humbert.
The photos include a screen shot from the web offering: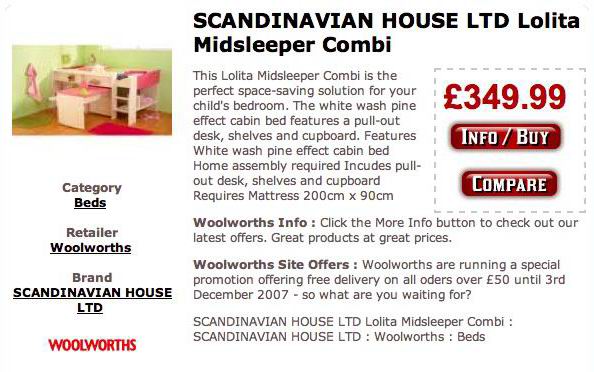 Pregnant with Possibilities
While I was researching this, I found one blogger who particularly chuckled over the bit about the "perfect space-saving solution." Gee, he said: why would a pedophile pay $769 for a bed when the real space-saving innovation would be to have the kid sleep in your bed with you? But certainly that's not something I'd say!
The second shot is a close-up of the item:
What other inappropriate, absurd, perhaps even sexual item have you seen advertised for children? Tell me about it in the comments area. (I do have a previous example from True: "pimp" and "ho" Halloween costumes — yes, for children).
– – –
Bad link? Broken image? Other problem on this page? Use the Help button lower right, and thanks.
This page is an example of my style of "Thought-Provoking Entertainment". This is True is an email newsletter that uses "weird news" as a vehicle to explore the human condition in an entertaining way. If that sounds good, click here to open a subscribe form.
To really support This is True, you're invited to sign up for a subscription to the much-expanded "Premium" edition:
Q: Why would I want to pay more than the minimum rate?
A: To support the publication to help it thrive and stay online: this kind of support means less future need for price increases (and smaller increases when they do happen), which enables more people to upgrade. This option was requested by existing Premium subscribers.