I'm back after being offline for several days while cruising down the Yangtze on a riverboat (more on that in a few days). Meanwhile, a few observations on some things the Chinese are really doing right, healthcare-wise.

Sometimes, when I'm in restaurants at home, I wonder if the food prep workers resent having to wear gloves while they work. I often wear them when on ambulance calls, of course, and even though I work in a cool, low-humidity area, I'm irritated by how the sweat builds up on my hands. I can't imagine having to wear them for hours at a time.
Food workers generally wear them here, too (not counting individual street food vendors), but many also wear face masks. So for any U.S. food workers that hate the gloves: just wait. That's probably just the start.
In fact, it's not at all unusual to see people walking in the streets wearing face masks. Sure, some are hoping to avoid breathing in smog and vehicle exhaust (and, in Tibet, I was told that many wear them to help capture humidity so they're not always breathing such dry air.)
I was so taken by the concept that I just had to have one — they were easy to find in the markets, and I was even able to find one that matched my eyes (which were so strained by the harsh Tibetan sun that I grabbed a hat, too).
Not Shy About Using Them
But here's where the Chinese are a step ahead of the west: have a cold or flu, but you "have to" go out? Many wouldn't dream of exposing others to their germs, so they wear a mask to protect others.
Do that in the U.S. and people think you're a freak. That needs to stop. People should do what they can to help keep others from getting sick; they're doing it for you!
Such behavior is encouraged by the government here, too. I spotted this sign in the airport as we left Hong Kong:
If you've heard of the 1917-1918 "Spanish" flu epidemic that killed hundreds of thousands in the U.S. well before air travel made mobility easy, you know what can happen again. Now millions of lives are at stake, and with the population density of Asia (and the love for very fresh poultry), it's a real danger here. Here's an example of what I mean by fresh poultry: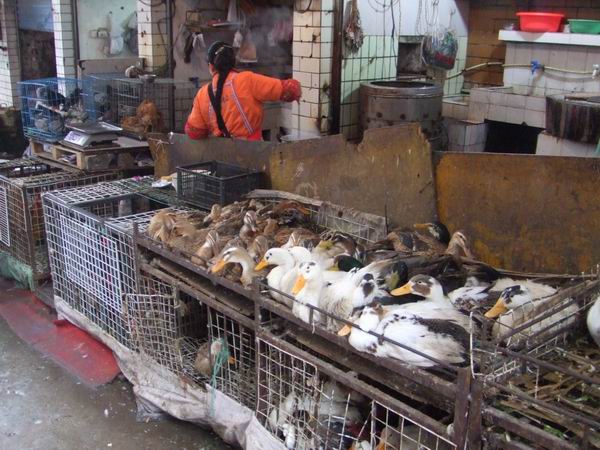 These ducks are just patiently watching shoppers go by in the market, waiting for someone to take them home. I guess that's the sort of calm behavior that led to the idiom, "sitting duck." We watched as one woman chose one and headed home.
Fresh Food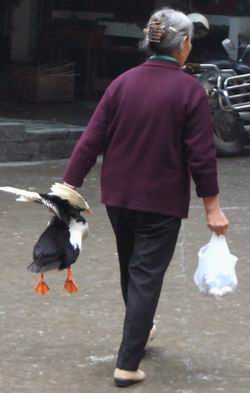 It never even occurred to me to wonder how you carry a live duck home to kill it just before you throw it into the oven, still warm. For this woman, it's a routine matter. No, the duck didn't thrash about; it was still quite calm, perhaps even enjoying the ride.
But back to flu pandemics: once one starts, it will be hard to stop. Thus, there's even a "health check" at the airport.
First, there's a questionnaire: do you have sniffles? A fever? Other symptoms? If so, they check you out.
In Hong Kong (and, I understand, in many other airports and high-traffic areas), they have infrared scanners, looking for people who stand out, thermally, from others — indicating a fever. In any sort of epidemic situation, such people are whisked away to hospitals for more thorough exams, and kept there if they're contagious. And they'll keep them there until they're sure there's no danger of spreading it.
Even foreigners? Absolutely, said one of our guides. See "millions of lives at stake" above. That's what they did when SARS was an issue, he said; they closed the borders to tourists, costing the economy dearly, but it's probably what kept SARS from becoming a bigger problem than it was.
And good for them. Because in all likelihood, when the next strain of bird flu crosses over into the human population (that is, human-to-human transmission), it'll probably happen in Asia. I appreciate that they're aware, and actually doing something about it now, rather than waiting until it's too late.