One of the (many!) highlights of our trip was a visit to the Chengdu Research Base of Giant Panda Breeding (it probably sounds better in Chinese). Chengdu, our first stop after Tibet, is the capital of the Sichuan province.

The Giant Panda is endangered — there are only 2,000-3,000 left in the wild. The Chengdu panda research center, one of about 40 state-sponsored panda reserve centers, has been quite successful in breeding the animals, which don't like to reproduce in captivity.
Our guide noted that they try to encourage natural breeding here by showing the bears sex films. "Panda Porn!", one of our group members exclaimed. I even covered the idea in True way back in 2000 ("Pandamonium" in Volume 6). In 2006 alone, 12 cubs were born here — mostly thanks to artificial insemination, not panda porn.
Eat and Sleep
Another factoid from our guide: the Chinese say the panda "needs sleep" — hence the black circles around their eyes. She noted pandas sleep about 21 hours per day, making it sound more like my cat than a bear.
"The giant panda is a favorite of the human public, at least partly because many people find that the species has an appealing baby-like cuteness," Wikipedia says. "Also, it is usually depicted reclining peacefully eating bamboo, as opposed to hunting, which adds to its image of innocence."
Virtually its entire diet consists of bamboo, and indeed, that was our first in-the-flesh view: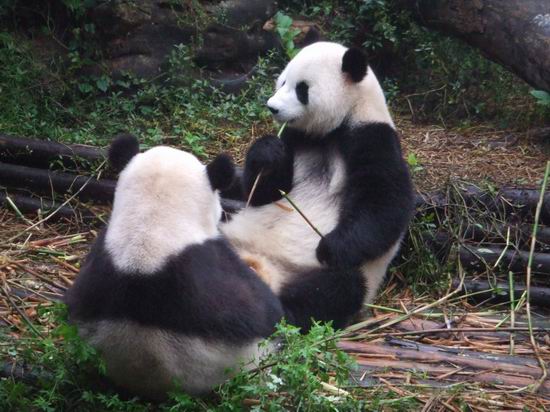 But that wasn't our only view. One enclosure had six bears in it, and we were lucky enough to see them playing. Their play is rough: they wrestle and like to be "king of the mountain" by pushing others off the high ground.
More than once we saw bears fall 6-10 feet and land on their heads — and then another would fall on top of them. I really wish I had my video camera with me, but here's a typical sequence:
Another sequence I didn't get resulted in the lower bear falling all the way down into the "moat."
We did wonder about something: "Giant panda" implies a "lesser panda." Is there one? Yes, sort of: the red panda, sometimes known to the Chinese as the "firefox" — so now you know what the browser is named for. It isn't actually a panda, as it's more related to the raccoon; it's not a bear. It's also endangered — only 2,500-5,000 left in the wild — and the Chengdu center does have quite a few: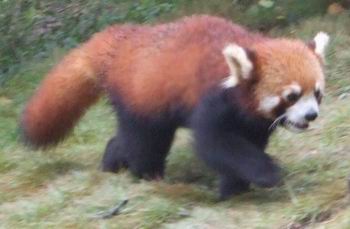 Catch that long bushy tail! It's hard to tell here, but they're about the size of a raccoon, too. I had never even heard of the red panda before, let alone seen one.
Our guide said we were extremely fortunate to see so many animals, and being so active, even playing — especially considering they sleep so much. It was well worth the side trip here to see them.