True contributor Mike Straw, who as you might remember is a fairly recently retired career U.S. Air Force officer, had more to say about one of the stories he wrote this week. We'll start first with the story, from the 7 August 2016 issue:

Knowing is Half the Battle
Silvia Cotriss, 53, had flown the Confederate battle flag in front of her Woodstock, Ga., home for over a year. It wasn't an issue until a neighbor complained to her employer: the Roswell police department, where she had been an officer for over 20 years. Cotriss removed the flag as soon as she was made aware of the complaint, but that notification came with an investigation for conduct unbecoming an officer on or off duty. "Cotriss explained that the flag was part of her history, part of the South, part of history involving the Civil War," the investigative report said. And, the report says, she denied knowing that the Confederate flag was considered offensive to some people, even though an intense debate over that flag has been in the news for over a year. "Cops don't watch the news because we live it in the day and don't want to see it again at night," Cotriss said. She was fired. According to the termination notice, Cotriss "engaged in conduct that was unbecoming, which brought discredit to the Roswell Police Department when she flew" the flag. Cotriss is appealing the decision. (MS/Atlanta Journal-Constitution) …Paying attention: the difference between living the news and becoming the news.
With that, Mike says:
One of the hardest parts of writing for True is getting all the information digested into 200 words or less. I can get pretty verbose sometimes, and it's hard to condense a story down while not losing important information. And when there are complex issues involved, it's nearly impossible to avoid losing the nuance in the True treatment of a story.
This was what I was faced with when I read the articles that would lead to this week's story, "Knowing Is Half the Battle". On the surface, the article is about a culturally clueless police officer who says she didn't know that Confederate flags could be offensive. But as I read the information, I saw several layers that touch on important issues: freedom of speech vs. public obligation, intentional vs. inadvertent racism, multiple meanings of the Confederate battle flag, Black Lives Matter vs. All Lives Matter, cultural sensitivity, and more.
So, I asked Randy if I could write a longer post taking a closer look at some of the issues. This isn't about giving solutions or taking stances. This is True is about "Thought-Provoking Entertainment", and hopefully this post will provoke some thought.
Public Service and the First Amendment
When I went to military basic training, one of the first things we were taught was that in order to support and defend the Constitution, we would be giving up some of our basic Constitutional rights. Freedom of speech is limited for people in public service, especially when acting in an official capacity. As a member of the Air Force, I was not allowed to express a public opinion about elected officials or candidates, and as an officer I could be court martialed for speaking disparagingly of anyone in my chain of command, up to and including the President. There were some things I could do and say if I was out of uniform and not mentioning my military affiliation, but even out of uniform, there were limits (I couldn't, for example, support a group with a goal of overthrowing the U.S. government or that promotes hate and/or racism).
The original Atlanta Journal-Constitution story mentioned a First Amendment attorney who believed Cotriss's firing was an overreach. I believe the question that must be answered is did what Cotriss do have an impact on her ability to perform her duties as a police officer? If — as the complainant said — she had her official vehicle parked in the yard by the flag, then it could. When my wife and I discussed this story, she brought up another point: would a black person seeing the Confederate flag in the yard of an officer of the law then feel safe encountering her in uniform? Since the likely answer is "no," is this one of those cases where the flag shouldn't be allowed whether or not there's a visible indicator of her status as an officer?
One part of this story that bothers me is that Cotriss was fired based on a single complaint, after a year, when she immediately corrected the problem. Is it fair to respond this harshly to something that had been implicitly allowed for this long without any warning?
The Confederate Flag
As a symbol, the flag has been controversial lately. While the flag wasn't the national flag of the Confederate States, in most minds it represents that nation — and all the controversy that goes with it [see below for a discussion of the flag's history]. For some like Cotriss, the flag represents a proud heritage of standing up to an oppressor and fighting for the rights of states to determine their own course. To others, it represents a history of enslaving a group of people and the racism that continues to flow from that history. There are strong emotions on both sides, and the clashes around it have been in the national spotlight for a while (which is why the idea of Cotriss not knowing about it is pretty amazing).
Racism vs. Cultural Heritage
One of the most interesting experiences I had was when I visited a Confederate military museum in the South. As I walked through, I realized that regardless of which side of history they ended up on, the soldiers that fought for the Confederacy still fought honorably for a cause they believed in. There's a certain respect among members of the profession of arms even when they're enemies. The flag Cotriss flew was a battle flag: to people like her it represents the honor of those soldiers who fought and died under it much like the American flag represents the military members who fought and died defending it and all it stands for. It also represents a proud heritage that possibly pointed to her own family, as it's likely some of her ancestors may have fought for the Confederacy.
On the other hand, to other people in the area, it represents a different heritage: the heritage of groups like the KKK who believe in the superiority of the white race above all others and the heritage of enslavement and oppression of blacks. There's little doubt that racist beliefs were a part of the culture that entered the Civil War, so when those racist undertones are represented by a symbol proudly flown by a person responsible to keep the peace, what does it do to that peace?
Paradigms and Perspectives
In my mind, this is a prime example of where different people have different perspectives on a common theme. When two people see the world through different paradigms, it's difficult if not impossible for them to understand how the other person can believe what they do. "How can someone see the Confederate flag as racist? People that do that are tearing down my proud heritage." vs. "How can someone see the Confederate flag as a positive thing? It obviously represents racism and hatred."
A few years ago, I read an article from, of all things, Cracked magazine. The article was called "What is the Monkeysphere?" It describes how we as humans are configured to only see a limited number of people as actual people, and we revert to abstractions when seeing beyond that limited group. For example, someone would have a much stronger reaction to 10 people from their own school being killed in a bus accident than they would to 10,000 people dying in an earthquake on the other side of the world. It also explains why we sometimes don't get other perspectives on an issue. We don't see those as real because they contradict our own perspectives — and come from people we see in a more abstract way than our closest friends.
Relevant Links:
---
Publisher Randy Cassingham's Comments
A little historical context is in order here.
William Tappan Thompson (1812–1882) was an American writer who co-founded Georgia's Savannah Morning News in the 1850s, known then as the Daily Morning News. He was a strong supporter of the Confederacy.
In 1863, as the editor of the Morning News he proposed a design that would ultimately become the Confederacy's second national flag, which would be come to known as the "Stainless Banner".
In a series of editorials, Thompson wrote why his flag's design should be chosen to represent the Confederacy, including:
As a people, we are fighting to maintain the Heaven-ordained supremacy of the white man over the inferior or colored race; a white flag would thus be emblematical of our cause. … Such a flag…would soon take rank among the proudest ensigns of the nations, and be hailed by the civilized world as THE WHITE MAN'S FLAG.
That "Second Confederate" flag is this one, which I've put in a box to make it clear where its borders are:
After his design was chosen by the Confederacy on May 1, 1863, Thompson editorialized in his paper:
As a national emblem, it is significant of our higher cause, the cause of a superior race, and a higher civilization contending against ignorance, infidelity, and barbarism. Another merit in the new flag is, that it bears no resemblance to the now infamous banner of the Yankee vandals.
…As did the Confederacy's first flag, the "stars and bars" — which had a varying number of stars — first four stars, then seven stars, and then 13, when officially adopted on November 28, 1861:
What's generally flown today is actually a variant of the Army of Northern Virginia battle flag:
…which in modern times has been stretched into a more-common rectangular flag shape and is commonly called the "Confederate flag":
It's that flag that's so controversial today, especially considering Thompson's description of what he thought of as the Confederate flag: it's a "WHITE MAN'S FLAG"
designed and intended
to represent "the Heaven-ordained supremacy of the white man over the inferior or colored race."
So if you want to celebrate that flag as "part of history, part of the South, part of history involving the Civil War," you have to start by admitting that the history being celebrated is wrapped up inexorably in racism.
So while the police officer may have been totally ignorant of the current controversy regarding the "Confederate flag" she proudly flew as part of her "history," she's also apparently professing her ignorance at its racist symbolism, overtly present from the start. Thus Mike's title for the story is perfect: "Knowing Is Half the Battle" — thought-provoking indeed!
—RC
2020 Update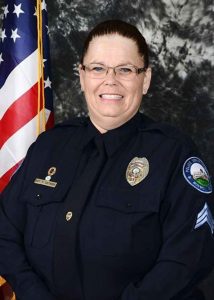 With the help of the Southern Legal Resource Center, Cotriss did file suit against her former employer in December 2016. "Being fired by Roswell P.D. violates my First Amendment rights," she said. Incredibly, Cotriss claimed that the flag was raised by a "roommate" who had since moved away — and that she did "not remember" his full name. It then came out that she had also flown the flag at a previous residence.
After various motions and maneuvers, Judge William Ray II of the United States District Court (Northern District of Georgia) ordered Summary Judgment to dismiss Cotriss's case as she was unlikely to prevail at trial.
It is Ordered and Adjudged that the plaintiff take nothing; that the defendant recover its costs of this action, and the action be, and the same hereby is, dismissed. Dated at Atlanta, Georgia, this 3rd day of July, 2019. (emphasis from original)
Cottriss's attorneys filed a notice of appeal 16 days later. I was not able to find any judgments from the Court of Appeals, so as far as I can tell the appeal did not succeed.
– – –
Bad link? Broken image? Other problem on this page? Use the Help button lower right, and thanks.
This page is an example of my style of "Thought-Provoking Entertainment". This is True is an email newsletter that uses "weird news" as a vehicle to explore the human condition in an entertaining way. If that sounds good, click here to open a subscribe form.
To really support This is True, you're invited to sign up for a subscription to the much-expanded "Premium" edition:
Q: Why would I want to pay more than the minimum rate?
A: To support the publication to help it thrive and stay online: this kind of support means less future need for price increases (and smaller increases when they do happen), which enables more people to upgrade. This option was requested by existing Premium subscribers.