In This Episode: The "little things" matter — a lot. Right down to making the world a better place for generations to come, and they're easy to do. And really: if a 5-year-old is obviously starting to develop Uncommon Sense, anyone who puts their mind to it can develop it too.

022: The Little Things
Tweet
Jump to Transcript
How to Subscribe and List of All Episodes
Show Notes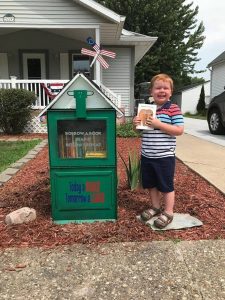 To help support Uncommon Sense, see the Patron's Page, or the form in the sidebar.
Links for the two studies I mentioned about the benefits of reading: Science Direct and Open Research (abstract only).
Moved to contribute books to Logan's Little Library? Since he has an overabundance, might I suggest you find a Little Free Library near you instead? Or (gasp!) even consider starting your own!
Wikipedia's biography of Andrew Carnegie explains his support for libraries.
My own photo of Little Free Library in Colorado:

Transcript
We've heard a lot of examples in prior episodes of little things making a big difference. In this case, we start with a little boy — a very young child. You can see the glimmers of Uncommon Sense that early: you'll see what I mean. And then I'll widen out into a bigger picture. Meanwhile, seriously: if a 5-year-old is obviously starting to develop Uncommon Sense, anyone who puts their mind to it can develop it too.
Welcome to Uncommon Sense, I'm Randy Cassingham.
Logan Brinson's family moved to Alpha, Illinois, in 2017, "and one of the first things we noticed," says his father, Brandon, "was the local village didn't have a library."
Logan may only be 5, and is only in pre-school, but he already loves books. And by the way, books are a great path to developing Uncommon Sense. A study published last month in Social Science Research says a "growing body of evidence supports the contention of scholarly culture theory that immersing children in book-oriented environments benefits their later educational achievement, attainment and occupational standing." Not just for literacy, they say, but "numeracy" and "technological problem solving." So much so, they found, that "Bookish adolescents with lower secondary education credentials become as literate, numerate and technologically apt in adulthood as university graduates who grew up with only a few books."
If that sounded like academic gobbly-gook, let me summarize: Just having an affinity for, and being allowed access to, books can actually get kids up to par with non-book-loving college graduates. Now: imagine combining the two. I'll link to that study on the Show Page.
Oh, and notice I'm not saying "textbooks" here. Even literary novels help expand the mind, improve vocabulary and learning, and spark creativity and, yes, achievement.
And that study was not any kind of fluke. Another study from 2010 showed that kids who grow up in homes with books get as much advantage from them alone — that is, even if they have uneducated, even illiterate parents — as they would from having educated parents. And not just in the United States: that study looked at kids in 27 different countries and found, "It holds equally in rich nations and in poor; in the past and in the present; under Communism, capitalism, and Apartheid." I only have the abstract for that one, but I'll link to that, too.
But let's get back to little Logan. Again, he was disappointed that the little town where his family moved to didn't have a library. That was a bit shocking to him, even at 5, because heck, even his bedroom has a shelf-full of books! He gave a reporter a tour. For instance, he pointed out what sounds like one of his favorites: The Very Hungry Caterpillar. Heck, even I've heard of that one: it's a best seller. Seriously! It has sold at the average rate of a copy a minute since it was published in 1969 — more than 30 million of them. Logan summarized the complex plot for the reporter: "He eats a lot of food like I do."
OK, Logan probably has no idea how important reading is, so why does he like it so much? "Because you get to talk," he says. "I talk a lot." Don't worry Mr. and Mrs. Brinson: some day he'll discover the joys of silent reading.
But Logan worried about the other little kids in town — the town that's so little, it doesn't have a library. So he created one in his own front yard. I'm guessing his dad helped: it's made from an old newspaper vending machine. There's a lot of surplus old newspaper vending machines, so it's great that they're being put to good use, and fabulous that they're still catering to readers. Logan's is a place where kids — and probably anyone else — can borrow a book, for free.
Sure enough, these little cabinets of books are called "Little Free Libraries". How do they work? Logan explains that, too (he likes to talk): "You would have to open this and take one of the books out," he explains. "Only one! And then you have to close this back up an then you have to bring it back another day." He may only be 5, but he's got it down! I have a photo of him with his little front-yard project on the Show Page.
Meanwhile, Logan has learned other people want to help little kids like him get more books in circulation. They're sending them to him for his Little Free Library in Alpha, Illinois, from as far away as Scotland. "The old books they used to have," he says, "they just give it to us for our little library."
So many, in fact, that his Little Free Library, with the emphasis on little, got a lot overwhelmed. His father, Brandon, put it on Logan to solve, so I think I see who's teaching Logan Uncommon Sense! Brandon says, "We had Logan go up to the village and pitch his proposal about putting a second library in."
And after that little presentation from the little man? "They approved," Brandon said. They gave him a location in the center of town …right next to the gazebo. You don't need a picture of that: if you've ever been in a tiny town you've got it in your mind already!
Logan didn't come up with this big idea himself, of course, and neither did Brandon: there's a Little Free Library movement. It was started by Todd Bol, in front of his house in Hudson, Wisconsin, in 2009. His also was a little box in his yard, but he was not a little kid. It sat there quietly, not getting much attention, until 2010, when Bol had a garage sale. Lots of people coming by to see what was for sale noticed the cabinet in the yard, asked what it was, and then it took off like wildfire.
Bol, who had professional experience in creating non-profits, naturally founded a non-profit to help others create Little Free Libraries. His goal was to create, get this, 2,510 of them. Why that specific number? Because he wanted to exceed the total of 2,509 libraries created with the help of Andrew Carnegie from 1883 to 1929. Clearly the idea filled a need: Bol's goal was hit within months.
After all, it's easier to create the little things, which is part of the point here. These little things are easy to do, yet they can make a big, big difference.
"I really believe in a Little Free Library on every block and a book in every hand," Bol said about his motives. "Kids reading and people reading to them, you know, it changes everything. It changes the whole attitude of what is valued in a community. A Little Free Library is this sweet little nudge."
And that nudge is, as noted earlier, to the benefit of us all. It makes the world a better place to live in, with kids growing up to be more successful — and to develop more Uncommon Sense to keep the cycle going.
As for Bol's 2,510 Little Free Library goal, in August 2018, the 75-thousandth Little Free Library was registered by his non-profit organization; untold thousands more have been installed, but not registered, like Logan's. And that number is still going up, even though Bol died in October. Before I recorded this I checked their web site, and the number is now over 82,000, in 91 countries.
So there you go: doing little things that have bigger repercussions, developing Uncommon Sense in the young, and giving back to the community all tied up in one little newspaper box. Start small, build, and change the world. That's what Uncommon Sense is good for.
I'll include a photo of another Little Free Library I took last year, just because I thought it was cool. It's on the Show Page at thisistrue.com/podcast22, where you can also comment.
I'm Randy Cassingham … and I'll talk at you later.
- - -
This page is an example of Randy Cassingham's style of "Thought-Provoking Entertainment". His This is True is an email newsletter that uses "weird news" as a vehicle to explore the human condition in an entertaining way. If that sounds good, click here to open a subscribe form.
To really support This is True, you're invited to sign up for a subscription to the much-expanded "Premium" edition:
Q: Why would I want to pay more than the regular rate?
A: To support the publication to help it thrive and stay online: this kind of support means less future need for price increases (and smaller increases when they do happen), which enables more people to upgrade. This option was requested by existing Premium subscribers.