I'm taking a quick break from writing the stories for this week's issue to tell you why I'm rejecting a story, even though it's mind-boggling in its implication.

The story's lead (or, as they say in the news biz, "lede") paragraph: "The driver of a Department of Transportation snow plow was charged Monday with driving while intoxicated when he struck two vehicles while clearing snow in Morris County [N.J.], police said."
What Caught My Eye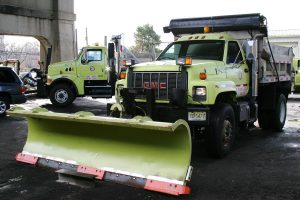 The "amusing" part, which is why the story was in contention for True in the first place: witnesses say on January 8th, the state Department of Transportation plow hit a parked car. The driver got out and looked at the damage, jumped back in his truck, and then immediately plowed into another car.
Pequannock Township Police responded and arrested him. They report his blood-alcohol level was .36%! "Legally drunk" for most drivers is a .08% BAL; for a commercial vehicle operator in New Jersey, it's half that, so he was allegedly 9x the legal limit.
But that's still not the mind-bogging part. It's this: the arrest is the 36-year-old Roger S. Attieh's fourth drunk-driving arrest! He was convicted in 2002 (and had his license suspended for six months), convicted again in 2007 (and had his license suspended for two years), and the third charge, from December 14, is still pending. All the cases are in New Jersey, so it's not like they can't see records from other states. Yet they not only employ someone as a driver who has this record, but let him drive again less than a month after his third arrest?!
Slap … my … forehead.
Despite the obvious questions here, the only comment the reporter makes in the story about this glaring absurdity is that the NJ-DOT "hasn't yet responded to questions about the DOT's hiring and employment policies" — and the article hasn't been updated since its January 9 publication. They simply moved on.
This is why news organizations need commentators, not just reporters. Since news organizations have been falling down on this job pretty consistently for years, I'm proud that This is True has been offering news commentary — and, by extension, commentary on The Human Condition — since 1994. Indeed, that's completely what it's "about." If you don't already have a subscription, get one and see what you've been missing: basic subscriptions are free.
So why didn't I just make this a regular This is True story? Because I just can't say all of this in 150 words.
Law Clarification
According to a nice summary by Findlaw, the Federal Highway Administration drug and alcohol rules seem to be the basis for the noted New Jersey alcohol limits, and are based on the Omnibus Transportation Employee Testing Act of 1991, and apply to anyone with a commercial driver's license. Interestingly, the rules even apply to a supervisor who merely assigns drivers to operate such vehicles.
It is that federal law that dictates that the alcohol limit for CDL-based drivers is 0.04 percent. Additionally, they cannot drive such a vehicle within four hours after using any amount of alcohol.
Further, when a violation has occurred, "Follow-up tests are unannounced and at least 6 tests must be conducted in the first 12 months after a driver returns to duty. Follow-up testing may be extended for up to 60 months following return to duty." (emphasis added) It's unclear to me whether that means a conviction, or a "mere" arrest — again, the driver in question was arrested for DUI in December. It is unknown if NJ-DOT did any testing on this driver after that arrest.
Also, Findlaw notes, "Drivers who have engaged in alcohol misuse cannot return to safety-sensitive duties until they have been evaluated by a substance abuse professional and complied with any treatment recommendations to assist them with an alcohol problem. To further safeguard transportation safety, drivers who have any alcohol concentration (defined as 0.02 or greater) when tested just before, during or just after performing safety-sensitive functions must also be removed from performing such duties for 24 hours."
A CDL is required for any vehicle weighing 26,001 pounds or more. A commercial snow plow, such as the one pictured, typically weighs around 60,000 pounds, and thus clearly requires such a license.
Story Source: Drunk Snow Plow Driver Slams Into 2 Cars, Cops Say, which is based on the police blotter item here.
– – –
Bad link? Broken image? Other problem on this page? Let Me Know, and thanks.
This page is an example of Randy Cassingham's style of "Thought-Provoking Entertainment". His This is True is an email newsletter that uses "weird news" as a vehicle to explore the human condition in an entertaining way. If that sounds good, click here to open a subscribe form.
To really support This is True, you're invited to sign up for a subscription to the much-expanded "Premium" edition:
Q: Why would I want to pay more than the regular rate?
A: To support the publication to help it thrive and stay online: this kind of support means less future need for price increases (and smaller increases when they do happen), which enables more people to upgrade. This option was requested by existing Premium subscribers.