When it Comes to "Big" News Stories, I like to focus on some of the smaller points — the parts that illustrate the "thinking" aspects of the stories, or what should be the "lessons learned" from them. Hawaii's "ballistic missile" incident is a perfect example. Let's start with my take on it, from True's 14 January 2018 issue:

If You Have to Fry, Hawaii is the Place to Do It
The false cell phone warning of "BALLISTIC MISSILE THREAT INBOUND" to Hawaii sent islanders and tourists into a panic — after all, it even said "THIS IS NOT A DRILL." The real problem, officials say, is that while it was quickly determined to be a false alarm, it took 38 minutes for a follow-up message to be sent through the same warning systems to let everyone know they weren't about to die. In a press conference later, Gov. David Ige explained how it happened: an "employee pushed the wrong button." (RC/Honolulu Star-Advertiser) …Not too reassuring: that's how the missiles would be launched in the first place.
It's Worse than You Think
But wait, there's more! How could the guy have pushed "the wrong button"? Because the software interface was garbage. At shift change, the state's Emergency Management Agency employee taking over the position was supposed to test the warning system. Hawaii has been a bit on edge with the escalation of tensions with North Korea, and Hawaii is an easier target for that country's despot to hit than the American mainland. Hence the more attention being made to early warning systems in Hawaii.
But here's how that employee had to do it: he had to use a pull-down menu on his computer and select one of two options: "Test missile alert" and "Missile alert" — and when aiming for the former he actually clicked the latter. Have you ever clicked where you didn't mean to? I sure have. But "important" selections should be away from "less important" functions, and they were right together.

As far as I can tell, both options did have a "Did you really mean to click this?" confirmation process, which of course trains the operator to ignore what it says since it's always there, always asking the same thing, so naturally he clicked "OK" on that.
But It Gets Worse
The first scandal is, it was that easy to send a false alert. The second scandal is that there was no similar function to send any sort of retraction: it took so long that both the state EMA and the governor were able to get "tweets" out long before the retraction was sent via the same cell phone emergency message service, 38 minutes later. The reason? While Hawaii's EMA has standing permission from the Federal Emergency Management Agency to use the cell phone system to send missile alerts, they had no permission to send any other sort of alert, according to Hawaii EMA spokesman Richard Rapoza.
"We had to double back and work with FEMA" to write the correction, and then to get approval to send it, Rapoza said, "and that's what took time." He says they have already updated the software to be able to instantly send such a correction alert, but he didn't mention whether the user interface that created the mistake in the first place has been addressed.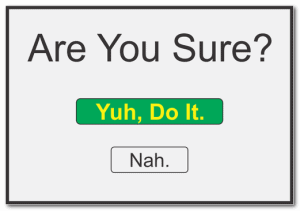 "Part of the problem was it was too easy — for anyone — to make such a big mistake," Rapoza said.
That's not "part" of the problem, it's the main problem. People will click the wrong thing, whether because of a muscle twitch, not looking carefully, or sneezing at the wrong moment. It is going to happen again. The question is, then what? That's not being addressed very well.
Meanwhile, in Hawaii, they've changed the system so a second person has to do the confirmation, not the employee who clicked the button in the first place. That may help …unless the confirmation message for each choice is exactly the same, and it becomes habit to click "OK" every time.
The unnamed employee who clicked the "wrong button" and then confirmed the click has been "temporarily reassigned" to other duties in the department, which I read as "until this blows over." Frankly, I sympathize with him, since the real problem is how the system was designed. Hawaii at least worked quickly to get a start on fixing that interface, but it's merely a start.
Tuesday Update
Here's the newly "improved" screen for the operator:

Still a Horrible Design
This isn't a "pull-down menu" as the Hawaiian officials originally described, but notice how pretty important functions are haphazardly mixed with mundane, routine functions. It's unclear whether the order of any of the items have been changed.
Next, realize the operator has to remember what various acronyms mean. My take: "CDW" means Civil Defense Warning, while "CEM" is Civil Emergency Message. What's the difference between a "warning" and a "message"? It probably means something to the bureaucrats.
The bottom line: this system needs a complete scrub by a programmer who actually understands user interface design, because this error was downright inevitable.
But It Gets Worse Again!
Now the world knows that the login password for the warning system is "Warningpoint2". How do we know? Because of all the press hoopla over this, the Hawaiian Emergency Management Agency is doing a lot of interviews, and a reporter noticed that the password was stuck to the user's monitor, on a Post-It note. You just can't make this stuff up.
– – –
Bad link? Broken image? Other problem on this page? Use the Help button lower right, and thanks.
This page is an example of my style of "Thought-Provoking Entertainment". This is True is an email newsletter that uses "weird news" as a vehicle to explore the human condition in an entertaining way. If that sounds good, click here to open a subscribe form.
To really support This is True, you're invited to sign up for a subscription to the much-expanded "Premium" edition:
Q: Why would I want to pay more than the minimum rate?
A: To support the publication to help it thrive and stay online: this kind of support means less future need for price increases (and smaller increases when they do happen), which enables more people to upgrade. This option was requested by existing Premium subscribers.