We're in Las Vegas this week, where Kit is speaking on ADD in entrepreneurs at Affiliate Summit. I came along since it's always interesting to do some networking, and I was able to set up a few meetings while here. Including, by the way, with someone I've known for years that works on Mensa's national conference — the "A.G." or Annual Gathering in Mensa-speak, which will be in Indianapolis this summer. The topic: Kit thinks it's time for me to end my self-exile from speaking, and wants us both to speak at the A.G.

The Crossroads of America
I've never been to Indiana, so why not? I know there are a lot of Mensans in True's audience, so if you're on the fence about attending this year, there's another factor to use to decide. Mensa audiences are fun: they alllmost always get my jokes instantly.
The "almost" is funny: at my very first Mensa speech, at a "Regional Gathering" in Orange County, Calif., there was this one woman in the audience who took all the taglines literally, and would loudly ask "REALLY?!" on just about every joke. After about five of those, I gave the tag and then — before she could say anything — I turned to her and said "No, not really!" The crowd ROARED.
The topic was the "Seven Deadly Sins" — and I introduced the 8th: stupidity. The crowd loved it. But when I introduced the then-Brand Spanking New Get Out of Hell Free card, there was almost a riot as the audience jumped up to get to Kit, who had a huge stack and was handing them out.
The Most Patient Dealer Ever
Meanwhile, in Las Vegas, I was a bit amazed at something new I hadn't seen before: a blackjack table with no dealer. It's all computerized. REALLY? Yes, really!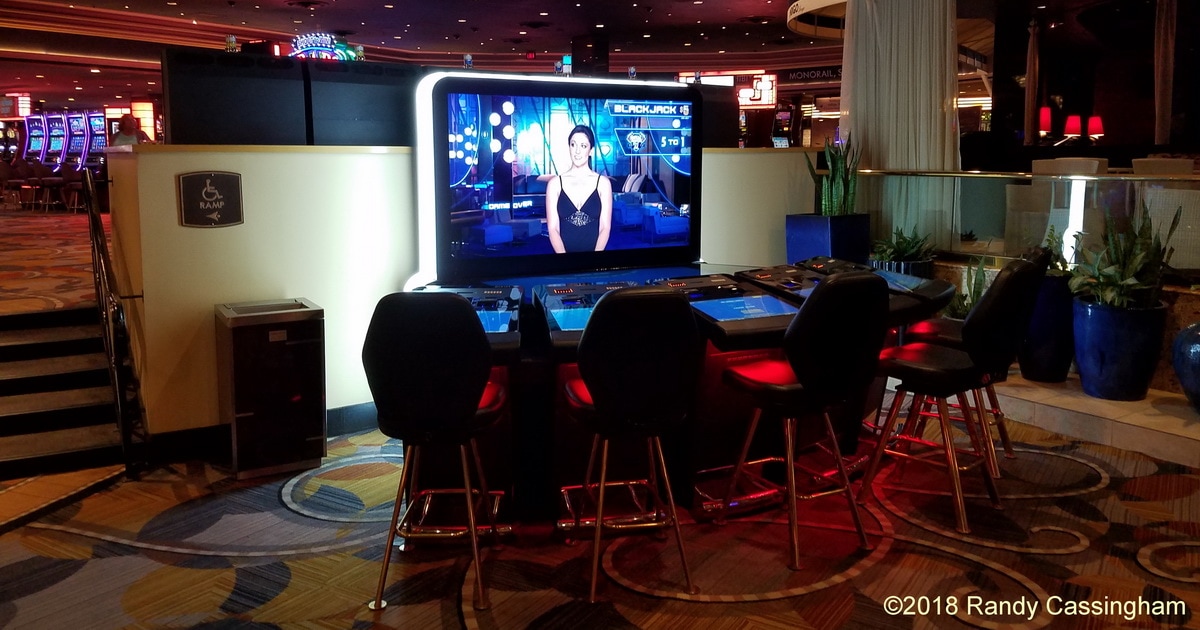 Seriously: I'm All for Automating Processes, But there are some things that just shouldn't be dehumanized. Gambling can be viewed as either entertainment or an addiction; there's nothing better at pushing a casual gamer from the former position to the latter than sitting there alone, gambling without any human contact — other than maybe a cocktail waitress plying you with free drinks to help mask the passing of time.
Yeah, I know: there are robot bartenders too. Hopefully they're programmed to listen to your problems and give reassuring grunts in reply.
So Why Go?
Really, if it's going to be an automated experience of sitting solo, why not just do that at home, online? That way, you can have the music you want playing, rather than whatever trendy tripe is being piped in at the casino. No risk of drunk driving when you leave. No need to pay for a hotel room.
On the rare occasions where I've gambled, viewing it as entertainment where I sometimes walk away with more money than when I started, part of the attraction is interacting with other gamblers, the dealer or croupier, and others. (And I'm an introvert!) So now the casinos are testing doing away with the human part of the equation? No need to pay for a blackjack dealer: just have a computer deal the cards. All the money goes back and forth on a card, which the marks (uh… customers) are encouraged to use so they get "points" — just like frequent flier miles.
Which is one of the reasons I don't gamble anymore. It's just not entertaining anymore. My entertainment dollars go elsewhere — so I wouldn't even think of going to Vegas for vacation, even though there are good shows there.
Part of a Trend
It's not just casinos. The "self checkout" stands at grocery stores take humans out too — and I've read they're expanding that "experiment" and may not have any human-staffed checkouts soon. Yes, I understand employees are more expensive than machines, but for some people, talking to the clerk is the most human interaction they get all day. If they don't get that, then they may as well get their groceries from Amazon, so at least they can say Hi to the UPS driver when they arrive. Except Amazon would rather do the "last mile" delivery by drones….
Certainly I get it: people are expensive. But once we have all the people replaced with machines, will the now-unemployed masses be able to afford to buy anything?
I'm far from a Luddite: I love tech. But I like people, too, and I'm wondering if we're going too far. Customer service matters: it's why I have an employee who takes care of your orders, and your questions. Sorry, but I'm not going to play blackjack with a machine. Or if I was inclined to, I would do it from home, not at a smoky casino that offers me $15 drinks and $16 burgers (and mediocre ones at that).
And even though Walmart is the closest store to my house, why go there if the only employees are security guards watching me (or would those just be robotic cameras)? I'll take Amazon over that every time, and take my chances that Tanya, my UPS driver, will still be behind the wheel.
The Best Part About the Blackjack Bot: I've had to pass by it a bunch of times to and from conference sessions, and I haven't seen anyone using it — not once. Maybe the world won't end after all.
– – –
Bad link? Broken image? Other problem on this page? Use the Help button lower right, and thanks.
This page is an example of my style of "Thought-Provoking Entertainment". This is True is an email newsletter that uses "weird news" as a vehicle to explore the human condition in an entertaining way. If that sounds good, click here to open a subscribe form.
To really support This is True, you're invited to sign up for a subscription to the much-expanded "Premium" edition:
Q: Why would I want to pay more than the minimum rate?
A: To support the publication to help it thrive and stay online: this kind of support means less future need for price increases (and smaller increases when they do happen), which enables more people to upgrade. This option was requested by existing Premium subscribers.