Last week my wife and I went driving to see the fall colors. I thought you'd like to see what the trees look like in the Colorado mountains at about the time the first snow dusts the top of the San Juan mountains.

We went up County Rd. 7, through the bottom of Ralph Lauren's ranch. It tops out at a National Forest trailhead at 9,000′ (2,750m). The scuttlebutt among the locals is that Ralph tried to take the road private. The county replied not only "no" but "no …sir!"
It's a gorgeous take-your-time drive: you don't even need four-wheel drive this time of year.
Most people can't really afford to live here unless they work 2-3 (probably part-time) jobs, or are retired. There are a few exceptions to that rule if you're not independently wealthy: in my case, I brought my job with me. I can work anywhere I can get a good Internet connection, and, well…
Fall Photo Tour
A quick note about the photos: I haven't done anything to them to change the color, or even crop them. I just reduced the size — to about 11% of the original. I shoot raw on a Canon EOS T3i, giving me about 24MB file sizes, and a 5,184×3,456 image. I took 250 photos this trip (yes, exactly!)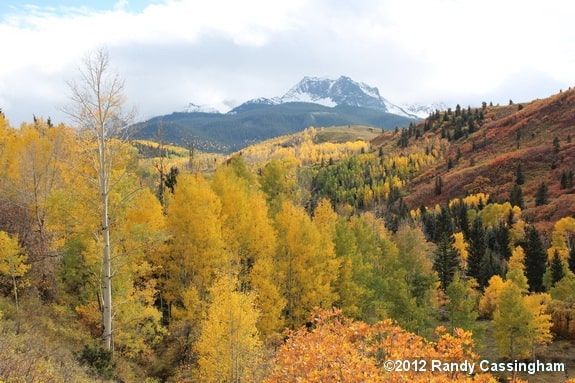 High enough up that we're starting to get a good view. (Frame 668)
A little wider, to show the road, which is still pretty smooth at this point. (670)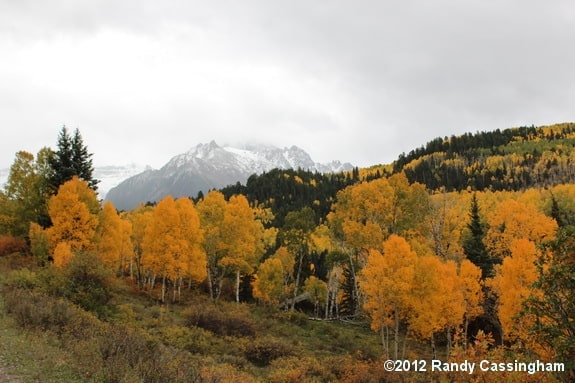 Can't see the top of the mountains. (701)
The trees look like they carpet the hillsides. (750)
Back to the car: we have higher to go! (771)
Pure Colorado gold. The trees are Quaking aspens, if you didn't already know that. (774)
The road presses ever-higher. (777)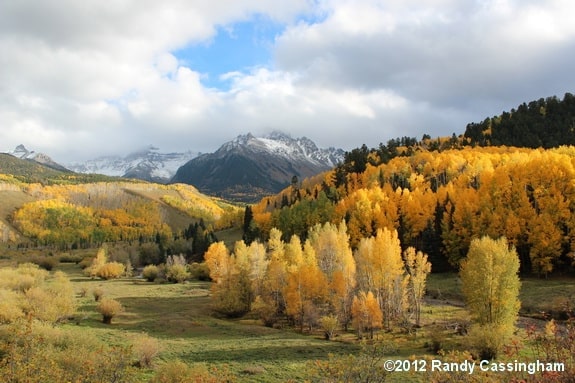 The panorama: meadow, hillsides, and mountain. This is my favorite shot, and I had this one printed, as noted next. My favorite part is the little specks of gold at the base of the mountain: clumps of aspens standing out among the evergreens. (828)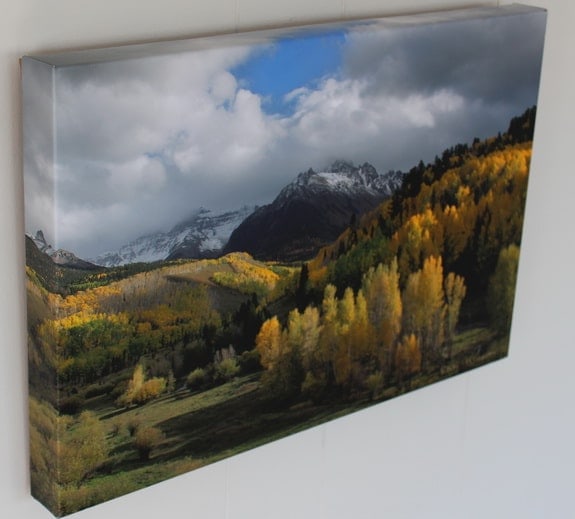 I asked the gallery manager if she wanted to sell it there. She blushed and said no: the owner was also out there that day, and has one that's too similar. They apparently didn't want mine to compete! But she did say that if they did sell it there, they'd price it at $299.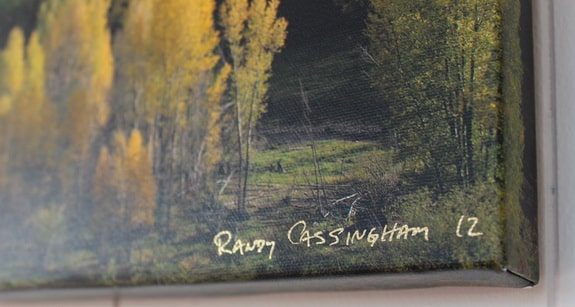 Close-up of the canvas, but it's pretty hard to see the texture of the canvas. After printing, they put on three coats of archival anti-ultraviolet coating so that it will last for decades.
I do sell prints still: see this page for what's available.
Last,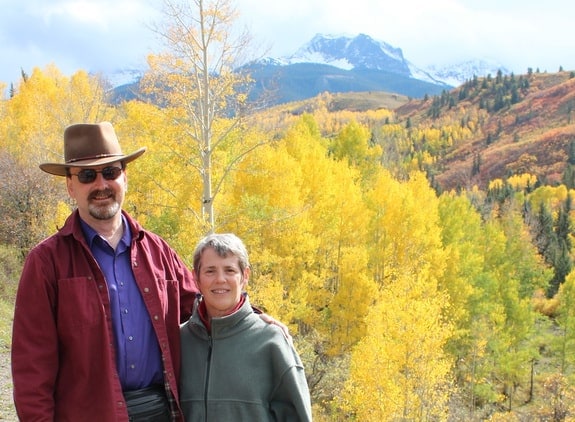 Yes, I am that much taller than Kit. We took this trip four days after our 11th anniversary. It was great to take an afternoon off.
– – –
Bad link? Broken image? Other problem on this page? Use the Help button lower right, and thanks.
This page is an example of my style of "Thought-Provoking Entertainment". This is True is an email newsletter that uses "weird news" as a vehicle to explore the human condition in an entertaining way. If that sounds good, click here to open a subscribe form.
To really support This is True, you're invited to sign up for a subscription to the much-expanded "Premium" edition:
Q: Why would I want to pay more than the minimum rate?
A: To support the publication to help it thrive and stay online: this kind of support means less future need for price increases (and smaller increases when they do happen), which enables more people to upgrade. This option was requested by existing Premium subscribers.