Today is a special anniversary for me (and, well, OK, sure: NASA too).
In 1984, President Ronald Reagan announced the U.S. would build a space station. NASA started gearing up, with various chunks of the project assigned or adopted to various NASA centers. Despite being known as the center for unmanned space probes, the Jet Propulsion Laboratory took on parts of the project work.

In 1986, JPL was assigned by NASA headquarters to create an introductory "user manual" for scientists who wanted to fly experiments on the station: what sort of power supply could they get? Was water available? How about a freezer? What would the microgravity environment be like? Can we attach something to the outside? It went on and on.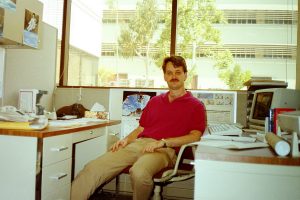 And I, as a recent journalism school graduate with a specialty in science writing — and a knack for explaining complex topics to those outside the field — was the guy hired to research and write the document. I started at JPL in September 1986. The project boss handed me a gigantic stack of documents related to work on the space station so far, and told me to read through them to "get familiar" with the project.
Wait… I get paid to read a bunch of geeky space stuff? My kind of job!
The design was grand …and budgeted at $8 billion. The dollar figure and the timeline were thought to be rather ambitious. Later, NASA tried to push things along with the slogan, "Faster, Better, Cheaper." (Which led to a joke in high circulation at JPL: "Faster, Better, Cheaper: pick any two.")
Every time I finished a draft and sent it to headquarters to review, there would be a weeks to months pause as they looked it over, and the message back would be along the lines of, "Looks great! But we have a new baseline [design] coming, so when that comes out, update it with the new info."
That happened again and again and again …until my boss gave me an interesting task: take all the materials to the sponsor in Washington D.C., hand it to him, and say we resign from the handbook project — and get him to agree to let us keep the funds in the account for other tasks. I didn't think the sponsor would agree, but he agreed to it all, and I moved on to other things at JPL.
Historical Steps
In addition to being the stuff of science fiction for decades, one of the biggest proponent of getting the U.S. into space was Werner von Braun. Sure, he was a member of the Nazi party when working on rockets for Hitler, but he didn't really care about the politics: he just wanted to move humanity into space, and it didn't matter to him who paid for it. So after WWII he happily joined the United States' efforts.
Von Braun envisioned a nuclear-powered station with artificial gravity housing "50 men." The above is a clip from Man in Space*, one of a series of three films produced by Disney(!), and first aired on March 9, 1955, as part of their Disneyland series (later Walt Disney's Wonderful World of Color). After seeing it on TV, President Dwight D. Eisenhower asked for a copy to show to the Pentagon's "rocket experts." It was nominated for an Emmy award for Best Documentary Short. The model shown here has been on long-term loan to the National Air and Space Museum.
But wait: why would a science outpost have artificial gravity? Well, that's not what the scientists really had in mind: they wanted "zero" gravity (really, microgravity), since that's the only place they could get it.
So this is one of the baselines of what we were really planning to build:
Reagan decreed in 1987 the station would be named Freedom as a bit of a dig at the Russians: their Mir space station was launched in 1986: the word means "Peace."
Despite "Faster, Better, Cheaper," by the time I left NASA in 1996 to work on This is True full time, station construction was still years from construction starting. Along the way "Freedom" changed to "Alpha" (1993) and, when cost estimates continued to climb, we came to agreement with Russia (who abandoned their Mir-2 concepts), the European Space Agency, Japan's NASDA, and the Canadian Space Agency came together to contribute to the "International Space Station" — which name has stuck.
The Anniversary
The first launch in the ISS's construction was 20 November 1998: the Russian module Zarya. It took two more years of launches and assembly missions before it could be permanently inhabited, but that finally happened on 2 November 2000 — 20 years ago today.
The three-man crew of "Expedition 1" stayed 136 days, arriving via a Russian Soyuz spacecraft. During that time, three shuttle missions brought supplies — and very welcome visitors.
It has had humans onboard continuously since then.
Here's what it looked like in December 2000. Even after two years of work, it was still pretty bare bones:
When Endeavour (STS-111) visited again after two more years of deliveries and construction work, it wasn't all that much bigger:
Today
The station has been continuously manned (and womaned!) for 20 years as of today.
The station is very easy to see on a clear night, if it happens to pass over your location. It's large, and the brightest moving thing in the sky — and moving fast — it generally only takes 6-8 minutes to go from horizon to horizon. Every time I see it I think to myself, "There are people in there" (and say that out loud to anyone who happens to be nearby, and hasn't heard me say it before). NASA makes it easy with a web site to tell you how to see it.
And they're looking back: when there are no other programs running on NASA TV, the channel usually shows a live video feed of Earth from the station.
I'm proud to have been a minuscule part of the program, even if it didn't get off the ground during my literal tenure at the Jet Propulsion Laboratory. But the station is not an end product: it's a stepping stone as we venture into space: at some point humanity's "continual presence in space" won't be a mere 250 miles from home.
*Addendum: Man in Space (discussed above as the first of three Disney films about space, which had Werner von Braun as a technical advisor and participant) is actually available to stream on Disney+. So is the third in the series, Mars and Beyond, first aired in 1957. What they don't have available is the middle episode, Man and the Moon — and my source was wrong about which episode the above clip is from. It's from the second, also from 1955, which isn't available on Disney+. (Source for details on the episode: NASA/MSFC.)
Related Post: Behind the Scenes at JPL
Further Reading: How the Space Station Became a Base to Launch Humanity's Future (New York Times)
– – –
Bad link? Broken image? Other problem on this page? Use the Help button lower right, and thanks.
This page is an example of my style of "Thought-Provoking Entertainment". This is True is an email newsletter that uses "weird news" as a vehicle to explore the human condition in an entertaining way. If that sounds good, click here to open a subscribe form.
To really support This is True, you're invited to sign up for a subscription to the much-expanded "Premium" edition:
Q: Why would I want to pay more than the minimum rate?
A: To support the publication to help it thrive and stay online: this kind of support means less future need for price increases (and smaller increases when they do happen), which enables more people to upgrade. This option was requested by existing Premium subscribers.