A story last week brought a lot of objection from readers. Well, actually, the tagline did. Let's start with the story, from the 25 September 2011 issue, by Alexander Cohen:

Learning About the Burns and the Bees
When a Lynden, Wash., man's friend was stung by a bee, he decided to get revenge on a mass scale. He went to the beehive in a tree, doused it with gasoline, and ignited it. The resulting fireball was visible for hundreds of feet, and was reported by a waitress at a local country club, Fire Chief Gary Baar said. "No damage, except for a bunch of dead bees," he said. "The correct way to do that is to call a beekeeper." (AC/Bellingham Herald) …The bees are dead and no one was hurt, which is "correct" if you're not a bureaucrat.
The very first of the reader letters on the story was particularly thoughtful and non-venomous, so I'm using it as the representative:
I'm all for your goal of making people think. And I laugh when people grump about your taglines, especially when they pick fights with you for not being THEIR version of politically correct. But here's what I think about this item — a fire chief isn't what the term "bureaucrat" brings to mind. And with all the items you publish about loons creatively/idiotically causing damage, you should be able to imagine what an unintended fireball might accomplish. One reason to call a beekeeper is to perhaps preserve the bees — necessary for agriculture and already threatened by colony collapse disorder — bees aren't pests. Another reason is that the bees might have swarmed, stinging the loon trying to burn them, plus others. You'd usually be — more appropriately — mocking the person taking revenge on the bees. Finally, taking "revenge" on bees — or birds, or flowers, or mammals, or fish, or snowflakes — shows a pretty primitive mindset, much more mock-worthy than a Fire Chief suggesting that uncontrolled fires might be a bad idea. Bottom line — potentially funny item but misguided tagline. –Gabe, Virginia
I am aware of colony collapse issues with bees, but I'm sympathetic to Alexander's tag — and I haven't discussed it with him. He'll learn about this page for the first time after it's published.
When a huge hive in our back yard in Boulder decided it was time to split up (into several swarms, each following its own queen), we brought out a beekeeper several times to come get the new hive. He was grateful to have some "fresh" bees, and (after the third or fourth one!) we were grateful to be given some honey.
But to the story. First, the very definition of "bureaucrat" is "an official in a bureaucracy" (and a "bureaucracy" is "Administration of a government chiefly through bureaus or departments staffed with nonelected officials.") Or, in the more idiomatic sense, "a rule-bound government official who can make your life miserable." A fire chief certainly applies!
Both Are True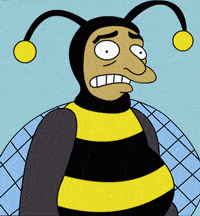 And certainly the guy's mindset was primitive! Yet he pulled it off without injury to himself or bystanders, and he met his goal. Stupid? Sure. Bees are terribly beneficial, but you can't really argue that they're not "pests" in some instances: "An injurious plant or animal, especially one harmful to humans" for another definition (all from my fave, American Heritage). Because beyond the benefit, stings are arguably "harmful" (especially to those who happen to be allergic).
Yeah, you can say the guy in the story is a jerk, but you can also say the fire chief is an officious, rule-laden bureaucrat — and that's the take Alexander had for the story. It was contrarian (sure it would have gone a different way if the buffoon had been engulfed by his own fireball!), and thus an unexpected take on the story.
What bothered me the most was that several readers added a comment about this story to the previous entry in the blog — a page of feel-good feedback. All such comments were deleted without reply: I only accept comments about what's on the page, not unrelated rants that would leave blog readers confused as to what the heck the commenter is talking about.
If you'd like to comment on something in the newsletter that's not posted to the blog, then send the comment to me, and I'll decide whether I want to take space in the blog for it (as here) or not. But don't waste your time or mine by trying to create a discussion on an unrelated page, please. Thanks.
– – –
Bad link? Broken image? Other problem on this page? Use the Help button lower right, and thanks.
This page is an example of my style of "Thought-Provoking Entertainment". This is True is an email newsletter that uses "weird news" as a vehicle to explore the human condition in an entertaining way. If that sounds good, click here to open a subscribe form.
To really support This is True, you're invited to sign up for a subscription to the much-expanded "Premium" edition:
Q: Why would I want to pay more than the minimum rate?
A: To support the publication to help it thrive and stay online: this kind of support means less future need for price increases (and smaller increases when they do happen), which enables more people to upgrade. This option was requested by existing Premium subscribers.