I'm getting more and more mail asking about this, and I've been dropping hints here and there that something's up. So it's time to give you the skinny on where things are with True's book collections. Exciting things are happening!

Part of the original design of True was to publish a book each year compiling the stories. We're coming up on 18 years of stories …but only six books have been published. Part of that was the huge amount of work it took to publish a print book, and part of it was the huge up-front cost in doing the setup, layout, printing, shipping, and storage of thousands of copies of each volume.
Logistical Nightmare
As we got more and more into publishing books, I practically needed a small warehouse to store them all. (Really: a commercial storage unit, which added more cost.) And that was with just six books. What would happen when I had 12, 18, or 20 titles? Yikes. Publishing ground to a halt.
Meanwhile, I could see (murkily, at least) into the future: True has succeeded very nicely since 1994 because of electronic distribution. Meanwhile, we've seen print newspapers dying, some of which have switched to online-only. Bookstores, too, have been dying, while "book readers" — electronic tablets optimized for reading text — have been selling like mad. It's too late for True to be a pioneer in publishing its books electronically, but obviously that's the future of publishing, even if some people would rather read from paper pages.
Print Readers Are a Dying Breed
Just last week, a report was issued by the Pearson Foundation that notes that for the first time, at least among college-age students, a majority prefers electronic over printed books, for both textbook reading and pleasure reading. That's huge, and the numbers are telling:
70% have read digital textbooks
68% of high school seniors have too
In just the past year, tablet computer ownership among college students and college-bound high school seniors has tripled to 25%
35% of those with a tablet computer also have a dedicated ebook reader
two-thirds of them believe that ebooks help them study more efficiently, almost that many think they perform better in class thanks to ebooks, and about 80% agree ebooks makes learning "more fun" and enhance learning
two-thirds of them believe that ebooks will replace printed textbooks within five years. I agree.
Look, I'm a long-time writer and a publisher, and I get that printed books are great. But I literally can't afford to continue to publish True's books in print. The trends are clear, and the demand is huge: people want my books, and the only way I can effectively deliver them is on the platform that people want more and more every day.
Print Publishers Are Lying to Us
Oh, and let me use this opportunity to discuss cost! A lot of printed book publishers are justifying selling ebooks for the same cost as printed books (though sometimes they charge slightly less, and sometimes even more!) They say that really, there is no cost savings to ebooks over printed books. As someone who has been publishing printed books since 1986, let me say this clearly: any publishers still saying that are liars.
While there is definitely cost involved in training and software to start to produce high-quality ebooks, it's just not true that it's cheaper to lay out paper books, print paper books, warehouse paper books, ship paper books to stores at a 40-50% retail discount (and then accept returns of unsold copies), and liquidate unsold copies when a book is no longer popular, than it is to issue that title electronically.
I've got several thousand bucks sunk into developing what I need to publish True's books electronically. That compares pretty closely to setting up, printing, and shipping to my storage unit 3,000 copies of one volume of the True collection. I'm expecting to publish at least ten volumes of True books by Christmas. Heck, it's possible I'll get all 18 out by then. And other books, too, such as a special one on Zero Tolerance and what the trend says about schools (and society). And how about an Honorary Unsubscribe compilation? I'd never try to print that book, but I'd be willing to publish one electronically. And, and, and…!
"But I Don't Want a 'Book Reader'!"
Don't have a book reader or a tablet, and don't want one or can't afford it? That's OK, because you do not need one to read an ebook. You're reading this on a computer, and you can get — free — software to read ebooks on your computer too (and your smartphone). (Useful article: How do I read a Kindle book if I don't have a Kindle?)
As I said, I get that some people prefer paper over screens. Yet I'm finding I greatly prefer reading on my ebook reader now. If I have a choice, I read on my Kindle, or on my Android tablet using Kindle software.
Sometimes, even when I have the paper book, I actually prefer to buy it again on Kindle so I can read it from my reader. Why? Because it's lighter than a book, I can search it, I can pick up where I left off using my phone if I find myself stuck in a waiting room for an hour, and (very importantly, as my eyes age!) I can set it to make the print larger.
That, too, is a huge leap forward that should appeal to older, tech-resistant folks. (Yeah, I'm getting older, but I'm certainly not tech-resistant! 🙂
That doesn't mean you'll prefer ebooks (though I predict you will, just like I found), but frankly, you're not going to have a choice. It's because of that lie from print publishers that this is true: it's so much of a cost savings — tens of thousands of dollars even for a little publisher like me — that the trend will happen. Actually, it is happening. Add in that growing number people who try ebooks and actually prefer them? Well, that's why it is happening.
So the bottom line is, the alternative to ebooks isn't paper books, it's no books.
That's All Theory: What About True's Books?
OK, straight answers.
First, cost: when True's books first started publication in 1995, they were $11 plus shipping. According to the U.S. Bureau of Labor Statistics' Inflation Calculator, $11 in 1995 dollars is $16.43 in 2012 dollars. So what are True's ebooks going to cost in 2012? Just $9.99 or less (and probably less) — and there's no ever-rising shipping cost for ebooks. And that bottom line is proof positive that the print publishers are lying about ebooks costing the same or more!
Second, schedule: there have been several leaps forward (and a few agonizing setbacks) in the work to bring True's books out in electronic format. The back end software is all in place. I ran into a brick wall (read: found a need for a function I hadn't anticipated) earlier this month, and a software update was delivered last week to fix that.
I commissioned new cover art, and that just came in (latest draft shown below). I don't yet know exactly when the first batch of books will be published, but there will be five of them — volumes 1-5, covering True's first five years. The bottom line: I anticipate that (barring any further gotchas) they'll be out by the end of March. I … can … hardly … wait! (And I know a lot of you are chomping at the bit, too, if my mailbox is any indication!)
What About Instant Printing?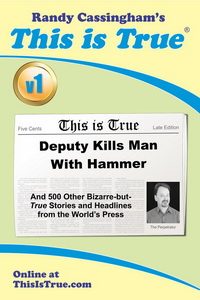 I know that leaves a few questions, like what about instant printing? Yes, there are solutions for instant printing that produce really high-quality books, churning them out as few as one at a time. Awesome technology!
And yes, I'll have those available for those who really, Really, REALLY refuse to give up paper. But you need to know two things. First, the actual manufacturing cost of instant-printed books is double or more what traditionally printed books cost. I don't know what the sales price will be yet, but they're clearly not going to be $9.99, or even $11.
Update: even with the doubling of actual cost and the results of the BLS calculator, the instant-printed books will have a $17 cover price. In other words, about the same price, adjusted for inflation, with no factoring for the actual costs being high.
Will True Books Be Available in "All" Ebook Formats?
I'm starting with the by-far-number-one platform: Amazon's Kindle, so the books will only be available there at the start. But yes they will be available on other platforms too, including Apple's iBook, Google's Android bookstore, and more. It's unclear which specific outlets will be included in "more," but I anticipate serving 99+ percent of the market …which Kindle plus Apple plus Google might actually accomplish.
I'm certainly aware of B&N's Nook, the Sony reader, and others, including more players that haven't yet emerged (for instance, will Microsoft want to play in this space? I'd be surprised if they didn't!)
When? I don't know yet, but for sure at least weeks. I don't know what kinks need to be ironed out yet, so I don't know what it will take to move on to other formats/vendors.
So there you go. This is True book collections: coming soon, and at a cost significantly lower than in 1995!
Any questions?