NOTICE: As you already know from the page title, Includes NSFW Photo
Sometimes you just have to see it to believe it. From True's 4 November 2001 issue:
There's Something About Christian
High school senior Christian Silbereis, 17, of Ann Arbor, Mich., said his mom approved of him borrowing the Halloween costume she made for herself, even though she warned him it might be trouble. So he did it: he went to school dressed in her giant vagina costume. "It's anatomically correct," he said. And why would it be trouble? "It's just another body part. They teach us about it in school." But Community High assistant dean Maggie Jewett said her staff felt "demeaned and outraged" by the boy's costume and suspended him for two and a half days. On the other hand, at the school costume contest Silbereis's outfit won first place, "wild applause," and a petition signed by 85 students objecting to his suspension. (Ann Arbor News) …It wasn't actually the costume that caused the trouble. It was that he hung around all day with the girl dressed in a trash bag billed as a giant condom.
Pretty in Pink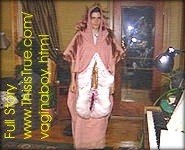 – – –
Bad link? Broken image? Other problem on this page? Use the Help button lower right, and thanks.
This page is an example of my style of "Thought-Provoking Entertainment". This is True is an email newsletter that uses "weird news" as a vehicle to explore the human condition in an entertaining way. If that sounds good, click here to open a subscribe form.
To really support This is True, you're invited to sign up for a subscription to the much-expanded "Premium" edition:
Q: Why would I want to pay more than the minimum rate?
A: To support the publication to help it thrive and stay online: this kind of support means less future need for price increases (and smaller increases when they do happen), which enables more people to upgrade. This option was requested by existing Premium subscribers.