Exactly six weeks after terrorists turned several of our airliners into guided missiles, I flew again.
Going through security at Denver International was interesting: because my shoes apparently have metal in them, they asked me to remove them so they could run them through the x-ray machine. I actually think that's fairly smart; if you want to smuggle razor blades onto an airliner, that'd be the place to do it.
The only gotcha: do you think they provided chairs for the dozens of people they were doing this to so they could put their shoes back on? Nope.
Inconsistent Rules
Then, on the way home, security at the Dallas-Fort Worth airport in Texas was interesting too. They weren't the least bit concerned that the metal detector beeped when they waved it over my shoes. But they were sure interested in my briefcase, since the x-ray operator spotted nail clippers inside.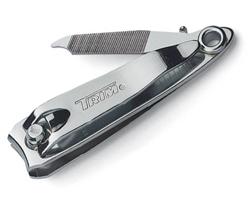 But wait: the government reassured us that nail clippers were OK! Yes, nail clippers are OK, I was told. But look at the included metal nail file with a (dull) point on it! That's a no-no, I was assured — the 1.25″ file is apparently enough to overpower a heavily armed air marshal, and the screener broke it off and handed me my clipper.
They said nothing about the several pens I had on me, of course; a pen is "mightier than the sword" in more ways than one.
It would be pretty darn hard for the tiny file (mounted on a pivot) to hurt someone, so I sure as heck wouldn't think a terrorist would choose that as a weapon over a nice long, sharp pen. At least Denver's worry about metal in my shoes had some logic to it, and they realized that a tiny nail file wasn't a weapon. But the opposite was true in Texas.
It all comes down to the thought processes of a person who wasn't smart enough to get a better-paying job at the airport McDonald's.
I do think the airlines have to be careful, but they don't have to be stupid. They will make mistakes, but when they do they need to apologize for them. The airlines are whining about how the public isn't flying. Instead of offering more value to attract passengers, the airlines are cutting back on service (like reducing food service) and more and more treating passengers like cattle, a trend that started long before September 11.
Will some airlines fail in the next year? Almost certainly. They'll blame it on terrorism, rather than putting the blame where it really lies.
Clue: we're not scared of flying, we're fed up with how the airlines are treating us, their paying customers!
Anyway, I was in Dallas to do a consulting job. A large, non-profit Christian group dedicated to helping churches grow and better serve their members and communities needed help with focusing their email newsletters to their mission and their president, a long-time True fan and Premium subscriber, flew me in. (Boy, is that going to confuse the ranters who insist True and I are anti-Christian!) It was a fun and interesting session.
– – –
Bad link? Broken image? Other problem on this page? Use the Help button lower right, and thanks.
This page is an example of my style of "Thought-Provoking Entertainment". This is True is an email newsletter that uses "weird news" as a vehicle to explore the human condition in an entertaining way. If that sounds good, click here to open a subscribe form.
To really support This is True, you're invited to sign up for a subscription to the much-expanded "Premium" edition:
Q: Why would I want to pay more than the minimum rate?
A: To support the publication to help it thrive and stay online: this kind of support means less future need for price increases (and smaller increases when they do happen), which enables more people to upgrade. This option was requested by existing Premium subscribers.