The Briefest of Backgrounds
For those coming in from other links, This is True is a pioneer in online publishing. Since 1994, it has been the email leader of "weird news." Subscribers get stories every week by email with true tales of human stupidity, all tagged with humorous, opinionated or ironic commentary by me, Randy Cassingham.
This winning combination of well-written human interest material and humor has brought tens of thousands of readers from all over the world. You can subscribe using the form on this page.
Condemned to Hell!
In the Spring of 2000, the British Tomato Association suggested growers might try the ancient Chinese art of feng shui to increase their yields, and I wrote that up for the newsletter, and chuckled at two growers' reaction in the April 23, 2000, edition of True.
One reader, "Santa," was particularly peeved at the story and told me I was "going to hell" for "blasphemy." When True's consulting Methodist Minister told "Santa" he had liked the story too, she also condemned him to hell!
So I got the idea to respond with a "Get Out of Hell Free" card, a parody on the "Get Out of Jail Free" cards in the MONOPOLY® board game. I also offered them to readers for the cost of printing, shipping and handling.
Readers Absolutely Love the Cards. Hasbro Doesn't.
Our more rational readers immediately got the joke and thought the cards were great. Thanks to the "at-cost" price, they bought lots of them to give to friends. If that were the end of the story, this would only be about a "viral marketing" publicity stunt that worked nicely to bring This is True to a new audience — the people readers gave the cards to.
But Hasbro, which owns the MONOPOLY® board game, couldn't see the humor in it and sent their lawyers off to demand an end to the GOOHF card.
Hasbro's lawyers, the Manhattan law firm of Patterson, Belknap, Webb & Tyler, wrote me a "cease and desist" letter, allegedly sending it by Certified Mail on July 25, 2000. I say "allegedly" on that date because they apparently didn't put proper postage on it, and it arrived several dollars postage due. We decided that to pay several dollars to receive a Certified letter from a law firm was a bit too much to ask of anyone, so we refused to pay the postage due and it was returned to them.
So just how anxious was Hasbro to get their complaint heard? We heard nothing from their lawyers until they sent the text of the letter via email to our Internic contact address on September 27 — two full months later! We of course didn't know what was in the letter we had refused until then, when we put the two incidents together.
The letter alleges first that the card "creat[es] a likelihood of confusion with respect to Hasbro's authorization or sponsorship of or association with your commercial activities." We think it's unlikely that anyone viewing an obvious parody would seriously think it was "authorized" or "sponsored" by Hasbro. But, to make it clear, I posted a clear disclaimer in the caption of every image of the card on this site, as well as updated the design of the card itself to include a disclaimer.
In addition, the letter shows Hasbro's attorney did read my clear statement that the card was a parody under copyright laws (see links at the end): she countered with some case law of her own. I'm proud to see I forced them to do some homework.
The gist of their argument was that the card represents a parody not of MONOPOLY®, but of something else, so therefore it is not allowed under the law.
Hello? The card is not an obvious parody of MONOPOLY®?! (OK, OK, we know: nothing is "obvious" in law! And yes, we understand their technical legal ploy.) So fine: we added a lengthy explanation as to why we picked a MONOPOLY® card to parody, rather than (say) Tiddley Winks (which, we suppose, is a registered trademark of someone.) That's the paragraph on the "GOOHF" page — see links below — that starts "But why a parody of the MONOPOLY® card, as opposed to something else?"
I Have Lawyers Too
Although Hasbro's lawyers have only managed to deliver an email letter, I turned it over to my Intellectual Property attorney for response within the 10 days requested by Hasbro's letter.
But even before that letter had a chance to go in the mail, I immediately responded in good faith to Hasbro's stated (and truly not-all-that unreasonable, really) concerns: I have made the reasons for the parody more obvious, and have added a clear disclaimer that Hasbro has nothing to do with True's cards. In addition, in order to "get the word out" about those two items in a clear way to True's readers, I published both of those items in both email editions (free and paid) of This is True.
The End?
Since I haven't heard from Hasbro since October 2000, my lawyer and I believe we have satisfied Hasbro's objections. My attorney, who is very experienced in matters relating to Intellectual Property (especially copyright and trademark law), says that if this went through the legal system, we would likely win. So we are still making the cards available to readers. Should I hear more from Hasbro, I will alert you to updates in This is True (subscription info below). Previous updates are at the end of the page.
Related Links on This Site
November 2000 Update
A lot of readers have expressed support. Thank you for that! Many have asked if they should start a boycott, or write letters to Hasbro. My opinion: No — Hasbro has done what it felt it had to do to protect its rights, and I do not fault them for this.
That is, in part, why I immediately (without waiting the 10 days they gave) responded to their main concerns by adding a disclaimer and by more clearly explaining why the GOOHF card is in fact a direct parody of MONOPOLY®. I believe that should be the end of it.
Because I feel that Hasbro was within its rights to receive such a disclaimer and explanation, I do not support a boycott against their products, and I am not asking that you write to them with your displeasure. Of course what you do is up to you, but I do not feel such actions are necessary at this time. I will, of course, reevaluate this stance should Hasbro not be satisfied with my quick and good-faith response. Please stay tuned to True for updates.
Other readers have asked where they can contribute to a legal defense fund to help with legal costs. I do not have a legal defense fund and am not soliciting donations to help with legal costs, which are (so far) quite minimal. I thank you for your generous offers and support.

April 2001 Update
Hasbro has backed off — they apparently got smart, realizing that a call for a boycott just before Christmas would have been heeded and spread by True's huge audience — and that I would have received incredible publicity over it, further damaging their bottom line over an obvious joke. Indeed, the joke would have been on them. Here's what my new copyright attorney says about that aspect:
The thing is, Hasbro's counsel should have sniffed that they had a potential public relations fiasco on their hands with you much earlier. Assume I don't know anything about you. Pulling your web site up, the first thing that greets you is a quote from the New York Times. Right on the side: a link about press coverage. Copyright and trademark notices, including proper symbol usage and a claim to a registered mark (which a minute and a half's effort could verify unless the registration is very recent). Thirty seconds of effort tells me you have media access and probably a following. Plus, you either have an attorney, or are much more cluefull about Intellectual Property than the vast majority. Click on "Contacting Us" produces what looks like real information (i.e. not hiding), including a phone number. I'd've recommended to Hasbro that their opening salvo be a phone call from some vice president type at the company — not a lawyer — and then see how you respond. A response showing concern and willingness to discuss should produce a response in kind. No ruined holiday sales [from Boycotts]. Two fifteen minute phone calls at an attorney's rate, no time drafting cease and desist letters, planning further strategy, or discussing spin control. When I advise clients in such situations, I tell them that they have to assume that any letter I write will be posted on line — with all the public relations consequences.
It's that kind of common sense approach, of course, that led me to hire him in the first place. My kind of lawyer….

February 2009(!!) Update
A law firm that sends demand letters postage due has already demonstrated its level of competence, but here it is, nine years later, and I just got another nasty cease & desist letter from them.
Hello?! They didn't check their own files and see that Hasbro clearly decided not to move forward against me many years ago? There's such confusion and damage over the 1.5 million cards in circulation that they waited nine years to do something about it?!
No, I don't buy that either. More like the economy is getting rough, and therefore it's a case of "let's see where we can squeeze out a few more bucks" by trying to shake down anyone they can.
Today's letter notes:
We recently became aware that you are offering for sale "Last Chance – Get Out of Hell Free" cards and stickers on your website at www.goofh.com [sic] that depict the famous MR. MONOPOLY® character and are obviously derived from the MONOPOLY® "Chance" card.
"Recently"? Is July of 2000 "recent"? But I digress. The letter continues:
The MR. MONOPOLY® character is the copyrighted property of Hasbro, and also has source-identifying significance as a trademark. Your unauthorized copying of the MR. MONOPOLY® character constitutes copyright infringement … and also violates the federal trademark laws … by creating a likelihood of confusion with respect to Hasbro's authorization or sponsorship of or association with your activities. Your unauthorized use of the MR. MONOPOLY® character is also likely to dilute its distinctive quality and hamper its ability to function as a source-identifying [trademark]….

We therefore demand that you immediately cease and desist from any further use of the MR. MONOPOLY® character, remove the cards and stickers from your website, and provide us with a written assurance that in the future you will refrain from any further unauthorized use of the elements and characters of the MONOPOLY® property trading game.

Fairly boring and typical C&D language, as I talked about even before receiving Hasbro's first nastygram — which text they mentioned in their 2000 letter. But here's the part of the new letter that I really enjoyed:
To assist Hasbro in determining the harm that has been, [sic] we demand that you furnish us with information concerning the length of time that you have sold the infringing cards and stickers, the number of units that have been sold, and the total revenue you have received to date. We will then be in a position to discuss monetary compensation for your unauthorized use.
(Bolding added.)
As I mentioned, my response in 2000 was "no" — and they definitely knew I was selling the cards at that time. The response in February 2009: "Hell no." And Hasbro's attorneys can consider their cards stamped "VOID".

2 March 2009 Update
In a bit of delicious timing, this morning's Wall Street Journal had an article about the "Bunker Mentality" some people are dealing with during the economic downturn. How did they choose to illustrate the concept? With good ol' Rich Uncle Pennybags, holed up in his bunker eating out of tin cans, his useless chest of money cast aside: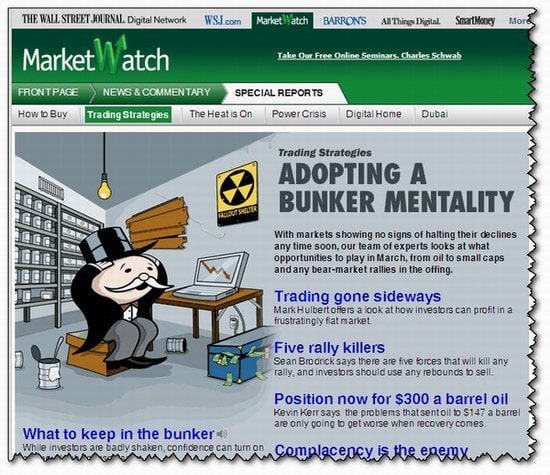 So now Hasbro's lawyers get to turn their attention to someone with very deep pockets: Rupert Murdoch. It must really suck to be Hasbro right now.
– – –
Bad link? Broken image? Other problem on this page? Use the Help button lower right, and thanks.
This page is an example of my style of "Thought-Provoking Entertainment". This is True is an email newsletter that uses "weird news" as a vehicle to explore the human condition in an entertaining way. If that sounds good, click here to open a subscribe form.
To really support This is True, you're invited to sign up for a subscription to the much-expanded "Premium" edition:
Q: Why would I want to pay more than the minimum rate?
A: To support the publication to help it thrive and stay online: this kind of support means less future need for price increases (and smaller increases when they do happen), which enables more people to upgrade. This option was requested by existing Premium subscribers.