I've been editorializing — for a couple of years now — that "Zero Tolerance" policies and laws "terrorize" school children. It's hard enough for adults in America to understand the new way of life as we face true terrorism; imagine how hard it is for kids. Here's how one child tried to cope — and how the "adults" around him reacted.
From the 7 October 2001 issue:
Zero Tolerance Gets Back to Normal
Fifth-grader Paul Volz, 11, dealt with his fear of terrorism through art, drawing the burning World Trade Center towers. He was proud of his work: he taped the picture up near his study cubicle at school in High Ridge, Mo. "When I asked him why he did this, he just looked at me and smiled," said North Jefferson Intermediate School principal Jeff Boyer. "This is totally inappropriate and Paul's behavior has to change," he told the boy's parents. Boyer suspended the boy for three days for smiling at the drawing on grounds it was "disruptive physical conduct or speech" and "communication of a threatening nature." The school district supports the principal, noting "Some drawings can be therapeutic and others can be offensive." (St Louis Post-Dispatch) …"We have met the enemy and he is us." –Walt Kelly (1913-1973), American cartoonist and social commentator.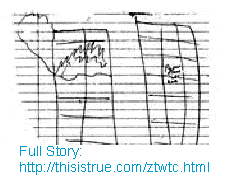 Take a good look at Paul's drawing. Is this a "communication of a threatening nature"? Or is it a child's attempt to cope with events that even adults have a hard time with? Paul's school had an answer: it suspended him for three days for making this drawing — and being proud of his effort.
ZT is a Lie
I've said it before many times, and I'm afraid I'm going to have to say it again and again and again: "Zero Tolerance" rules do nothing to safeguard our children.
The Center on Juvenile and Criminal Justice reports that juvenile crime rates have held steady since the 1970s, and the juvenile homicide rate is the lowest it has been since 1966 — yet over the last 25 years school suspensions have doubled.
What is the crisis that the ZT policies is seeking to respond to? There isn't one. There is no benefit that justifies the huge social cost of ZT.
People with common sense need to point out to those without it that Zero Tolerance really means Zero Justice. That is not a lesson our children need — especially these days.
(My main essay on Zero Tolerance is here.)
– – –
Bad link? Broken image? Other problem on this page? Use the Help button lower right, and thanks.
This page is an example of my style of "Thought-Provoking Entertainment". This is True is an email newsletter that uses "weird news" as a vehicle to explore the human condition in an entertaining way. If that sounds good, click here to open a subscribe form.
To really support This is True, you're invited to sign up for a subscription to the much-expanded "Premium" edition:
Q: Why would I want to pay more than the minimum rate?
A: To support the publication to help it thrive and stay online: this kind of support means less future need for price increases (and smaller increases when they do happen), which enables more people to upgrade. This option was requested by existing Premium subscribers.