As with every Sunday, I "had to" work on Easter — it's when I write the stories for True (and edit the ones that come in from the writers). I pull together 10 or more stories each Sunday (11 yesterday, as it happens, plus one that I'll be adding to the blog later since it must include a photo).

It came together quickly and well, which left me a bit bored. I decided to have a little fun on Twitter. I "tweeted":
Was going to get Peeps for Easter, but couldn't find any that were cage-, hormone- & antibiotics-free. Demand organic Peeps!
I quickly followed up with:
Dunno if it's true, but I hear Peeps' feed includes bodies of other Peeps who died in their cages! Demand free-range Peeps!
My goal was to get some good reactions from others who were also a bit bored — and I got them!
I Actually Wouldn't Consider Eating One
If you don't know what "Peeps" are, by the way, they're a marshmallow-based candy shaped like chicks which are — for some unknown reason — popular at Easter.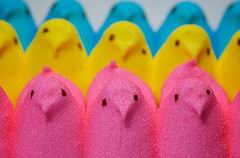 My assistant Becky was working too, sitting behind me, and I could hear her chuckling at what I was doing. She quickly weighed in:
I hear they cut off the Peep's beaks to keep them from fighting through the cages, too. It's just cruel.
About the same time, I thought of something else to add:
It's a tragedy that they're grown in cages, away from natural sunlight, being force-fed to fatten them up.
Well, that did it: other readers started to weigh in. There were scores of "Likes" on Facebook, and lots of comments. Here are the best:
I just threw up a blue peep. YUCK -Tami
Organic? I'm not sure there's anything actually edible in a peep. -Larry
Is it wrong then to put them in the microwave and watch 'em swell to ridiculous sizes? Just asking… -David
Don't they realize that [feeding them other, dead Peeps] can lead to peepine spongiform encephalopathy (aka mad peep disease)? -Tom
I hear they're left in the sun to bleach out after Easter and later used in making Twinkies. -Liz
And a number of people threw in the "Soylent Peeps" concept.
And The "Winner"
But surely the best comment by far:
I hear peeps are trapped in groups of 12, for many days in cardboard cartons, sitting in their own sugar… -Ana-Marie
The thought of Peeps having to "sit in their own sugar" made me roar with laughter!
Thanks, all, for having fun with me!
Find True on Twitter , and Facebook.
– – –
Bad link? Broken image? Other problem on this page? Use the Help button lower right, and thanks.
This page is an example of my style of "Thought-Provoking Entertainment". This is True is an email newsletter that uses "weird news" as a vehicle to explore the human condition in an entertaining way. If that sounds good, click here to open a subscribe form.
To really support This is True, you're invited to sign up for a subscription to the much-expanded "Premium" edition:
Q: Why would I want to pay more than the minimum rate?
A: To support the publication to help it thrive and stay online: this kind of support means less future need for price increases (and smaller increases when they do happen), which enables more people to upgrade. This option was requested by existing Premium subscribers.