As with every Sunday, I "had to" work on Easter — it's when I write the stories for True (and edit the ones that come in from the writers). I pull together 10 or more stories each Sunday (11 yesterday, as it happens, plus one that I'll be adding to the blog later since it must include a photo).

It came together quickly and well, which left me a bit bored. I decided to have a little fun on Twitter. I "tweeted":
Was going to get Peeps for Easter, but couldn't find any that were cage-, hormone- & antibiotics-free. Demand organic Peeps!
I quickly followed up with:
Dunno if it's true, but I hear Peeps' feed includes bodies of other Peeps who died in their cages! Demand free-range Peeps!
My goal was to get some good reactions from others who were also a bit bored — and I got them!
I Actually Wouldn't Consider Eating One
If you don't know what "Peeps" are, by the way, they're a marshmallow-based candy shaped like chicks which are — for some unknown reason — popular at Easter.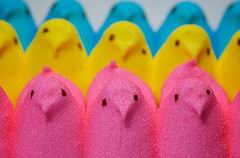 My assistant Becky was working too, sitting behind me, and I could hear her chuckling at what I was doing. She quickly weighed in:
I hear they cut off the Peep's beaks to keep them from fighting through the cages, too. It's just cruel.
About the same time, I thought of something else to add:
It's a tragedy that they're grown in cages, away from natural sunlight, being force-fed to fatten them up.
Well, that did it: other readers started to weigh in. There were scores of "Likes" on Facebook, and lots of comments. Here are the best:
I just threw up a blue peep. YUCK -Tami
Organic? I'm not sure there's anything actually edible in a peep. -Larry
Is it wrong then to put them in the microwave and watch 'em swell to ridiculous sizes? Just asking… -David
Don't they realize that [feeding them other, dead Peeps] can lead to peepine spongiform encephalopathy (aka mad peep disease)? -Tom
I hear they're left in the sun to bleach out after Easter and later used in making Twinkies. -Liz
And a number of people threw in the "Soylent Peeps" concept.
And The "Winner"
But surely the best comment by far:
I hear peeps are trapped in groups of 12, for many days in cardboard cartons, sitting in their own sugar… -Ana-Marie
The thought of Peeps having to "sit in their own sugar" made me roar with laughter!
Thanks, all, for having fun with me!