I shut down my "Randy's Random" email publication a year and a half ago, and I still get people saying they miss it.
RR was a place where I posted random bits of interesting humor that didn't fit in True. I stopped it for several reasons, including that there was no income involved from it.
At my recent business meeting in Reno, I had a flash of inspiration: by doing it as a web site, there's no email list. By including an RSS feed, you don't have to remember to come back again and again. By including Google Ads that are targeted to the content, I get a few bucks to pay for hosting and, maybe, some of my time. (Though it'll be amusing to see how Google "targets" ads to jokes!)
It's called Jumbo Joke. To start with, I'll be posting my archives of Randy's Random.
May 2 Update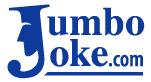 I'm continuing to pour my archives of "Randy's Random" into my new humor web site, Jumbo Joke. And, as expected, some of the "targeted" ads that Google inserts on the page are as funny as the items themselves.
One of the best I've seen is the ones for Breeding Bull. The punch line is that the guy gets clobbered by his wife. The ads? At least for awhile, they were for "singles" and dating services. Now they're for something very, very different, and nearly as funny: bull semen…! Yes, really.
Oh, I forgot to say: please do not send me jokes! I've got a huge backlog and definitely don't need more. Thanks.
– – –
Jumbo Joke was sold in early 2016, and alas is no longer online. A year later I got another idea: I resurrected Randy's Random as a thought-provoking & entertaining editorial memes site.
– – –
Bad link? Broken image? Other problem on this page? Use the Help button lower right, and thanks.
This page is an example of my style of "Thought-Provoking Entertainment". This is True is an email newsletter that uses "weird news" as a vehicle to explore the human condition in an entertaining way. If that sounds good, click here to open a subscribe form.
To really support This is True, you're invited to sign up for a subscription to the much-expanded "Premium" edition:
Q: Why would I want to pay more than the minimum rate?
A: To support the publication to help it thrive and stay online: this kind of support means less future need for price increases (and smaller increases when they do happen), which enables more people to upgrade. This option was requested by existing Premium subscribers.