There was a story last week about the governor of West Virginia, who was so outraged over a joke T-shirt that he demanded 1) that the seller remove them from its stores and catalog, 2) recall them, and 3) destroy them. The company refused. My tagline: "…In other news, the indignant governor said no, it's untrue that only inbred buffoons think they can stop people from telling jokes."

Quite a few people wrote to say they "agreed with the governor" — they too thought the shirts were rude. That's not what the story, nor the tagline, were about, and I'm surprised so many readers completely missed it.
Ever Hear of Free Speech?
The issue is this: what does any government official think he's doing by ordering someone to give up their Constitutional rights? I speak, of course, of our First Amendment right of free speech. Like many politicians, he probably swore an oath to defend the Constitution, not whine like an idiot when someone exercises their rights, even if he doesn't like what they have to say.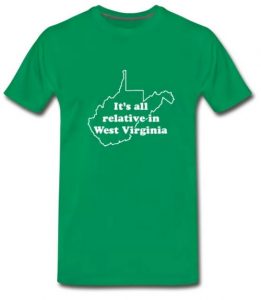 Indeed, there's no need to guarantee speech everyone likes, is there?
Sure the shirt is rude; that's why they made it. That's why people buy it. And the governor played into their hands by giving them huge publicity by making laughable — and illegal — demands.
So what does someone from West Virginia have to say about it? Here's "D" from that state: "My wife, kids and I got a kick out of the A&F T-shirt, and a bigger kick out of soon-to-be-former Governor Wise's demands when they hit the media. Where can we buy one? A&F is backordered, as are certain people backordered on a sense of humor. The T-shirt printing presses are running for all other states with a similar 'reputation', of which there are MANY. Utah would be a good example (and you thought I was going to say Kentucky or Arkansas…)."
Does anyone really think A&F would be out of shirts (temporarily, I'm sure!) if the governor hadn't acted like an "inbred buffoon" and made demands he had no right to make?
I don't.
– – –
Bad link? Broken image? Other problem on this page? Use the Help button lower right, and thanks.
This page is an example of my style of "Thought-Provoking Entertainment". This is True is an email newsletter that uses "weird news" as a vehicle to explore the human condition in an entertaining way. If that sounds good, click here to open a subscribe form.
To really support This is True, you're invited to sign up for a subscription to the much-expanded "Premium" edition:
Q: Why would I want to pay more than the minimum rate?
A: To support the publication to help it thrive and stay online: this kind of support means less future need for price increases (and smaller increases when they do happen), which enables more people to upgrade. This option was requested by existing Premium subscribers.