With a title like that, I certainly couldn't run the story without providing the photo! As usual, the story first, from True's 14 November 2010 issue:

A Picture's Worth a Thousand Laughs
Matthew Nieveen, 19, was arrested in Lincoln, Neb., for alleged drunk driving after police noticed his pickup truck cross the center line several times. It was his second offense. Not news? How about this: he was arrested on Halloween, and was in costume. His blood alcohol level was "more than twice" the .08 percent limit for adults. Nieveen was also charged with having an open container of alcohol in his vehicle, negligent driving, and being a minor in possession of alcohol, since he is under 21. The costume: "He was dressed as a PBT [preliminary breath testing] alcohol sensor," his arrest report notes — a Breathalyzer, with the blow tube sticking out below …well… his waist. (Lincoln Journal-Star) …And the only one who blew it was Nieveen.
And the photo is, indeed, a classic: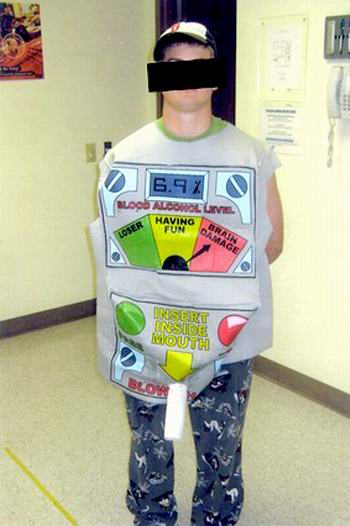 Every woman's dream. Well, a nightmare is a type of dream, isn't it? The photo was apparently released by the police with the blocked out face. I consider the "Brain Damage" measurement completely accurate, but then again so is "Loser".
– – –
Bad link? Broken image? Other problem on this page? Use the Help button lower right, and thanks.
This page is an example of my style of "Thought-Provoking Entertainment". This is True is an email newsletter that uses "weird news" as a vehicle to explore the human condition in an entertaining way. If that sounds good, click here to open a subscribe form.
To really support This is True, you're invited to sign up for a subscription to the much-expanded "Premium" edition:
Q: Why would I want to pay more than the minimum rate?
A: To support the publication to help it thrive and stay online: this kind of support means less future need for price increases (and smaller increases when they do happen), which enables more people to upgrade. This option was requested by existing Premium subscribers.