Not quite three weeks ago (Wednesday, April 9, the day before my birthday), Kit and I stopped by the local hospital to visit a friend. James, a fellow medic, and sometimes firefighter, was also from California, evidenced by his online handle, "FFEMT1A" (a California designation: Firefighter-Emergency Medical Technician-1A; I was a plain old EMT-1A myself at first, the A designating Ambulance duty certification, which added some elements beyond the non-transporting FF designation. He had both, and was extremely proud that he dedicated most of his life to helping others in need.)

And help people in need he did: his wife says that on their first date, they were going down a dark road when James suddenly pulled over and jumped out of the car. She had no idea what was going on until another car drove by, and she could see in its headlights that there was a car on the other side of the road with a flat tire. James had spotted it, and was changing the tire for the stranded elderly couple.
Wait… What?
When we arrived at his room, we were surprised that it was empty. An employee saw our surprise and told us, "He was discharged home." Ah! Great! I texted him (being a younger guy, he preferred texts, but he also "did" email: after all, he was a Premium This is True subscriber!)
But rather than replying by text, my phone rang: Caller-ID showed he was calling. "Please come right over," he said. Easy, since he lived just a few blocks from the hospital. When we arrived, he reached out to shake my hand, and his voice cracked as he said, "Cancer won."
A woman I didn't know was sitting in the livingroom with James and his wife: she was a hospice nurse, doing intake paperwork. The doctors had told him he had "weeks to months" to live. He had been fighting it since last summer.
The Fight
In the meantime, he had probably been in the hospital as much as home. He was a huge, strapping man. Hell, I'm 6-ft. 3-in., but he made me look small! My hand was buried in his when we shook hands. Yet he had a side business installing emergency equipment in response vehicles — including mine, installing my lights, siren, and radio equipment so neatly that the wires don't even show. Despite his size, he could get under the dash, dig under the hood or in the headliner, wiring things up and leaving no evidence of his presence.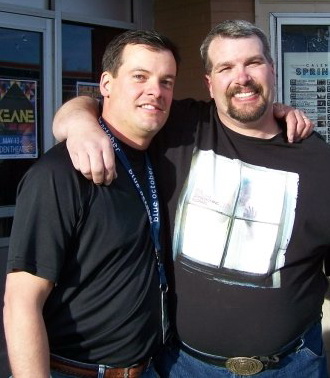 But there was a lot of evidence of presence in his personal life. There are few photos of him on Facebook without his arm around some friend — though, unfortunately, we never got one of us together. This is one with a mutual friend, Steve, a volunteer firefighter for the fire district my house is in. Even though James (on the right in the photo) didn't live in the district, he volunteered there too for some time, since the district he lived in was a paid department, and they weren't hiring. That's how I met him.
James finally got a great job, working as security and first-responder medic at one of Colorado's many mines. Luckily, that came with great health insurance, so once his cancer was discovered he got excellent care.
They didn't say "inoperable," but once they opened him up to see it, they closed him back up without removing it. Chemo slowed it down, but as we visited him again and again, this big bear of a man kept getting smaller and smaller: by the time we were in his livingroom with the hospice nurse, he was down 160 pounds.
Keeping in Humor
One quick story to show James' sense of humor: Kit and I were visiting him in the hospital recently. He was heavily drugged, drifting between sleep and semi-awake, and hooked up to a lot of wires and tubes. He had to pee, but getting out of bed and to the restroom was quite a trial, so his wife handed him a urinal.
"I'll leave the room," Kit said. Knowing James as I do, I said, "You don't have to leave the room, just don't look." But James immediately one-upped me: "You can look," he said with a clear, strong voice, "just don't point and laugh."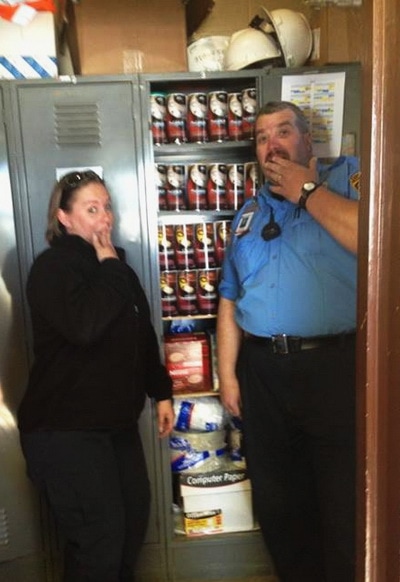 There was one other thing he told Kit and me through tears: through all these months, despite having a lot of friends (and I mean a lot! — the outpouring on Facebook is crushing!), he said we were the only ones to visit and keep coming back. Cancer sucks: I almost think of it as malevolent, but it's not contagious, dammit!
Yet people are so scared of it that they don't even come and give moral support to their friends who are fighting it. It takes more than one visit to do that! Kit and I told him, and his wife, that we would be there for them, and we kept that promise. So did the hospice nurses: they came every day, and when there was a problem, they would quickly respond to a phone call.
But then, some of his friends didn't know, or lived too far away. I got a message to Steve that James was in hospice care, and he came immediately — and when I left, he followed me out to get details because he had no idea what was going on, even though he had been in touch with James recently. James wasn't hiding his fight, but Steve doesn't "do" Facebook and hadn't seen the posts about it, and James probably didn't realize Steve didn't know. Each time Steve came, he didn't pat James on the shoulder and then leave, he stayed for hours.
Return Visits
Kit and I were there pretty much every day. I brought my laptop so that I could keep up with critical work, including writing. Yesterday, Sunday, was my writing day, and all of my writing was done at his home, so I could check on him frequently. The hospice nurse came too, and talked about what they would be doing "next week," but it was clear the end was near.
Kit went home to feed the cats, but I called her back: I didn't think he would live until morning. She came back, and we both sat with the family, watching over him, each getting little naps here and there.
As the night wore on, I could hardly believe he had the energy to keep going: hour upon hour, he was breathing 40+ times a minute (his pulse was 140+), but he kept going. His wife spent the entire night sitting next to him, holding his hand.
Kit and I, and his two adult children, all took turns tending to him, pulling him up in bed, or getting him medications. As dawn broke his breathing slowed …and slowed …until it hit zero. I didn't find a pulse, but I had brought my stethoscope, and listened to his heart. It was silent. I looked at my watch: it was 6:27 this morning. James was 43 years old.
With my phone call, the hospice nurse was there within 20 minutes and took care of things: cleaning him up, getting the medical equipment out of the house, calling the mortuary to come get him, offering counseling. Detail after detail. Ironically, one of the hospice chaplains lives next door to them, so I went over and got him.
A Clear Picture
I'll always remember James, and what I'll remember most isn't the cancer, or how it turned a big man with a big heart into a gaunt old man over just a few months. Rather, I'll remember how he would spend his energy to kiss his wife and tell her he loved her. And how she would do the same, again and again and again.
Her employer fired her because she insisted on keeping her cell phone with her on the job (against company rules!), and she said that if he or the hospital called, she would answer. There's not really any recourse for being fired for such a reason: Colorado is an "at will employment" state, and employers can fire anyone at any time for any reason. "Too bad, so sad" was the corporate attitude — but she rose above that: she was there for him, and the loving care she gave him 24×7 humbled us.
The Take-Away
If this story has touched you, I ask you for two things rather than sending me a condolence message: First, if you have a friend who is forced down this path (no one chooses cancer or other nasty diseases), please be there for them. You don't have to put your entire life on hold, but if they're nearby, you can be there now and then. Yeah, it's awfully unsettling to see someone decline, but you know, death is a part of life: we're all going to be there someday, and how can you really relish the great parts of life if you turn your back to the bad parts? James was a lucky, lucky man to have such a supportive family, but he could have used more friends this past year.
Second, if you can afford it, support the great people of hospice. They do a very difficult job and really support the families, not just the dying patients. Our local hospice, HopeWest, is one fantastic resource, and I hope you have one like them near you. If so, please donate to them — time or money. If not, or you want to give in James' memory, send a check made out to HopeWest Hospice to me (PO Box 666, Ridgway CO 81432) and I'll forward it to them in James' name, along with a check from Kit and me. Thanks.
Donation Total
Thanks to the several readers who sent donations for HopeWest — in addition to what I hope was many donations to readers' local hospices. I took HopeWest a stack of checks totaling $950. They were very grateful for the contributions. If any more come in, I was certainly pass them along and update this page.
Related: A Short Personal Note.
Wait… an Update?! (June 2022)
Yeah, you wouldn't think there'd be an update on what's essentially an obituary, but here you go: after he died, James' wife handed me a hard drive. It was from his computer, and it wouldn't boot up anymore. The problem: it had all of their videos and photos (kids growing up, etc.), and their music. I tried putting it in my desktop computer as a second drive, but no go.
I put it aside, hoping that at some point I might have better hardware that could access it. I recently got some hardware to pull up some lost data from an old drive myself, and James' drive came to mind. I grabbed it, hooked it up, and sure enough …I started getting errors. But I also got a directory listing! I opened a folder and clicked a photo to see if it would come up. It did: James' son, during his pre-teen years.
Quickly putting a folder on my Desktop, I started copying files over from the disk, not knowing if I'd continue to have access. As nearly a terabyte of videos, photos, and music started streaming onto my computer, I messaged his wife with a "Guess what?", and of course she's ecstatic.
This data represents a big chunk of a family's life — a family I know. They had already lost a dad, so losing their memories too really stung. It took awhile (8 years), but I was able to give them that back.
The take-away: be sure you have a backup of everything on your computer and phone. An external drive you can hold and protect yourself is a great start, but these days "cloud" backup is pretty easy and is a good additional option. As my buddy Leo says, "If it's only in one place, it's not backed up."
– – –
Bad link? Broken image? Other problem on this page? Use the Help button lower right, and thanks.
This page is an example of my style of "Thought-Provoking Entertainment". This is True is an email newsletter that uses "weird news" as a vehicle to explore the human condition in an entertaining way. If that sounds good, click here to open a subscribe form.
To really support This is True, you're invited to sign up for a subscription to the much-expanded "Premium" edition:
Q: Why would I want to pay more than the minimum rate?
A: To support the publication to help it thrive and stay online: this kind of support means less future need for price increases (and smaller increases when they do happen), which enables more people to upgrade. This option was requested by existing Premium subscribers.