Author's Note: Years ago I related a story about fireworks at my house in Upland, Calif. I barely escaped trouble with the police. It was not the only story about fireworks at that house — and I'm pretty sure the police were called this time, too….
My first wife had used my support to get two Master's Degrees at the Claremont Graduate School, and we had bought a house near the school, in Upland, even though it was a heck of a commute to my job at NASA's Jet Propulsion Laboratory in Pasadena. That was a 45-minute drive each way, plus traffic — and there was always traffic.
When she got her degrees and split in 1991, I was stuck with the house. It was a down market, and it took a full year to sell (and I accepted the first offer I got).
Good Neighborhood Occupants
In the meantime, it was the early 1990s and I was living in the house alone. It was an older, established neighborhood. Next door was an Italian widow who had lived there for a good 20 years. At least, she liked to make like she was an old-world Italian, but it was her parents who came from the old country. She was a terrible, awful cook …unless she was making Italian food. She made the best lasagna I have ever eaten.
Directly across the street was a Hispanic family, with a stay-at-home mom who probably cooked pretty darned well: everyone in that house was pretty plump.
…and Not-So-Good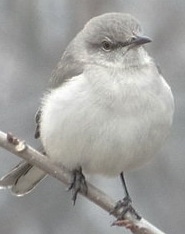 One hot summer night I couldn's sleep, in part because of the damned Northern Mockingbird (Mimus polyglottos) way up in the tree across the street. It was probably 3:00 a.m., and in this bedroom community it was quiet at night.
So there wasn't a sound other than this bird going on … and on … and on incessantly. It was made all the worse because right outside my bedroom window, there was a brick wall separating my house from the Italian widow's house, so the bird's calls echoed into my open window. The thing may as well have had a megaphone pointed at my head. And it had been going on for hours. (They like to sing at night, never giving it a rest. Here's an example on Youtube.)
By 3:00 a.m. I couldn't stand it anymore, and through my delirium the realization that I had to get up and drive to work in the morning through Los Angeles traffic made me a bit grumpy. OK, really grumpy.
But while tossing and turning I got an idea: my driveway bent around until it was parallel to the street to go into the garage. Just opposite the front door, on the other side of the driveway, were some waist-height hedges that were pretty dense. I decided that would be the perfect medium to hold a couple of bottle rockets at the precise angle I needed to "shoot down" that bloody bird.
Oh, I didn't think I'd hit it or anything, but these rockets would shoot about 50 yards and then give a loud, firecracker-like report at the apex, and maybe that would be enough to scare my enemy away — at least long enough for me to fall asleep.
Idea, Planted
Once that plan was hatched, I certainly had to do it! I dug into my stash and grabbed two rockets and a lighter, and went outside. It was utterly quiet except for that freaking bird, high up in the tree in the Hispanic lady's front yard.
My ninja-like hearing located the exact target zone, and I slid the rocket sticks into the hedge at the precise angle so that they would explode, I hoped, within millimeters of that damned thing's noisy beak. I stood there for just a moment, stark naked in my front yard (hey: I said it was hot!), and I probably had a little grin on my face and a gleam in my eye as I reached down with the lighter and ignited both fuses simultaneously.
I turned and headed for the door, and heard the rapid fwoosh! fwoosh! behind me as the propellant ignited in both rockets, speeding them both toward the single target. As I reached the front door I heard the blam! blam! of the two warheads going off, wonderfully near the spot I had calculated. I slipped back into bed in blissful silence: the damnable bird had fled! Now it really was quiet! I quickly fell asleep.
Like Nothing Happened
The whole incident was almost forgotten by morning. I put in my day at JPL and by the time I got home that evening, it really was forgotten.
As I often did, I popped over to the widow-lady's house to check in on her, and the Hispanic lady from across the screen was there already, as she often was. After I greeted them, the Hispanic lady got right to business: "Did you hear the drive-by shooting last night?" she demanded. "No!" I quickly said, surprised. Happily, that shot out of my mouth before my higher consciousness informed my reptilian brain that she was talking about the two "shots" from my bottle rockets, from what seemed like days before.
She assured me that yes, a car-load of hoodlums had sped by, taking random shots at …well, she didn't know at what, exactly, but wasn't it a shame that that kind of crime had made its way from Los Angeles into this nice town?! I made some sort of sympathetic agreement and expressed my hope it would be just an isolated incident, and ducked out so the two ladies could tsk-tsk about it together.
It looked like I had gained my sleep, but the mother across the street probably didn't get any more that night. Thankfully the house sold soon after, and I never had trouble with that Mockingbird again!
So even though there was a minor collateral casualty, I won the battle and the war, too. And that's why, I tell my new wife, it's always useful and downright practical to have a little cache of assorted fireworks on hand in a well-equipped home.
Related Story: Foomp!
– – –
Bad link? Broken image? Other problem on this page? Use the Help button lower right, and thanks.
This page is an example of my style of "Thought-Provoking Entertainment". This is True is an email newsletter that uses "weird news" as a vehicle to explore the human condition in an entertaining way. If that sounds good, click here to open a subscribe form.
To really support This is True, you're invited to sign up for a subscription to the much-expanded "Premium" edition:
Q: Why would I want to pay more than the minimum rate?
A: To support the publication to help it thrive and stay online: this kind of support means less future need for price increases (and smaller increases when they do happen), which enables more people to upgrade. This option was requested by existing Premium subscribers.