After my previous blog post, the response from readers was fantastic — the clarity, the different ideas, the stating the problem without blaming or exonerating guns. But Rob in Sydney Australia didn't seem to "get" what I was saying that in the national "debate" about mass shootings, we're asking the wrong questions. It came to a head after this comment, by Tyler in Massachusetts:

I laugh at your repeated copy/paste of the "Which is WHY we must address the actual problem, not the tool used." line; it's astounding how many don't get it, but I suppose that they're not really reading.

At the same time, I seethe at the suggestion that it would be MUCH better if the murderous psychopath "only" had knives — how many fewer children would be killed! As if that's a solution? What an amazing thought process these people have. Why, it would be GREAT if the kids were slowly hacked to death, since it would take 10X as long, and the cops could get there and stop him after only killing a few kids!

Wow.
I replied: yes, the idea that if we simply get rid of guns so that the nuts will "only" have knives is boggling. Surely no one will think of using household chemicals to make a bomb, which will take out many more kids than even a gun. The lack of just plain thinking is astonishing.
To which Rob in Sydney demanded:
Why? 1. It will mean far less people will die (surely a credible outcome in itself) 2. Knives, hammers etc have a legitimate primary use. 3. Government can't control human emotions — but it can have some influence on what 'tools' people have close to hand when emotions get out of control.

No one is proposing that it is ideal that someone can carve up 5 people in a frenzy with a knife — but that is a far better outcome than them shooting dead 20 people.

You keep saying "we must address the actual problem, not the tool used." So in your opinion what is the problem and, more to the point, what do you propose is done about it that is viable, affordable and realistic? You brushed off my previous comment about 'national mental health screening' as being 'smarmy' — and I was being sarcastic — because it simply will cost too much, invade people's privacy and won't work regardless. Better health care IS a major issue, and needs to be addressed in the longer term, but we need to concentrate on the things we can control now, and the easy access to high powered automatic weapons is one of those things.

If you can't see that then 'The lack of just plain thinking is astonishing.'
My Reply to Rob
Let's start with Rob's "Why?"
First, Rob, you're arguing my point, and don't even realize it.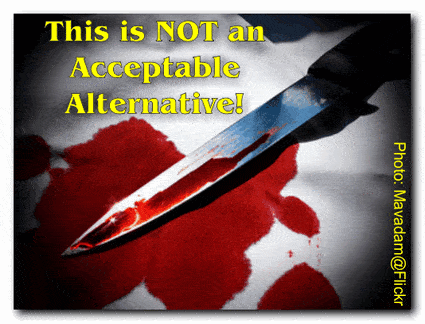 Slow down, and read that again. You're arguing my point: to say that guns should be banned and the killers have to be satisfied with knives, and that will reduce the number of killings, admits that "the tool" is not the problem.
Got that? The problem isn't a gun, whether it has a large capacity or not, whether it can shoot quickly or not, if there's no killer to pick it up and use it, right? So just give those killers knives instead!
But by saying the killers will kill no matter what tool they have at their disposal, so let's give them less-lethal tools, you admit the problem isn't the gun, it's not the knife, it's not even the home-made bomb, but rather it's that there is a killer who will use any tool! Can you really not see this?
Thus "the problem" I speak of is not the tool, it's that there are people willing to use them.
Second, guns certainly do have a "legitimate use": most trot out hunting and target shooting. Yep, legitimate. But I'll add the one most ignore because it makes some uncomfortable, even though it's the most important legitimate use: self-defense. When properly trained, when armed even small women become the equal of even large men.
"When seconds count, police are just minutes away" is a cute slogan, but not true. They're often much more than the implied few minutes away. If I called 911 tonight because there's an armed intruder in my house, I can count on a cop arriving in just …45 minutes, if he's not on another call even farther away.
Seriously: overnight there's one deputy on call for my 550 square-mile county. Most of the time they sleep the night with no calls; they sleep at the office, which is 45 minutes away.
Self defense against criminals (including the killers which you acknowledge are out there) is a fundamental human right. It's also a responsibility. I'll quote someone else's comment on my Friday post:
The keeping of the peace, policing, is incumbent upon all citizens, not just those of us who are paid to enforce the law. That is one of the very foundations of our system of self governance. —Scott, U.S. Military, currently deployed overseas.
What are the odds I'll need a gun to protect the lives of myself or others? Pretty damned low, especially since violent crime rates are way down the past couple of decades. (Why? Because of increased gun ownership, and legalization of concealed carry!) Yes, very low indeed — but higher than the odds I'll need a fire extinguisher in my home, and I do have several of those. Don't you?
An Analogy
Blaming the gun, rather than the killer, reminds me of the 1970s, when deaths from auto crashes were really ramping up. At the end of the 50s, the number was less than 38,000 deaths/year (5.41 per 100 million miles). In the early 70s the yearly total broke 55,000 deaths. It was "obvious" that high speeds were killing lots of people, and therefore we MUST 1) lower speed limits, and 2) enforce speed limit laws zealously.
The "gas crisis" was used as an excuse. Several states lowered their limits to 55, and Nixon signed 55 as the national speed limit in January 1974. Did the death toll go down? Yes, a little — but so did driving (due to the gas crunch); studies after the fact showed conflicting data: some said the reduced limit actually reduced safety and increased crashes and, thus, injuries and deaths. Sure enough, when the gas crunch eased, deaths started going up again — even though the speed limit was still 55. It broke 50,000 again by 1978, and hovered around there for several years, even though the speed limit was still 55.
So clearly, speed wasn't the real problem: people still died in crashes in horrific numbers. So what, really, was "obvious"? When the real problems were addressed (primarily drunk driving, and poor "crash worthiness" in cars, which was addressed by new safety standards), traffic fatalities started trending down. But the real key was the public getting fed up: Mothers Against Drunk Driving (MADD) was formed in early 1980. That year the death toll was more than 51,000. The very next year, it was 49,000, and in 1982 44,000 — even as the number of miles driven steadily increased with the population. (Yearly summary.)
Cars started getting safer, too, with better "crumple zones" and better restraints, and injury-reduction devices like airbags. When the national speed limit was raised in 1987 to 65, the death rate dropped. The national limit was fully repealed in 1995, and the death rate stayed steady, even as speed limits were raised to 70, 75, and in some areas even 85 mph.
(I'm a beneficiary of those better safety standards. This year I was in a high-speed crash, smashing into an adult buck that jumped in front of me on a rural road. My car suffered more than $8,000 in damage — yet I didn't even suffer a scratch.)
The "Obvious" Often Isn't
What was "obvious" was proven not to be. Speed wasn't the problem. Reducing the number of drunks reduced the number of crashes drastically, and when people did crash, they were far less likely to be injured, let alone killed, because cars were made more "crash worthy" (protective of the occupants).
Today, the number is approximately 37,000 deaths/year — below the 1959 number, even with a surging population. Rather than 5.41 deaths/100 million miles driven in 1959, it's now (2011 numbers were just released) just over 32,000, and just 1.1 deaths/100 million miles.
That's progress due to asking the right questions, and then taking action.
There's still a long way to go, but meanwhile how many tens of thousands of needless deaths were there because people didn't ask the right questions, and assumed the "obvious" — that "Speed Kills"?
Drawing the Parallel
I'm not just worried that we're going down that same road today — asking the wrong questions, and coming to the wrong conclusions because it's "obvious" — I'm sure of it.
While the number of lives at stake in mass shootings is nowhere near the tens of thousands per year from auto crashes that were needlessly sacrificed to an "obvious" solution that wasn't, I still think it's smart to step back a little and think. It's "obvious" that guns are the problem? Not to me it isn't. To me, the problem is the killers, and why they are killers — and we're doing very little to address that problem. There is very clear evidence, for instance, that bullying causes many school shootings — or, more specifically, the rage that the bullied feel because no one does anything about them being bullied. School officials blow it off.
So perhaps cracking down on bullying will not only help kids, it will reduce school shootings, knifings, beatings, bombings, and other violence — all at once. Now that's a practical and effective solution! I'm not saying that's "the" answer, I'm saying it's one of the questions we should be exploring because it's a fact that bullying leads to school shootings.
Head-On About the "Mentally Ill"
Of course we must do much more to keep guns — and knives and bombs and baseball bats — out of the hands of the violent mentally ill. There are already laws about it, but are we doing what we can to reduce the chances of them arming themselves without impacting the responsible citizens who have the right to defend themselves, hunt, even simply have fun target shooting?
You ask how we identify the mentally ill. Just ask the cops, the parents, the siblings, the co-workers, the social workers: they already know about most of them. There's no screening required — until someone has been identified as a potential problem.
And then what? Well, currently, and then nothing: there aren't "beds" (places) for them in the very few surviving mental hospitals, and no money to pay for treatment anyway, nor money for more "beds" — instead that money is going to build more and more and more prisons, and that is just one of the underlying problems. Our spending priorities are wrong because we're asking the wrong questions about what's really needed.
One Statewide Solution
Colorado, for instance, finally said "ENOUGH!" about marijuana: stop throwing people in prison for using or possessing small amounts of pot. Prohibition (another once "obvious" solution) hasn't just not worked, it's an utter failure that's negatively impacting society more than the problem it's trying to cure — more damage caused by people who thought the solution was "obvious."
Slowly, but surely, we'll see some of the money spent on those prosecutions and incarcerations ramping down, and we can then decide how we want to reprioritize it. But that's only because people in Colorado (and Washington state) realized we were getting the wrong answers to the "drug problem" because we were asking the wrong questions.
So yes: we must address the actual problem, not the tool used. What Rob thinks is "obvious" is almost certainly not. We didn't ban cars when auto deaths broke 55,000/year, and the "obvious" solution turned out to not be so obvious. We wasted time and thus lives with reducing speed limits, and pissed off a lot of people in the process. (It didn't even meet the modest gas-saving goals: it's estimated that the lower speed limit only reduced fuel usage by 0.5%.)
We truly cannot get guns off the streets even if a ban was a fantastic idea and legal, since what remains out there will continue to be used because we haven't addressed the actual problem, which is the wrong people getting their hands on them to solve their anger because there were no other solutions available to them. But we can save a lot of lives if we step back and start asking the right questions, which is what my Friday essay is about in the first place.
Thus: Ask the Right Questions
We do need to have a discussion about what to do. Knee-jerk reactions won't simply violate the rights of law-abiding citizens, and deprive them of their fundamental human right to defense, they clearly won't solve the actual problem: angry people wanting to take their rage out on others. We need to look carefully at what we really want to accomplish, and why we haven't accomplished it already. We need to understand why people become enraged killers and stop them from doing it with any "tool," not give them somewhat-less-lethal tools and be oh-so-self-satisfied that they're not killing quite as many people in shopping malls, theaters, and schools.
Thus some of the questions to ask are:
When we identify violent, mentally ill people, do we have a system to get them help?
Is there a correlation between closing most mental hospitals (and dumping the patients on families — or the streets) and an increase in violence perpetrated by the mentally ill?
Did the pendulum swing too far in the other direction (too much reliance on mental hospitals to too little)?
What do we need to do to understand their rage — so we can counter it?
How do we keep them from harming others with any weapon, or even if they have no weapon?
How can we make public places safer without bankrupting the country in the process?
What have we tried before that hasn't worked? Why didn't it?
What haven't we thought of before, and what are the ramifications of the idea?
Those are a lot closer to the right questions, but certainly not all of the questions that need to be part of the public debate. And none of these questions lead to "Let's only arm the criminally insane with knives, rather than guns, since those are somewhat less lethal." That is NOT an acceptable alternative!
So there's a little more explanation for the few who didn't quite understand Friday's five short paragraphs.
—
Note Regarding Comments: I will not be approving comments that bring up questions or points already covered on this page. No, the sample "questions" don't cover every possible thing, as stated already. They're merely a sampling of the less "obvious" questions that need to be asked, and answered carefully, before deciding on how to proceed.
– – –
Bad link? Broken image? Other problem on this page? Use the Help button lower right, and thanks.
This page is an example of my style of "Thought-Provoking Entertainment". This is True is an email newsletter that uses "weird news" as a vehicle to explore the human condition in an entertaining way. If that sounds good, click here to open a subscribe form.
To really support This is True, you're invited to sign up for a subscription to the much-expanded "Premium" edition:
Q: Why would I want to pay more than the minimum rate?
A: To support the publication to help it thrive and stay online: this kind of support means less future need for price increases (and smaller increases when they do happen), which enables more people to upgrade. This option was requested by existing Premium subscribers.