Another story that really needs the photo to be complete. First, the story, from True's 15 December 2013 issue:

Security Theater, Puppet Style
A TSA agent at Missouri's St. Louis International Airport said it was a gun. No, said Phyllis May, "it's a prop for my monkey." The thing was two inches long; it belonged to a monkey puppet. That didn't stop the TSA agent. "If I held it up to your neck," May says the agent told her, "you wouldn't know if it was real or not." "I said, really? You're kidding me, right? And she said no, it looks like a gun." May sells monkey puppets as part of her small business; she says the monkey involved is named "Rooster Monkburn" — a play on Rooster Cogburn, John Wayne's character in the original True Grit. (AC/KING Seattle) …The TSA agent was just doing her job: disarming John Wayne and the American spirit.
And the photos, provided to the media by Ms May: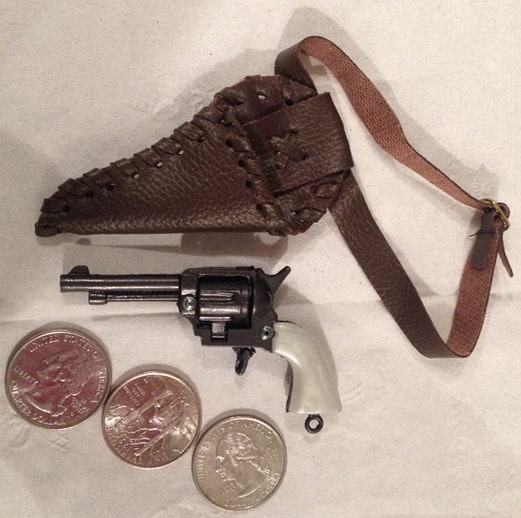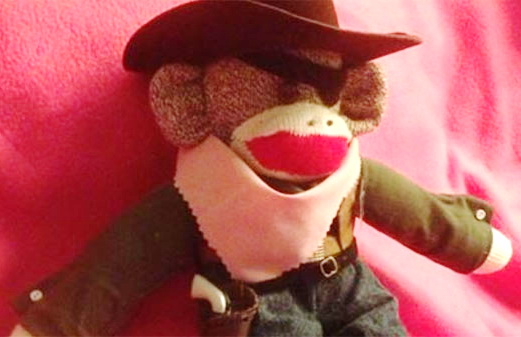 "She took my monkey's gun," May told a reporter later. "Rooster Monkburn has been disarmed so I'm sure everyone on the plane was safe."
The Crux of the Matter
Then in her comments to the reporter, Ms May added the kicker: "I understand she was doing her job, but at some point doesn't common sense prevail?"
The answer, as long-time readers certainly know, is no — not when zero tolerance thinking has been fully indoctrinated. What happens when kids, who are victimized by zero tolerance = zero thinking in schools, grow up and get jobs? They display the zero-thinking adherence to stupid policies as they were taught by example.
Don't want random people carrying guns onto planes? Makes total sense! But, as per usual, a tiny toy is not a gun and anyone who can think for themselves knows that it isn't with the quickest glance.
The agent didn't call police, which means she knew the toy couldn't be mistaken for a real gun. But she still confiscated it, just as a good zero thought tolerance adherent would.
So now I'm left wondering: is the TSA agent a puppet, or is TSA trying to make puppets of us all? Neither sounds very appealing.
Other examples of airline "Security Theater" are on this site here and here, just two I could think of right off the top of my head….
– – –
Bad link? Broken image? Other problem on this page? Use the Help button lower right, and thanks.
This page is an example of my style of "Thought-Provoking Entertainment". This is True is an email newsletter that uses "weird news" as a vehicle to explore the human condition in an entertaining way. If that sounds good, click here to open a subscribe form.
To really support This is True, you're invited to sign up for a subscription to the much-expanded "Premium" edition:
Q: Why would I want to pay more than the minimum rate?
A: To support the publication to help it thrive and stay online: this kind of support means less future need for price increases (and smaller increases when they do happen), which enables more people to upgrade. This option was requested by existing Premium subscribers.