It's Banned Books Week this week, an annual event (started by the American Library Association in 1982) to draw attention to the fact that there are still many self-appointed censors out there who want to control what you read.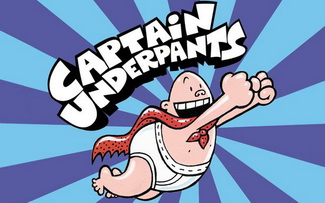 In 2012, the most-challenged book was the Captain Underpants series (no, really: because of supposedly "offensive" language and unsuitability for kids).
Even books clearly targeted at adults (such as Fifty Shades of Gray) are frequently targeted because "they" don't want you to choose what to read. (Why, even them homos are presented as actual people in some books! Disgusting!)
Others are targeted because of their "religious viewpoint" — can't give anyone a choice of religion in a land that guarantees freedom … of … religion! sigh
Freedom to Read
Banned Books Week is about "Celebrating the Freedom to Read" not just in the land of guaranteed Freedom of the Press, but for all people in the world.
The list of the 100 most-banned/challenged books from the first decade of the 2000s is sad. Bradbury's Fahrenheit 451 …which is (yes) about the degradation of a society that has banned all books and suppresses dissenting ideas. Steinbeck's Of Mice and Men. Twain's The Adventures of Huckleberry Finn. Huxley's Brave New World. And classics like To Kill A Mockingbird, Catcher in the Rye, 1984, Slaughterhouse-Five, and more — even Gone With the Wind (it might have that damn word in it!)
People seriously argue that you should not even have the choice to read such books, let alone decide what your children should read (the Harry Potter series is #1 on the decade list).
Fight Back
Defy the censors: choose a book from a recent list, buy it, and read it because you want to, and don't fear the mere thought of being exposed to an idea you don't necessarily share. The way to come to agreement on the best ideas for society is to look at them all, discuss them all, and then discard the bad ones, not by elites deciding that dissension must be suppressed, propounding that other adults can't think for themselves (and probably making that decision without reading the books in question).
Update
See the Top 10 Banned Books in Recent Years and the Most-Banned Books of 2010-2019.
There's more info at BannedBooksWeek.org.
Related Post: Badge of Honor, Tarnished
– – –
Bad link? Broken image? Other problem on this page? Use the Help button lower right, and thanks.
This page is an example of my style of "Thought-Provoking Entertainment". This is True is an email newsletter that uses "weird news" as a vehicle to explore the human condition in an entertaining way. If that sounds good, click here to open a subscribe form.
To really support This is True, you're invited to sign up for a subscription to the much-expanded "Premium" edition:
Q: Why would I want to pay more than the minimum rate?
A: To support the publication to help it thrive and stay online: this kind of support means less future need for price increases (and smaller increases when they do happen), which enables more people to upgrade. This option was requested by existing Premium subscribers.