I don't tell many stories about the ambulance calls I run on as a volunteer medic here in rural Ouray County, Colorado, but this one is worth telling.
At 12:51 a.m. this past Saturday morning, my pager went off for an injured 16-year-old female, just a few miles from my house. It was in an odd location for a middle-of-the-night rescue, and as my wife and I got dressed, I was a bit confused.

As usual, we were rolling within a minute from the pager waking us up. I'm continually impressed by my wife's ability to do that, considering she takes the time to put her contact lenses in!
After going "en route," I asked Dispatch: Is this a car crash? The answer was no: it was a fall. A sheriff's deputy was on scene.
What the Heck?
A 16-year-old girl fell in the middle of nowhere in the middle of the night? I still couldn't wrap my mind around it in my grogginess, but headed down the rural road that heads into the pitch blackness. There wasn't a moon (a tiny sliver was set to rise at around 3:15), and certainly no streetlights. It's really, really dark here.
I know that road: I have some friends down there. Not quite three miles in, the county gives up on trying to maintain it. Past that point it's a rocky, muddy, narrow mess — but in a ruggedly beautiful area. I've ridden my dirt bike through there, so I even know the "unmaintained" area pretty well.
We were rolling to beyond that point, where the county stops maintaining the road. Uh oh.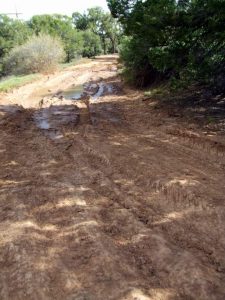 Here's a portion of the road. Where we were going is beyond this point, too. I was glad I have a four-wheel drive truck. (All photos taken by me, the next day. Be sure to read the captions, and you can click the photos to see them larger.)
Before we got to this point, we noticed that for the middle of the night, there was an awful lot of traffic coming the other way.
It slowly dawned on us: the high schoolers must be having a party in the woods again, and these cars must be kids getting the hell out of there.
Today, we remembered (er, it's past midnight: yesterday!), was graduation at Ridgway High School.
Our presence was confirmation to them all of trouble: since I'm the Captain of the First Responder Corps, my truck is decked out with lots of flashy lights. They knew: whatever happened back there is a big problem. (I wasn't running my siren, though: no sense in waking up the neighbors, and the oncoming traffic would see me long before they could hear me.)
Pre-Arrival Update
The deputy on-scene radioed to confirm the girl fell some distance. I knew there was only one way to fall in that area: down — way down. I recommended to the duty medic rolling to the scene that we call out the Ouray Mountain Rescue team. He agreed, and they were paged. They would have to come all the way from Ouray, after mustering at their "rescue barn" to pick up equipment. All that would take a good 45 minutes.
I blew past the "end of the road," but had to slow to a crawl: in that section, the road is nothing but bare bedrock. Going slow was good, because there were parked cars littering the road. I parked behind a pickup truck blocking the road, just before the mud bog pictured above. I grabbed my portable radio and two flashlights, and gave one light to Kit. She had grabbed her own radio on the way out the door.
There was a fire in the pit, but most of the kids were sitting to the left, on a rock similar to the one shown, but larger, at the edge of the cliff. The distance between those two rocks: about 20 yards.
That's where the deputy was, and I went over to see what he wanted done first. He was simply trying to figure out what the heck was going on, but he wasn't the only one confused: the group of kids there — about 20 of them — had no idea whatever that one of their fellow partiers was injured. And they were only 20 yards from where she had gone over the edge, screaming. Surreal.
Booze, of Course
Meanwhile, the deputy was telling the kids to pile up their beer and other alcohol — including vodka and tequila. There was a lot of it. Some of the kids were pretty wasted.
Others, happily, were sober: one had heard the girl fall, and he and a buddy climbed down in the dark to find her. By the time we had arrived, they had found her, covered her with a sleeping bag, and one came up so he could lead rescuers down to her. That was our first break of the evening: this was a rescue operation, no searching required!
About then, I learned that one of the First Responders on my team, who also just happens to be a member of Ouray Mountain Rescue and had been behind me on the way in, had run into the kid who came up to find a rescuer, and had climbed down to the girl, and was already with her! Fantastic!
I really didn't want to go climbing in the dark, especially since I'm not really the climbing type, but Richard, who is a climber and trained for such work (as well as an EMT), was already there. Perfect — and my second break of the evening!
A girl asked me if it was OK to call her dad. "Sure," I said. As I was walking away to start planning what to do, I heard the start of her call: "Dad, I'm at the bonfire. And you need to know that there is alcohol here, and we just got caught by the police…."
The Obvious Questions
Why did she fall in the first place? Didn't she know the cliff was there? Was she drunk? And why isn't she dead?
Good questions all, but the fact is, I didn't consider any of those questions at the time. With Richard on point for primary patient care during the rescue, and the deputy busy rounding up dozens of kids, and my wife helping to check them out for injuries or toxic levels of alcohol consumption, that left me with one role: Incident Commander.
That title isn't as lofty as it might sound; it's a concept from the Incident Command System, which all emergency personnel are supposed to be trained for (and I am). ICS was developed in California when I lived there, and it worked so well that the federal government requires training in its use (or "no grants for you!") Many other countries have adopted it too.
The idea, simply, is that someone should be designated "in charge" to coordinate things, and ICS provides a structure for how that's done.
But to try to answer those questions now, after the fact: the witness told me she "ran." She surely knew the cliff was there, but just "ran" in the wrong direction. Happily, Richard told me later, he could detect no sign of alcohol consumption by her. It was, simply, an accident.
But as I said, at the time it didn't matter, and I didn't consider the questions. My job was to ensure she was brought out of there as quickly and as safely as possible, without any of the rescuers being hurt in the process. Although I admit I did ponder that last question (Why isn't she dead?) a bit — and I'll present my theory on the answer, below.
The Troops Start to Arrive
This is a rural area (about 4,300 full-time residents in a 550-square-mile county). At that time of night, we usually don't even have a sheriff's deputy on duty! Rather, we have one "on call" — the swing shift deputy goes home (if he lives in county) or to the office couch (if he doesn't), and is awakened to respond to calls if needed.
But wait: I said he was already there. In fact, he's the one who called in EMS, which is how I got paged to this in the first place.
The only thing I can figure (and I don't know: I was too busy to think about it at the time), is that he had heard about the party and went to check it out. Whether he was just in the right place at the right time, or if the girl who fell is one who ran from him when he arrived, I don't know — but she had no reason to run if she hadn't been drinking, and she apparently hadn't been.
I mentioned that we only have one deputy available, but "the troops" were arriving. Who?
Before I got there, the deputy had called in a lot of manpower to help, including: the undersheriff, a deputy from the next county, and a deputy of the Ridgway Marshall, who just happens to live about a mile from the scene, and knows that area well enough to get through it blindfolded.
A cop from Ouray came up (30 minutes drive), and at least one state trooper showed up. By then, the ambulance had arrived and staged where I directed them: at the end of the maintained road. And by then, Richard had called up with requests for equipment he needed, which I relayed to the ambulance crew.
I walked back to my car and drove out to where the ambulance was staged while they gathered the equipment: a full-body vacuum splint, an I.V. setup, and more. Richard wanted a Stokes basket too, but Mountain Rescue still hadn't arrived.
Luckily, another of the Rescue guys, Charlie, lived fairly close by and arrived while I was there, and was suiting up. He'd be able to take the bag of equipment down to Richard, and help him package the patient. Another break!
Call the Parents?
Richard called me on the radio with another request: please get the girl's mother there. He gave me a name and a number. It's rural, but we have cell service, thanks to a new tower that just went online some weeks ago (thanks, Verizon!) To keep the name and number private, I called dispatch by cellphone to give them the ugly task of waking up mom.
And, by the way, I asked the dispatcher, get her permission to treat her daughter medically. We were going to treat this minor anyway, since it was a life-threatening situation, but it would be nice to have official permission. Having dispatch make the call means that permission would be recorded.
I also gave the dispatcher a bone to offer mom: yes, she is conscious. That conveyed both hope, and the gravity of the situation. Dispatch called me on the radio within minutes: both parents are on the way, and of course we have permission to treat her. Good.
Incident Command Has Its Perks
By then there were some "extra" cops — pretty much, every on-duty (and some off-duty) officers within a half hour. As commander, part of my job is to deploy resources, so I collared one of the troopers: "Under no circumstances," I ordered, "is any non-rescue vehicle to go down that road." I was going to have enough trouble getting the Mountain Rescue vehicles in. I told the ambulance driver the same thing, in case the trooper got busy on something else. I didn't want mom, or anyone else's parents, to get in the way of the work we had to do.
The duty medic arrived, and I led him in, my car loaded with rescuers and equipment. I parked in the same place as before. "From here, we walk," I said. I took Charlie to the trailhead, and he headed down with the equipment. Steve, the medic, went with him.
I got on the radio with Mountain Rescue to see how far out they were, and discovered they'd arrive in about 15 minutes. My next task was to clear a path for them all the way in, not to just where I was parked.
I got the deputy to move his truck, but there were all sorts of other vehicles parked here and there, but couldn't be moved: the drivers — kids at the party — had run off because "the cops" had arrived. None left their keys. Great. I had a good flashlight, though, and scouted a path around the vehicles, the mud pits, and other hazards in and beside the road — and then, right between two trees, to the very edge of the cliff above the girl.
Medical Relay
Steve, the medic, couldn't get cell service from down in the canyon. He radioed up the girl's vitals and asked me to get "orders" for pain control for the girl — she was in quite a bit of pain. There is a "radio failure" protocol that would allow him to Just Do It, but since I had cell service, may as well get proper orders.
I called the hospital on the phone and described the situation and the request for meds. The E.R. nurse wanted to know when we'd get there. "It'll be awhile," I said. "At least a half-hour before we can retrieve her, and then about 40 minutes to transport." She put the duty doctor on the phone. I relayed the patient status and request for pain control — and added that the parents were on the way, and had given treatment permission (ta dah!)
His order was cool: give as much as the medic thinks she needs up to X amount, and repeat as he thinks necessary. Medics love orders like that. I relayed it to Steve.
The Experts Arrive
Ten minutes later the Mountain Rescue team checked in: they were passing the ambulance. I ran down the road to meet them, and guided them in through the path I had made.
They come in two trucks, and happily the lead truck was the one that needed to be right at the cliff edge: it has a custom-built crane that can hang out over the cliff to winch up the victim.
I knew the two passengers in the lead truck: buddies of mine who are among the best rescue "riggers" in the world. One jumped out when I said we were at the cliff; he went to the edge and directed the driver to get closer. Closer. Closer! — until the front bumper was just 20-25 inches from the edge. Then they started setting up while others headed down to the bottom with the Stokes basket and other equipment. Won't be long now!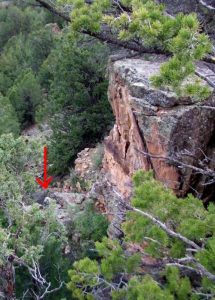 This next photo shows where they were working — a side view from the area where I found that first group of kids, about 20 yards away.
The Rescue truck was parked just to the right of the dead tree in the second photo; they had to saw off some of the limbs so their crane could hang over the side.
Most of my Incident Commander job was done, now, except for watching the Ouray Mountain Rescue Team set up. OMRT was founded in 1974 precisely for technical rescue operations, since there are a lot of hazards in this mountain area. Their slogan is "Anyone, anywhere, any time," and I love watching them work.
When I say "best in the world" I mean it: rescue teams from all over the world come here to learn from them. This winter, a Canadian military rescue team was here to train — and our team ended up rescuing one of them! They were ice climbing as recreation in their off hours, and had an accident. (I talked about the team once before in this blog, when I happened to be on scene for an ice climbing rescue.)
It takes a bit for them to set up, since the objective is to be safe, not have another accident. Once they were ready, the Captain got in the truck to move forward the final couple of feet. Nervewracking for me, with only a flashlight and a pair of headlights lighting things, but business as usual for them.
OK, Ready?
Setting up a rescue in the dark takes a bit: we don't want anyone else hurt by being careless.
By the time everything was set, Richard and the other Mountain Rescue guys with him — the "bottom" crew — had the girl all packaged up and ready to go, and the "top" crew started hauling her up, with one of the Mountain Rescue guys riding along to reassure her, and to make sure she got a smooth ride. She got to the top in just minutes. It was around 3:00 a.m.
We weren't done yet, though: the ambulance was staged about a quarter-mile away. Richard had scurried to the top, and had a nice big SUV — he had parked near where mine was. He ran down and got it, and blasted through the mud bog to get closer, and then took her out to the ambulance while I walked behind to keep an eye on the girl, and everything else in the back.
And then came the best part: we transferred her to the ambulance crew. By then her mom had arrived and could see her for the first time.
Only one kid was arrested, that I know of: a 19-year-old. I don't know what the charge was, though.
Why She Didn't Die
I'd love to say she's alive because of an absurdly smooth rescue operation. But my theory of why she didn't die from falling 35ft into a rock pile is this: she just happened to hit that tree that was growing where she went off the cliff.
The tree is up-slope a bit from where she landed, and is about 30ft tall; it only sticks up above the top of the cliff by a couple of feet. But when I went back to take the photos the next day, I happened to notice the tree was damaged just a little. (I tried to get some photos of that, but I just can't see the cracked branches with the camera that I can with my eye, even when zooming in.)
The tree is growing on a little shelf of rock. I think she hit the tree, and dropped to that shelf, and then from there fell the rest of the way, to the boulders where she was found. "Ow" indeed, but it was enough to keep her from being killed, or at least terribly injured. I can't say what I know about her injuries for privacy reasons, but I'll say I was astounded to hear that she was able to walk with assistance by Sunday, and she's scheduled to come home from the hospital Friday, just a week after the fall.
Ah, the resilience of youth!
I could go on and on about the dangers of teen drinking, and how something can go from "fun" to life-threatening in an instant. But I don't think I need to.
Except for this: besides the obvious danger of partying hearty atop a cliff in the dark, this time of year the bears have awakened, and are ravenous. (This county had a case of a woman killed by a bear just two summers ago, and I wrote about that, too.) And if that's not bad enough, that canyon is known for its mountain lion population! I sure as heck wouldn't want to camp there, even with a gun on me. And then be drunk, too? That's an example of "not thinking"!
Where Was Kit?
She wasn't around me the entire time, but I could hear some of what she was doing via radio. As we packed up to leave, she filled in the details.
The Deputy Marshall who lived right by there took the job of trying to round up the kids who ran off, and she walked miles with him to help. They found several dozen and brought them back to the camp. Some were literally hiding in the rocks, lying on cactus(!) in hopes of not being seen.
Some did elude them — we heard later that they bragged about it to their friends. But several got so far out into the woods that they had to call 911 to say they were lost. The undersheriff took the job of going to get them: it's wonderful that cellphones have GPS chips in them now! That made it easy. But in this rural area, where we have so few "troops" to help in a rescue, I would rather have had him at the scene than playing taxi for a bunch of dumbass kids who thought it was cool to run off into the night. They strained the resources I was using to save a life, and I'm unhappy about that. Another example of just not thinking. They need to know there are ramifications to their decisions.
It was good to hear that they weren't all from here: quite a few of the partiers were from neighboring counties. At least we don't have the sole claim to kids being foolish.
As Incident Commander of a major rescue, I can say my ad hoc team did a fantastic job. All I had to do was bark orders over the radio to keep them coordinated. If the next one goes just half as smoothly, I'll be very, very happy! A family could have spent every Memorial Day from this one on thinking about the pretty little girl that they had lost. But a tree — and a select few well-trained and dedicated volunteers — helped her get out of her predicament alive. Sweet!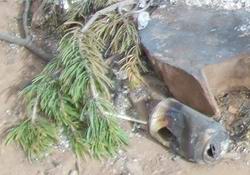 P.S.: When local kids read this (and I know many will), I have something I want you to do: go clean up after your friends. There are beer cans and other garbage everywhere, including in the fire pit. We all moved here because of the natural beauty of the area. I don't at all mind people going out and enjoying that beauty, but take your crap out with you when you leave! And since you or your schoolmates didn't, please go back and make it happen. Thanks.
And I'll be interested in your comments, too. You can post below.
– – –
Author's Note: Yeah, the title is an awful pun on the gravity that pulled her off the cliff and the "gravity of the situation," but once I thought of it, I had to use it. Especially considering the origin of the phrase!
An earlier rescue by the team is also described in this blog, and they asked me to take the photos. Happy to!
– – –
Bad link? Broken image? Other problem on this page? Use the Help button lower right, and thanks.
This page is an example of my style of "Thought-Provoking Entertainment". This is True is an email newsletter that uses "weird news" as a vehicle to explore the human condition in an entertaining way. If that sounds good, click here to open a subscribe form.
To really support This is True, you're invited to sign up for a subscription to the much-expanded "Premium" edition:
Q: Why would I want to pay more than the minimum rate?
A: To support the publication to help it thrive and stay online: this kind of support means less future need for price increases (and smaller increases when they do happen), which enables more people to upgrade. This option was requested by existing Premium subscribers.