I Hadn't Even Geared Up to write (or edit the stories from the guys) when I got an email from Premium reader Mike in New Hampshire: "OK, this is just a perfect example of results that can happen when you just vote the party line without thinking," he said, and included a link to an article on Fox News. As soon as I saw it I understood his "perfect" comment, and went right to work on the story, finding a second source and more details. As soon as I was done, I knew it was not only the lead story for this week's newsletter, but it would also be the sharable "Story of the Week" — and here it is: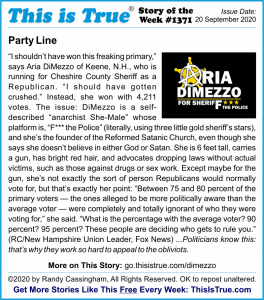 I actually mostly like Aria DiMezzo's platform. "It's tragic what has been done to police officers. None of them are bad people," she writes. "In fact, my encounters with Keene PD show them to be upstanding, noble people who are generally enforcing the arbitrary rules of a system they don't agree with. They didn't become cops to pull people over for broken taillights or turn signals blinking too fast (note: I'm literally on video having been pulled over for this). They became cops because they care about other people, and they want to help, but they became trapped in the state apparatus that turned them into road pirates. This is not their fault."
She concludes, "I don't hate the police. I want to inspire and motivate police officers to be what they truly desire to be. I want them to go home at night in pride, knowing that they have had an impact in making the world a better place. Extortion and kidnapping don't make the world a better place, and they know that. The domestic violence rate of police wouldn't be 40% if they were okay with what they had done when they went home. I can help. I want you to be what you want to be. I want you to help people." If you want to read it for yourself (warning: she does spells out the F word — several times), it's here.
Oh, and if you think she sounds like a Libertarian, you're right. But she knew that was a non-starter: "Ultimately, the U.S. is a country with two parties and that isn't changing anytime soon," she said. Hence, her stunt.
Tweet
DiMezzo's Chances
Not that I expect DiMezzo to win or anything: a lot of Republicans will be voting for the Democrat in the November election, as I said in the story's tagline. You know, along with the Democrats that either vote blindly or know who their sheriff is and support him.
I doubt she expects to win the general election, either, when she has to face the 4-term incumbent sheriff, Democrat Eli Rivera, but she did make her point, and very effectively: that anyone can win such an election — one where there's no default choice for "their party" — if they present themselves with the right timing. Because she's absolutely right: so many voters vote for the party, not the person. Pretty much, "anyone" can declare themselves a Democrat or a Republican and run with that label, and they have a decent chance of fooling the majority of the voters.
OK, but How?
It's easy, particularly in the primaries; certainly harder in the general elections. But not that much harder when the circumstances and timing are right.
The sheriff (or other official) is coming up for re-election, and optionally does something that makes him or her unpopular with voters? And the opposing party hasn't filed a candidate to run against them, which makes it easier? It's as easy as 1-2-3:
Re-register as a member of the opposing party, if necessary,
Wait until the deadline to file your candidacy for that office, so that the party doesn't have a chance to throw in someone that's "really" a member of the party to oppose you, and
Well, no more steps: you're on the ballot.
It really is that easy. Here are the requirements to run for office in New Hampshire, according to the N.H. Secretary of State from their web site:
"You must be a registered voter of the party you wish to file for in the town where you are domiciled" — fill out a form,
"File a Declaration of Candidacy, [and] a Statement of Financial Interests" with the Secretary of State — more simple forms, and
"Pay the administrative assessment fee OR file the required number of primary petitions as indicated below" (emphasis NOT added).
For a "county officer" position, you must get 50 petition signatures from registered voters –OR– pay a whopping $10 filing fee. That's it.
If you're the only one to file as a Democrat or a Republican, you can count on a significant percentage of "your" party's vote, even if you're a bum (or an "anarchist She-Male" whose platform is "F*** the Police"), because so many voters are mindless party-first droids who doesn't understand someone doesn't have to agree with any of their party's positions to be on the ballot.
DiMezzo understood this and trolled the GOP faithful of her county but good. Not that it's just a publicity stunt: "Now that she's won the nomination," the Boston Globe reports, "DiMezzo insists … that she does, in fact, want the job, and is planning to actively campaign against the incumbent sheriff." But, as noted above, she doesn't expect to win, which at least makes it clear she's intelligent.
Not the Only One
DiMezzo wasn't the only candidate to try the tactic. Rich Paul, which the New Hampshire Union Leader described only as "a convicted felon," got on the Republican ticket for the primary election …for governor. He also used a clever tactic: he first legally changed his name to "Nobody"!
It didn't work, because there was already a Republican in the race: incumbent Gov. (and "real" Republican) Chris Sununu, who beat the …uh… pants off Nobody.
I'm sure I could find other examples, but you get the idea.
The Awakening
DiMezzo's win didn't just make news, it made international news, starting with the article that reader Mike in New Hampshire alerted me to, on Fox News. At least some Republican voters were angry, and someone went to DiMezzo's house and vandalized her car, parked out front, slashing a tire and the convertible top, and spray-painting a crude penis on the side.
"It's not a hate crime," DiMezzo told the Boston Globe, "it's a gender reveal!" Yep: intelligent and a great sense of humor. No wonder it was so easy to fool the "between 75 and 80 percent of the primary voters — the ones alleged to be more politically aware than the average voter" in her registered party. It was as easy as stealing candy from the baby she was kissing.
"I find it rather funny," she said of the vandalism. "Imagine being so motivated by hate that basic morality flies out the window." So much for the likely culprits "law and order" demands, instead giving DiMezzo more ammunition to prove her points.
Marilyn Huston, the chair of the Cheshire County GOP, congratulated DiMezzo: she "did very well with the primary and that was wonderful."
So, "DiMezzo's Trap"? Expertly set, and stupidly stepped into. And the suckers continue to fall right in. And as long as voters in either party vote by party rather than thinking, or knowing what their candidate(s) actually stand for, the more they set themselves up to be sucker-punched.
The Bottom Line
Don't let yourself become a sucker too: do some actual open-minded research on the candidates for the offices that it's your duty to vote on, and then vote for the ones that actually match your own values and vision for your city, county, and/or country. Don't take the word of others who have an agenda about who to vote for — especially not the candidates themselves. Do it yourself: that's what thinking voters do, at least!
– – –
Bad link? Broken image? Other problem on this page? Use the Help button lower right, and thanks.
This page is an example of my style of "Thought-Provoking Entertainment". This is True is an email newsletter that uses "weird news" as a vehicle to explore the human condition in an entertaining way. If that sounds good, click here to open a subscribe form.
To really support This is True, you're invited to sign up for a subscription to the much-expanded "Premium" edition:
Q: Why would I want to pay more than the minimum rate?
A: To support the publication to help it thrive and stay online: this kind of support means less future need for price increases (and smaller increases when they do happen), which enables more people to upgrade. This option was requested by existing Premium subscribers.