My wife and I had the opportunity to "have dinner with" the first man to set foot on the moon, Neil Armstrong. It happened to be almost exactly* 43 years after that spectacular event. Like many kids who grew up in the 60s and watched that history being made, Armstrong was a hero to me, so when I got the opportunity to do this, I of course leapt at it.

Personal Connection
Armstrong was in Flagstaff, Ariz., for the "first light" celebration of a new telescope at the Lowell Observatory there. Lowell, established in 1894, is one of the oldest observatories in the United States; it's where Clyde Tombaugh discovered Pluto, in 1930.
Pluto has a special place in my heart: my boss at the Jet Propulsion Laboratory conceived of a robotic mission to the planet; I worked on the pre-project in my later years at JPL, and used This is True to help promote its funding …which led to my being invited by the mission's Principal Investigator to the mission launch in January 2006. There, my wife and I met Tombaugh's widow, Patsy; I had previously been on a telecon with Tombaugh himself.
Of course, as a young and awed lad I watched live as Armstrong was the first human to step on the surface of a celestial body other than Earth.
The "first light" of a new telescope celebrates the end of its construction, when it's finally able to look up and see its first image. At the gala we were shown that image: a beautiful, crisp, clear spiral galaxy.
Invitation
The new telescope at Lowell is called the Discovery Channel Telescope since a significant portion of its construction costs were first underwritten by the cable network (and some personally donated by the network's founder, John Hendricks). It's a big one: it has a 6,700-pound, 4.3m primary mirror (170 inches), which took three years just to polish. It promises to bring back some amazing discoveries: the observatory has hired a few new astrophysicists to work on it. One of those is the wife of a good friend, which is how Kit and I ended up invited to this.
Celebrating the new telescope was pretty cool, but a lot of us were really there to hear the keynote speaker: Neil Armstrong. Let's just say we — the 735 of us in the room — were not disappointed.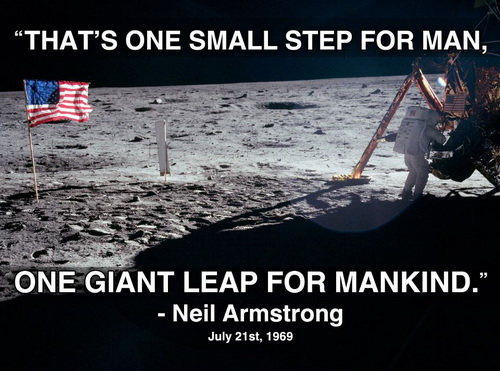 Just on his reputation and accomplishments, Armstrong got a standing ovation even before he started. He recounted the earliest astronomical science accomplishments: how Tycho Brahe (1546-1601) worked to map the stars, which led to Kepler's Laws of Planetary Motion, which provided the foundation to Newton's theory of universal gravitation, which led to the industrial revolution, which immeasurably improved the quality of life for everyone in the world. That, Armstrong pointed out, is an example of the value of basic research.
"You can't help but wonder: what source of astronomical discoveries and consequent societal developments might the Discovery Channel Telescope engender?"
Armstrong gave us a quick overview of an experiment he installed, the Lunar Laser Ranging experiment. By placing a special retroreflector mirror on the moon pointed at the Earth, scientists at observatories could shoot a laser beam at the moon, which would be reflected by the mirror back to them. Using a super-accurate clock, they could then very precisely measure the distance to the moon — at the time with an accuracy of 11-17 inches — a tiny percentage of the quarter-million miles to the moon …and back.
Pointing it at Earth is relatively easy: while the moon sweeps across our sky at night, the Earth is quite stable in one spot in the moon's sky, because the moon always has its face toward the Earth.
"From the Sea of Tranquility, the Earth hung above me 23 degrees west of the zenith — a turquoise pendant against a black velvet sky," Armstrong said. "If I could get the mirrors pointed toward Earth, they would stay pointed toward Earth for a long, long time."
"I wasn't one of the scientists on this project," he continued. "I was a sort of a technician. My job in the experiment was to install the mirror." The moment he got it set up, researchers at the Lick Observatory in San Jose, Calif., started shooting laser pulses at it. He rolled his eyes a bit that they didn't give him a "head's up"!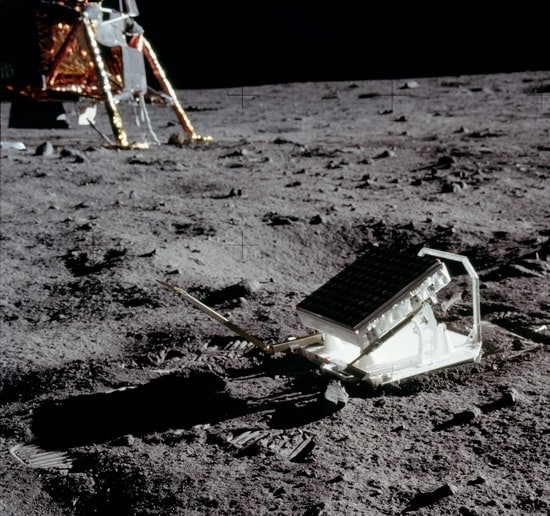 "It may not be obvious why anyone would want to know the distance from the Sea of Tranquility within 11 inches," Armstrong told us, "but we had to have some way of confirming our mileage for our expense account."
Getting the Laugh…
Yeah, I'm sure he's used that joke many times before, but we ate it up. That mirror, the retroreflector pictured above, is still operating 43 years later, and accuracy has improved to less than an inch, "which gives me enormous satisfaction as a technician on the project," Armstrong said.
And, by the way, it gives proof to anyone who can send a laser pulse strong enough to go the distance and back: that couldn't be done before 1969, but it could as soon as Armstrong put it there. Proof that we really did land on the moon.
That, and the Lunar Reconnaissance Orbiter is in orbit around the moon right now, sending back high-resolution photos of the moon's surface. In those photos, we can see the items left there by the astronauts, including the bases of the lunar landers: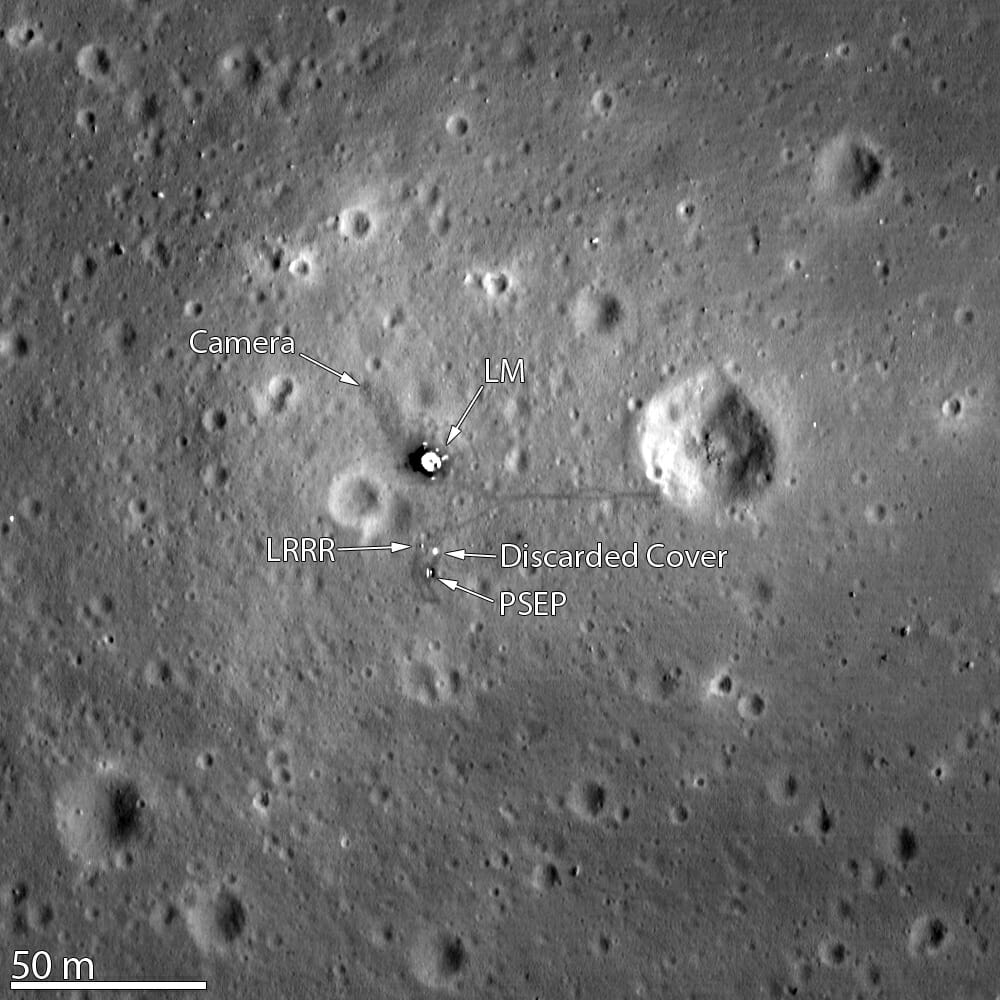 …and Getting Serious
Then Armstrong, who turns 82 on August 5, got a bit more serious:
We now understand the lifecycle of stars, which points to the inevitable death of our sun — the closest star to us. That will take billions of years, "but we can conjure a hundred reasons to require an earlier migration from Earth," Armstrong said. "Changes in our atmosphere, overpopulation, radiation growth, and other scenarios that could result in the extinction of us as a species." That, he says, "does suggest that there is some importance to the fact that we know now that the whole of the human species is not inherently restricted to Earth orbit. The universe around us is both our challenge, and our destiny."
He then took us through the last several minutes of the moon landing by the Eagle, the Apollo 11 lander. The Eagle's landing computer weighed 70 pounds — and only had 32K of memory, he said. It overloaded on the way down, and the autopilot was taking the lander toward a large crater (about the size of a baseball stadium) with steep walls and strewn with boulders. Armstrong took over the controls to steer toward a better landing spot.
That landing was documented by a 16mm movie camera pointed out the window, down toward the surface. He told us that an amateur video maker had used high-resolution photos from the Lunar Reconnaissance Orbiter, skewed the way Google Earth skews satellite photos to give an oblique view, that matched that camera's view of the landing. LRO's photos are so much better that camera (at least until the very end) that you can see the view much more clearly than you can in the 1969 film. And the view was wider: Armstrong said it very well matched the view of what he and Buzz Aldrin could see out the window.
He showed it to us, stopping here and there to fill out some of the details of what was going on in the lander. Here's that landing recreation:
Armstrong emphasized how cool it was that it was an amateur videomaker who did this, not NASA. (While the video is credited to NASA, they in turn credited it to "GoneToPlaid" — that's the only name he goes by online.)
Armstrong finished up with one more image: a panorama photo of the moon from the LEM's window, taken "43 years ago yesterday. And 43 years from now, some of you younger folks will know just how important the DCT has become: you'll have seen the discoveries. … And no doubt you'll see new mysteries that it revealed to future astronomers, astrophysicists, and cosmologists to solve. So to all of you who played a part in making the DCT a reality: congratulations, and thanks. And thanks to everyone here — for being a part of this civilization."
He got another standing ovation — this one twice as long as the first.
Have We Learned Anything?
Similar to the industrial revolution Armstrong talked about, Russia's Sputnik — the first artificial satellite of the Earth — sparked the information revolution. Sputnik 1 launched in 1957, and it made the U.S. realize that it had fallen way behind in science and technology: the Russians were beating us.
My alma mater, the Jet Propulsion Laboratory, responded to Sputnik with Explorer 1, launched just three and a half months later. It was not "just a satellite" — it had scientific instruments aboard to do (yes!) basic research: it found the Van Allen radiation belt (James Van Allen designed the experiment that found the "belt" of radiation above the Earth's surface).
The "space race" that followed propelled the U.S. into a tremendous period of knowledge: the U.S. space program needed a lot of engineers, astrophysicists, and other scientists who invented the technologies needed to get to the moon. It's not all Tang and Velcro: it led to leaps in computer science, communications, medicine, the Internet, and other advances that couldn't be anticipated any more than Tycho Brahe could have anticipated what his work would lead to. And it led to a gigantic increase in the quality of life for billions.
We are losing the lead again, just like we lost it to the Russians. We are no longer turning out enough engineers and scientists. Foreigners used to come to the U.S. to study, and then stay here. Now they're taking that knowledge home, in part because they don't feel welcome to stay. Schools are teaching kids to take standardized tests ("what to think"), not teaching them how to think.
President John F. Kennedy had the vision to fix a similar problem by challenging the country to send a man to the moon, and bring him home safely. In all, twelve men — all Americans — landed there, and all of them returned safely. That was a great accomplishment, but the billions of dollars spent didn't get blasted into space, they were spent here, and we're still seeing the benefits of that investment.
But we're falling behind again now, here in the 21st century. We need vision and guts and work to regain the lead, or we are destined to follow. Science gives us answers — and those answers can be tested. What other field promises that?!
Armstrong was a great choice to lead the first moon landing. He had been tested again and again as a pilot in combat, and as a test pilot. He limped broken down aircraft to safety again and again. He was flying a mockup of the lunar lander when it went out of control just feet above the ground. To survive, he had to eject — from practically ground level. He then got in another one and went back to work: he had a task to complete! (Wikipedia has some details of his exploits here.)
So yeah, when a landing computer overloads and starts taking you toward a boulder field right next to a huge crater, Armstrong was the right guy to take over. That was an easy problem for him. Some years ago, Armstrong said that at the time of launch, he guessed their chances of returning alive were about 90 percent, and the chances of a successful landing on the moon were only 50 percent. But he took the job anyway. That's the kind of guts we need. Who will provide the vision?
– – –
*Notes…
…about the date: The first moon walk was on July 21, 1969, at 2:56 a.m. UTC ("Universal Time"). In the United States, it was late on July 20. So the dinner we attended was actually 43 years and one day after Armstrong's moon walk.
…about the quote: Amateur researchers don't always get things right. One had done an analysis of the audio of Armstrong's first words upon stepping on the moon. He meant to say "That's one small step for a man, one giant leap for mankind." The "analysis" showed that the "a" was said, just dropped in the radio transmission. But Armstrong admits that in the stress of the moment, he left out the "a", leaving the sentence not quite making sense. He "prefers" that the "a" be included when it's quoted.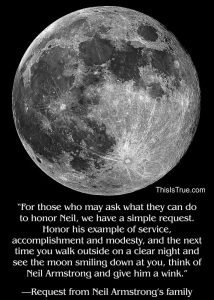 …about the lack of photos of Armstrong at the dinner: Sorry, not allowed. To get a photo, a $1,000-a-head donation to the Lowell was required for a pre-banquet meet-and-greet. Even if I had heard about it in time to do that, I didn't feel I could justify the expense after driving here and paying for hotel bills.
…last: The day I wrote and posted this entry, I found out that Sally Ride had died. She was America's first female astronaut. I feel lucky that I got the chance to meet her, too, while I still worked at JPL. She was a class act for sure. She was 61, and died from pancreatic cancer.
And…
Armstrong died 25 August 2012, a little over a month after this dinner — his last public appearance. He had turned 82 just twenty days before. The image just above reflects the wishes of his family after his death.
Related: One Small Step for [a] Man and The Giant Leap for Mankind.
– – –
Bad link? Broken image? Other problem on this page? Use the Help button lower right, and thanks.
This page is an example of my style of "Thought-Provoking Entertainment". This is True is an email newsletter that uses "weird news" as a vehicle to explore the human condition in an entertaining way. If that sounds good, click here to open a subscribe form.
To really support This is True, you're invited to sign up for a subscription to the much-expanded "Premium" edition:
Q: Why would I want to pay more than the minimum rate?
A: To support the publication to help it thrive and stay online: this kind of support means less future need for price increases (and smaller increases when they do happen), which enables more people to upgrade. This option was requested by existing Premium subscribers.