It was 50 years ago Saturday that Apollo 11 astronaut Neil Armstrong piloted the Eagle — the first manned lunar-landing spacecraft — to the surface of the moon.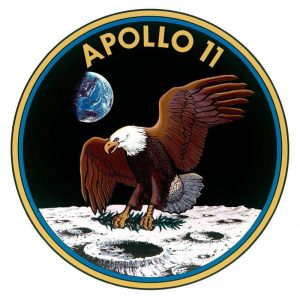 He had to land manually, as the onboard computer couldn't process instructions fast enough as they sped toward a field of boulders; landing on them would have surely meant death. But he settled down with less than 30 seconds of fuel remaining and, after a few hours of rest, stepped onto the surface of our moon, followed shortly by Edwin "Buzz" Aldrin, while Michael Collins circled as few about 66 miles overhead in the command module, Columbia.
Driven by dreams — and funded by a burning desire to beat the Russians — the first moon landing on July 20, 1969, was a defining moment in human history. Never before had so many people, in so many countries, watched a single event with such awe.
"It was probably the greatest singular human endeavor, certainly in modern times, maybe in the history of all mankind," said former astronaut Gene Cernan as the 30th anniversary approached. Then 65, Cernan was the last of the 12 men to walk on the moon, from Apollo 17 in 1972.
Chances of Success
The astronauts had their own opinions about the likelihood of success: they were cool-thinking, technical men. "I thought we had a 90 percent chance of getting back safely to Earth," Armstrong said for the 30th anniversary celebrations, "but only a 50-50 chance of making a landing on that first attempt." Buzz Aldrin concurred. And Michael Collins? "I think we will escape with our skins," he wrote in a NASA history, "but I wouldn't give better than even odds on a successful landing and return. There are just too many things that can go wrong."
A 50-50 chance, but they went anyway, and gladly.
Everyone in the program knew there were significant risks — right up to the top. President Richard Nixon was ready to address the nation in case of failure. Nixon speechwriter William Safire (later a columnist for the New York Times) wrote the words Nixon never had to use, sent as a memo to Nixon's Chief of Staff, H.R. Haldeman.
The memo was titled "IN EVENT OF MOON DISASTER":
Fate has ordained that the men who went to the moon to explore in peace will stay on the moon to rest in peace.

These brave men, Neil Armstrong and Edwin Aldrin, know that there is no hope for their recovery. But they also know that there is hope for mankind in their sacrifice.

These two men are laying down their lives in mankind's most noble goal: the search for truth and understanding.

They will be mourned by their families and friends; they will be mourned by their nation; they will be mourned by the people of the world; they will be mourned by a Mother Earth that dared send two of her sons into the unknown.

In their exploration, they stirred the people of the world to feel as one; in their sacrifice, they bind more tightly the brotherhood of man.

In ancient days, men looked at stars and saw their heroes in the constellations. In modern times, we do much the same, but our heroes are epic men of flesh and blood.

Others will follow, and surely find their way home. Man's search will not be denied. But these men were the first, and they will remain the foremost in our hearts.

For every human being who looks up at the moon in the nights to come will know that there is some corner of another world that is forever mankind.

PRIOR TO THE PRESIDENT'S STATEMENT:

The president should telephone each of the widows-to-be.

AFTER THE PRESIDENT'S STATEMENT, AT THE POINT WHEN NASA ENDS COMMUNICATIONS WITH THE MEN:

A clergyman should adopt the same procedure as a burial at sea, commending their souls to "the deepest of the deep," concluding with the Lord's Prayer.
Two specific phrases really jump out: "widows-to-be" and "when NASA ends communications with the men"! My guess is that NASA would be there for the guys until they couldn't communicate anymore, rather than sever communications and leave them to die without any link to home.
And that's one hell of a position for Safire to put himself into: dictating specifically what a "clergyman" should say to the entire world at the conclusion of his service.
Pressure to Succeed
Imagine the pressure they must have felt! But they thought it was important to take such risks. True heroes indeed, and it was worth it: their bold steps inspired an entire generation, not just of Americans, but of the entire human race.
Including me: I started my career as a science writer, with a specialty in explaining complex topics to a lay audience, proudly working at NASA's Jet Propulsion Laboratory for ten years before I left to work on True full time. I loved being shoulder to shoulder with the people that make our reach toward the stars happen.
For a terrific summary of the Apollo 11 mission — as told by the astronauts while it was fresh in their minds — well illustrated with great photos, see NASA's The First Lunar Landing site, released for the mission's 20th Anniversary.
Update: July 17, 2019
Twelve Apollo astronauts walked on the moon (marked in the table below with *), and 12 more flew to the moon without landing there.
Here is the status of those astronauts as I update this page on July 17, 2019 — the 50th anniversary of the Apollo 11 launch. The date (mm/dd/yy) is the mission start, and the links go to NASA's Mission Overviews.
| | | |
| --- | --- | --- |
| Mission | Crew | Crew Status |
| Apollo 8 12/21/68 | Commander: Frank Borman, Command Module Pilot: Jim Lovell, Lunar Module Pilot: Bill Anders | All three astronauts still alive: Borman and Lovell are 91, Anders is 85. |
| Apollo 10 5/18/69 | Commander: Thomas Stafford; Command Module Pilot: John Young; Lunar Module Pilot: Eugene Cernan | Stafford is still alive at 88. Young died 1/5/18 at 87; Cernan died 1/16/17 at 82. |
| Apollo 11 7/16/69 | Commander: Neil Armstrong*; Command Module Pilot: Michael Collins; Lunar Module Pilot: Edwin 'Buzz' Aldrin Jr.* | Armstrong died 8/25/12 at 82; Aldrin is still alive at 89; Collins is still alive at 88. |
| Apollo 12 11/14/69 | Commander: Charles 'Pete' Conrad Jr*; Command Module Pilot: Richard Gordon Jr; Lunar Module Pilot: Alan Bean* | Conrad died 7/8/99 at 69; Gordon died 11/6/17 at 88; Bean died 5/26/18 at 86. |
| Apollo 13 4/11/70 | Commander: James Lovell Jr; Command Module Pilot: John 'Jack' Swigert; Lunar Module Pilot: Fred Haise | Lovell is still alive at 91; Swigert died 12/27/82 at 51; Haise is still alive at 85. |
| Apollo 14 1/31/71 | Commander: Alan Shepard Jr*; Command Module Pilot: Stuart Roosa; Lunar Module Pilot: Edgar Mitchell* | Shepard died 7/21/98 at 74; Roosa died 12/12/94 at 61; Mitchell died 2/4/16 at 85. |
| Apollo 15 7/26/71 | Commander: David Scott*; Command Module Pilot: Alfred Worden; Lunar Module Pilot: James Irwin* | Scott and Worden are still alive at 87; Irwin died 8/8/91 at 61. |
| Apollo 16 4/16/72 | Commander: John Young*; Command Module Pilot: Thomas Mattingly II; Lunar Module Pilot: Charles Duke Jr* | Young died 1/5/18 at 87; Mattingly and Duke are still alive at 83. |
| Apollo 17 12/7/72 | Commander: Eugene Cernan*; Command Module Pilot: Ronald Evans; Lunar Module Pilot: Harrison Schmitt* | Cernan died 1/16/17 at 82; Evans died 4/7/90 at 56; Schmitt is still alive at 84. |
- - -
This page is an example of Randy Cassingham's style of "Thought-Provoking Entertainment". His This is True is an email newsletter that uses "weird news" as a vehicle to explore the human condition in an entertaining way. If that sounds good, click here to open a subscribe form.
To really support This is True, you're invited to sign up for a subscription to the much-expanded "Premium" edition:
Q: Why would I want to pay more than the regular rate?
A: To support the publication to help it thrive and stay online: this kind of support means less future need for price increases (and smaller increases when they do happen), which enables more people to upgrade. This option was requested by existing Premium subscribers.
Comments Note
This page was originally written for the 30th anniversary of the Apollo 11 mission on July 20, 1999. Thus, the comments start awhile back.
Part Two of this story is in my podcast, The Giant Leap for Mankind (which page also has a transcript).
Related: I had the honor later of attending Neil Armstrong's final public appearance.