It was one of those cases of serendipitous timing, and why I find EMS so interesting as an avocation. This morning, I jumped out of bed to help a helicopter land on the highway.

Emergency Medical Services folks train all the time. To keep our certifications up, we're required to get three full days of training every year — 24 hours, not counting breaks. Most recently, my wife and I spent an hour learning about medical evacuation helicopters. Our local chopper provider brought in a flight crew to brief us on operations, how to stay safe, and how to keep them safe.
Extra Dangerous
It's hairy to land a chopper in the middle of an emergency scene; it leads to a "lot" of crashes. The medical chopper to the south of us, in nearby Durango (the next-in when our chopper is busy), crashed in 2005 — shortly after another training I attended. All three of the crewmen were killed: pilot Jim Saler, 40, a former Army Blackhawk pilot, had a wife and three daughters; flight nurse William Podmayer, 49, was married; firefighter-paramedic Scott Hyslop, 33, was married and had just adopted a son.
The cause was apparently the failure or improper installation of a fuel control unit — a simple, but critical, mechanical problem.
And that danger comes during the day: at night it gets really dangerous!
Imagine trying to see black power lines crossing a black highway below you, in the dark. Hit them and you die. The crew all have night-vision goggles, but that's not that much insurance, so they depend on a landing officer on the ground to guide them in, and point out any hazards that they might not see. All the while, there's a critical patient's life in the balance. The bottom line: medical chopper crews, men and women alike, have balls!
We asked a lot of questions and got the answers from the people who actually do the work. We got to touch the equipment (but no rides!), see how much room there is (not much!), and while up on the hospital's roof, it even occurred to me to take a photo of our bird as the sun was setting behind us (above).
It was interesting, it was informative, and it was Tuesday last week. It was at least the third time I've done similar training over the years. This morning, that training came in really handy.
Beep Beep Beep Beep Beep Beep Beep Beep!
My pager went off at 3:37 this morning. "I'll bet it's for us," I said to my wife. Car crash … sounded bad … above Ridgway — nope: it was about 10 miles from us, and the ambulance was closer; we wouldn't be helpful since lots of people would get there long before us. But it was interesting to hear the other members of the team head out to help, so we kept the radio on to listen, even though it was prime sleeping time.
One interesting update that we learned by listening: the crash was caused …by a bear! It apparently ambled in front of a car on the highway, and they either hit it and crashed, or swerved and crashed (but hit it anyway: the bear was injured, but still alive. Yikes!)
There are no deputies on duty at that hour, but The sheriff heard the call and headed there in a hurry to ensure the injured animal didn't create a hazard for the victims or the rescuers.
The next update from the dispatcher, prying information out of the cell-phone caller on the scene: there was more than the one, very-injured patient. The on-duty paramedic asked for a second ambulance, which is in addition to the extrication crew that rolls on all car crashes, and the fire department (and the sheriff and the State Patrol). Yeah, that is going to be one crowded scene. Glad we didn't add to it.
Chopper on Standby
The chief paramedic also rolled, but jumped on the ambulance so her truck didn't add to the chaos. When she heard the extent of the injuries, she asked for the chopper to be put on "standby." That means the crew is awakened, they get dressed, cross the street over to the hospital, and take the elevator up to the roof and do their preflight checks. A lot of the time, they get canceled and it's for nothing. But that's part of the job, too.
The on-duty paramedic arrived first, and she started working on the critical patient. The first ambulance arrived and they quickly loaded the first two patients, and asked for the second ambulance to check on two more who were refusing transport.
The first ambulance took off for the hospital, "emergent" (aka "Code 3") — lights and siren. Despite what you see on TV, rolling to the hospital with lights and siren is not routine. It's a significant risk to roll fast, so we don't do it unless someone's life or limb is on the line.
Dispatch asked them what they wanted the chopper to do: launch, or stand down?
The answer: "Stand by."
To Fly, Or…?
At least five minutes ticked by. "I can't believe Dispatch hasn't asked again about the chopper," I said to Kit. Still nothing.
But a couple of minutes later, the ambulance asked Dispatch to launch the chopper immediately. They had been on standby for at least 20 minutes, wondering if they were going to fly out on a nasty call, or go back to bed.
Where to? Knowing where they were at that point, I realized it was either the Ridgway State Park (where there's a big parking lot) or Colona, which is a tiny town at our County Line. "If they go to Colona," I told Kit, "we'll be rolling." Colona is at the end of the county road we live on, 6 miles from our house. That was Kit's cue to pee. She jumped out of bed.
The answer was Colona. The problem: every available cop in the county was still at the accident scene. We have a helicopter that needs to land (safely!), and no one to clear the road. Yeah, it was not quite 4:00 in the morning, but there's still some traffic out there. I grabbed my radio and told the ambulance we'd be en route, arriving in 10 minutes.
I got dressed while Kit threw in her contact lenses. I still beat her to the car, so I made sure I had two good flashlights, and dug out the reflective vests from the back. She came out and we rolled. Once I got settled in for the drive, I had Kit dial the radio to the channel where the chopper would be (for you communications geeks: NLEEC, pronounced "en-leck" — the National Law Enforcement Emergency Channel).
First Step: Communications
I picked up the radio and called them: Do they want to land on the highway, is that their preference? Yes, was the reply. We'll be there in 5 minutes, I told them; they said they'd be there in 3. "You'll have to circle for a couple of minutes, then," I said, since I was their landing zone contact. The ambulance would be there in 7. That would give the pilot time to check out where they wanted to set down.
There was one pair of tail lights a mile ahead of us. We finally caught up as we reached Colona, and they pulled over to let us pass. The helicopter was circling above us.
The procedure, which we reviewed on Tuesday, is to use your headlights to light up the spot you want them to land on, but they didn't have my OK yet. They prefer two vehicles, crossing their headlights to mark the spot to land, but we didn't have two vehicles available.
On the way down, I outlined to Kit what we would do: I'd block the southbound lanes with my car, and she would — by herself in pitch darkness, armed only with a flashlight and reflective vest — run down the side of the road and stop northbound traffic so the chopper could land between us in the clear. (She has guts too!)
The chopper pilot remembered there are no power lines crossing the road there — right? she asked me over the radio. I was pretty sure that was the case too, but I still swung my flashlight around 360 degrees to make sure-sure. I lit up the one pole in the area: "That's the only pole," I told the pilot over the radio, "and all of its lines go west" (away from the road). How's the wind? "Very slight breeze."
Then it was up to the pilot to decide the safest approach to land, and they did, leaving plenty of room for the ambulance to get fairly close.
About that time the ambulance came around a curve, and I told them to stop where Kit was. (Never, ever approach a just-landed chopper until they tell you to, period, even if they're there for you.)
A car came around the curve behind the ambulance, and Kit went out to stop it. One had come up behind me, and I stopped it before the chopper landed, but I still looked behind me every few seconds to make sure no one tried to pass it and drive through the landing zone.
The Crew Gets to Work
Once they land and are sure no one is trying to run up to the helicopter, the chopper medics' next job is to go to where the patient is and get briefed by the medic in charge of that patient. It would have been fun to go watch, but I still had a job to do.
I let Dispatch know the chopper was down safely, and walked back to the line of the now half-dozen cars and trucks and let them know how long the delay would be. (The first driver that Kit stopped asked her, "There's another accident?!" — they had driven by the original scene! No, Kit told them, it was the same one!)
About this time Rich, another of my First Responder crew, arrived: need any help? "Yes," I said, because he has red lights on his truck. "It would be good to have a marked vehicle at the other end where we have the road closed. You'll find Kit down there." He drove down, giving the chopper wide berth, and made himself obtrusive.
Then the pilot walked down to me to say thanks. They hadn't been told much, so I filled her in: the bear, the location 20 miles away, etc. We could have flown to the scene! she said. "I know," I said, but I'm sure our chief paramedic had a good decision tree for doing it this way; I'm guessing it saved a good 20 minutes on the transport.
The chopper took off with the patient, and the ambulance continued on to the hospital — they still had the other, non-critical patient to take for treatment. We opened the road up for the traffic, went home, and went back to sleep!
Why a Chopper?
At the county line, we are only about 12 minutes from the closest hospital, the same hospital where the chopper parks. So why did we need a helicopter for such a short trip? That hospital is a small one: they have no neurologist to handle head injuries. The closest hospital with a neurologist is 65 miles beyond, in Grand Junction.
And that's where our patient this morning was taken; it's not about "the closest hospital" but rather "the closest appropriate hospital." Had the ambulance taken the patient to the closest hospital, they would have quickly transferred them to "Junction" …by the same helicopter. All of this was going through our chief's head as she was deciding what to do, and when.
My only regret this morning: when it was quiet, I forgot to take any photos of the chopper on the highway!
It's Why I Love This Job
We might be called out to a man who's dead — unless we can change that. Or a girl who fell off a cliff. Or a simple medical problem, or directing a helicopter to land in the middle of the highway that you've secured for them. You never know what it's going to be, or even whether you can really make a difference.
And that's why I love it: it's always different, it's always interesting, and it's usually a challenge to be overcome.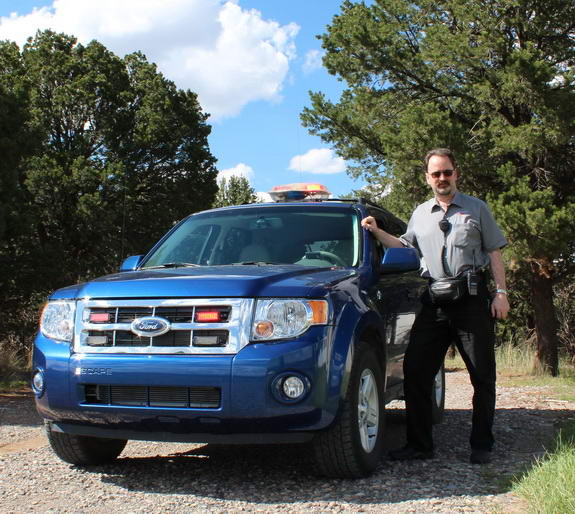 Related: The crash story.
The experiences even help me in my Day Job, writing a "social commentary" feature: I get to see people as they really are, stripped of pretense (and often clothing) at what could be the worst moment of their lives, a literal fight to stay alive. You can't help but to learn about people as they really are when you're privileged to be there to help them at that critical time. And you know what? I've learned that in general, people are pretty darned cool.
And, sometimes, you really can make a difference: helping that life to continue so they can see their kids or grandchildren grow up.
It truly is a privilege to get paged out of sleep, or work, or the shower, or whatever because someone really needs help, and Right Now. And it's a true honor to be part of a team who makes such a huge difference — and do it as volunteers. That's how a large part of EMS, and firefighting, and even in some cases police work, is done: by your neighbors, volunteering.
– – –
Bad link? Broken image? Other problem on this page? Use the Help button lower right, and thanks.
This page is an example of my style of "Thought-Provoking Entertainment". This is True is an email newsletter that uses "weird news" as a vehicle to explore the human condition in an entertaining way. If that sounds good, click here to open a subscribe form.
To really support This is True, you're invited to sign up for a subscription to the much-expanded "Premium" edition:
Q: Why would I want to pay more than the minimum rate?
A: To support the publication to help it thrive and stay online: this kind of support means less future need for price increases (and smaller increases when they do happen), which enables more people to upgrade. This option was requested by existing Premium subscribers.