Often, a photograph really completes a This is True story. This time, it's another little snippet of media. Let's start with the story, from True's 11 October 2015 issue:

Snack Attack
A man in Austintown, Ohio, called 911 for help. The problem: he was "too high" on "weed." Police were sent to back up the ambulance crew, and an officer found the 22-year-old unnamed man "on the floor in the fetal position." The officer was pretty sure it was the right guy: the man was "surrounded by a plethora of Doritos, Pepperidge Farm Goldfish, and Chips Ahoy cookies," his report noted. Police confiscated his marijuana and paraphernalia. Despite saying he couldn't feel his hands, the man declined medical care, and police declined to charge him with any crime. (RC/Youngstown Vindicator) …How high is too high? When the cops feel so sorry for you they leave you be.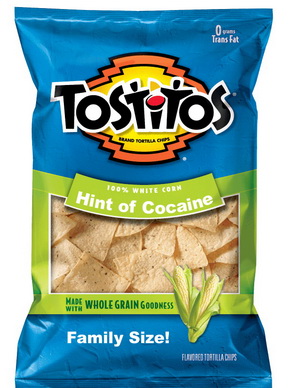 Here's the recording of the man's 911 call (52 seconds):
– – –
Bad link? Broken image? Other problem on this page? Use the Help button lower right, and thanks.
This page is an example of my style of "Thought-Provoking Entertainment". This is True is an email newsletter that uses "weird news" as a vehicle to explore the human condition in an entertaining way. If that sounds good, click here to open a subscribe form.
To really support This is True, you're invited to sign up for a subscription to the much-expanded "Premium" edition:
Q: Why would I want to pay more than the minimum rate?
A: To support the publication to help it thrive and stay online: this kind of support means less future need for price increases (and smaller increases when they do happen), which enables more people to upgrade. This option was requested by existing Premium subscribers.