I had to get something off my chest. I've been seething about this for awhile, but a story this week brought it to a head. You probably saw it: it was the talk of social media last week. So let's start with that, from True's 20 September 2015 issue:

"Hoax Bomb" Blows Up
Ahmed Mohamed said it was a clock he had invented. But his engineering teacher said he shouldn't show it to other teachers, his English teacher said it looked like a bomb, and the police said he was arrested and led out of the school in handcuffs for bringing a "hoax bomb" to school — even though Mohamed, 14, never claimed it was a bomb. "He kept maintaining it was a clock, but there was no broader explanation," said a spokesman for the Irving, Tex., police. A cop, Mohamed says, took one look at him and said, "Yup. That's who I thought it was." Mohamed was suspended from school, and prosecutors declined to file any charges. The story exploded on social media, where President Obama, Mark Zuckerberg and others came down firmly on Mohamed's side. (AC/Dallas Morning News) …Some conservatives suggest the Mohameds deliberately baited the authorities. If so, they sure took the bait.
There Has Been Some Great Stuff online about the story. The kid said he "invented" (more repackaged) a digital clock to show his teacher.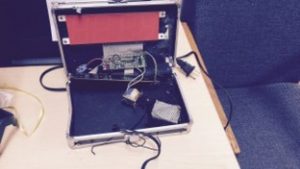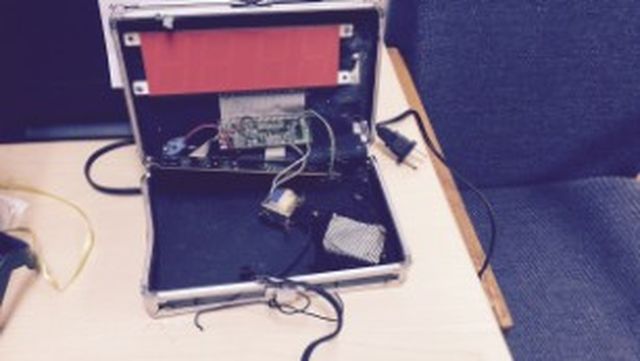 I like Alexander's take on it: whether the kid is a totally innocent tinkerer or trolling the cops to make a point about race and/or religion in this country (after all, because I'm white, I've never been arrested for my Timex wristbomb — even in airports!), the point is clearly made while his school and the local authorities are left looking like total fools.
The absolute funniest one I've seen is this picture of London's Big Ben, with the caption "BREAKING NEWS: The British appear to have developed some sort of giant bomb, possibly attached to a rocket." Naturally I couldn't find it now, so I went ahead and recreated it (click to see larger).
"Suspicious"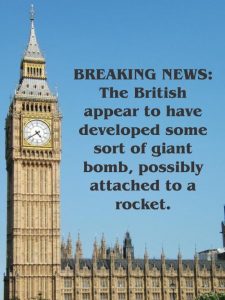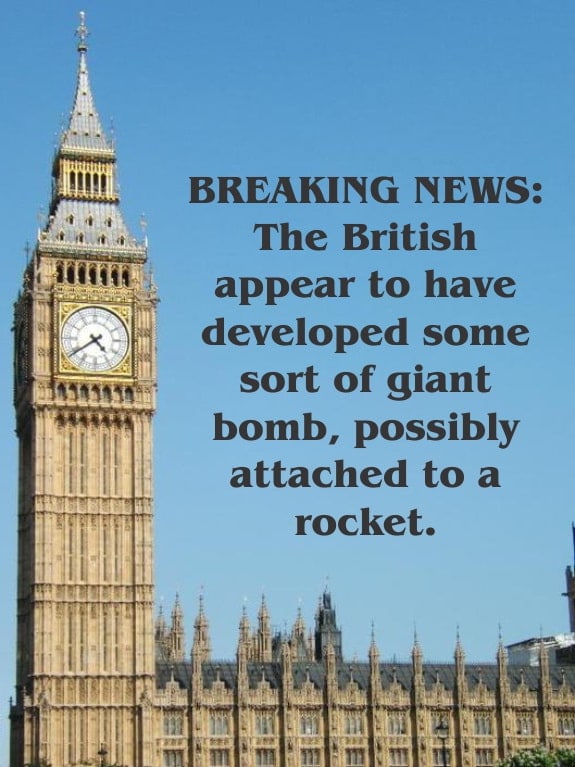 The school's response was to tell parents that "police responded to a suspicious-looking item on campus" …without mentioning that the police did that because the school called them.
And just how worried was the school about this "bomb"? Consider that they didn't evacuate the school. The police transported the "bomb" with the kid when they took him in for booking.
NO ONE thought it was "really" a bomb, so why the hysteria? Oh yeah: because the kid's name is Mohamed and he's brown.
No Room for Intelligence
The principal told parents that this event "is a good time to remind your child how important it is to immediately report any suspicious items and/or suspicious behavior" to school officials.
Sure, that's true. But then it's the adults' responsibility to know the difference between a threat and a student trying to impress his teacher with his ingenuity in the bumbling sort of way 14-year-olds do that.
Yep, the key takeaway isn't that he's Muslim or a "terrorist," it's that he's an absolutely normal 14-year-old kid, part of the "melting pot" that defines America. OK, a smarter-than-average 14-year-old kid, but that's something for schools to celebrate, not stomp down until the kid cowers in fear like the adults at the school — and, apparently, at the Irving Police Department.
Ahmed showed more maturity and, indeed, dignity than all of them combined. In his arrest photo, this dangerous monster is wearing a NASA T-shirt. Yep: just your basic geek.
Land of the Scared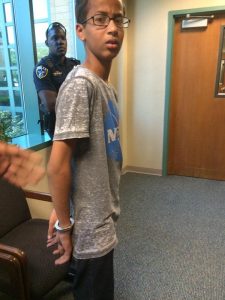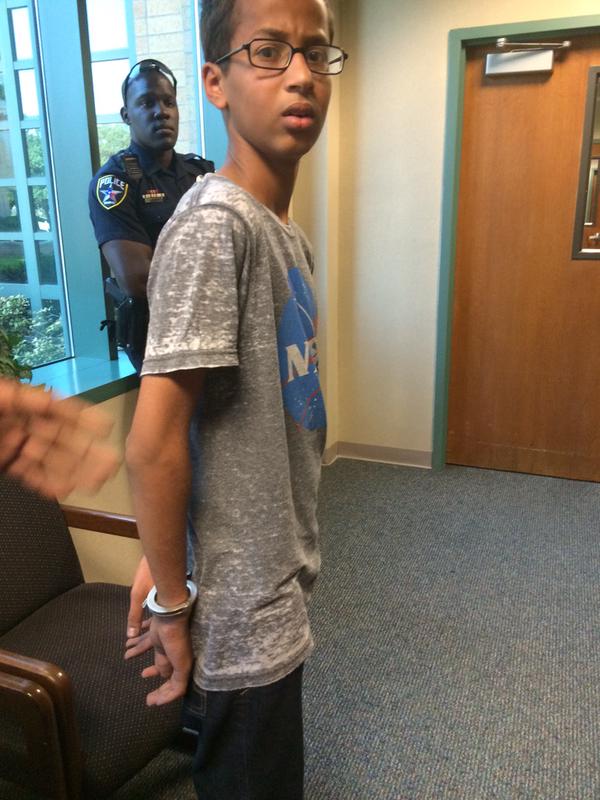 I remember when Americans were tough. They looked up to strength: Superman trumpeted "Truth, Justice, and the American Way." What happened? Now we tremble at the thought of a 14-year-old with (gasp!) a clock?
We used to embrace science and technology …until a few politically connected whiners finally realized it reveals inconvenient truths, like evolution and the human-caused destruction of the planet. "Stop teaching kids the truth! Don't trample my myth! It deserves equal time!"
No. No it doesn't.
It's time to stop being afraid. It's time to start teaching kids how to think, rather than what to think. Because the last generation of kids didn't grow up to be strong, thoughtful citizens: they're afraid of little boys with clocks, and hide behind zero tolerance to lash out at what they don't have capacity to understand.
Those aren't American values, that's plain cowardice. It's time for America to grow up.
November 2015 Update
An attorney for the Mohamed family announced a demand for an apology from the mayor and police chief of Irving, Texas — plus $15 million — or suffer from a lawsuit filed against the city.
I roll my eyes.
Yes, it's still ridiculous to for Americans to grossly overreact and cower in fear. But 15 mil? Outrageous. The Mohameds had the high ground for a little while, but running off (the family moved to Qatar) and leaving a lawyer behind to demand an outrageous profit is a bit much.
Attorney Kelly Hollingsworth says that Ahmed's civil rights were violated, he suffered "severe psychological trauma," and his "reputation in the global community is permanently scarred." What, by meeting a bunch of celebrities patting him on the back, including the president of the United States? Or was it from getting scholarship offers and doing public appearances?
Pathetic.
"Ahmed clearly was singled out because of his race, national origin and religion," the attorney says. Yep, and that was pathetic too. But I don't see any financial damage — just a financial windfall. That's not even close to being worthy of a settlement, or a lawsuit. That's Stella Awards material.
The attorney has given the city 60 days to cough up, or the lawsuit will be filed. (Source)
Yet none of this changes the point of this page: it's still time for Americans to stop being afraid. Again, "Some conservatives suggest the Mohameds deliberately baited the authorities. If so, they sure took the bait."
May 2017 Update
All claims in the lawsuit were tossed out by a federal judge — without prejudice, which means it could be amended and re-filed. It apparently was not. (Source)
– – –
Bad link? Broken image? Other problem on this page? Let Me Know, and thanks.
This page is an example of Randy Cassingham's style of "Thought-Provoking Entertainment". His This is True is an email newsletter that uses "weird news" as a vehicle to explore the human condition in an entertaining way. If that sounds good, click here to open a subscribe form.
To really support This is True, you're invited to sign up for a subscription to the much-expanded "Premium" edition:
Q: Why would I want to pay more than the regular rate?
A: To support the publication to help it thrive and stay online: this kind of support means less future need for price increases (and smaller increases when they do happen), which enables more people to upgrade. This option was requested by existing Premium subscribers.