From the 28 September 2003 newsletter:

Disquieting
Librarians are protesting a new "action figure" being released by Archie McPhee and Co. of Seattle, Wash. The $8.95 doll, complete with "amazing push-button shushing action!", is "a lovely idea and a lovely tribute to my chosen profession," says librarian Nancy Pearl, 58, whom the doll is modeled after. But other librarians don't like it one bit. "The shushing thing just put me right over the edge," says Diane DuBois of the Caribou (Me.) Public Library. "It's so stereotypical I could scream." (AP) …Hey! What part of "shush" don't you understand?
And here's the photo to go with the story: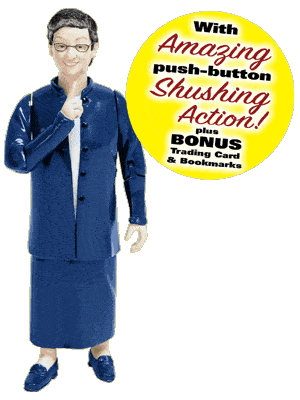 – – –
Bad link? Broken image? Other problem on this page? Use the Help button lower right, and thanks.
This page is an example of my style of "Thought-Provoking Entertainment". This is True is an email newsletter that uses "weird news" as a vehicle to explore the human condition in an entertaining way. If that sounds good, click here to open a subscribe form.
To really support This is True, you're invited to sign up for a subscription to the much-expanded "Premium" edition:
Q: Why would I want to pay more than the minimum rate?
A: To support the publication to help it thrive and stay online: this kind of support means less future need for price increases (and smaller increases when they do happen), which enables more people to upgrade. This option was requested by existing Premium subscribers.