Our EMS agency has three full-time "Advanced Life Support" medics to run on calls with the ambulance crews, which are usually staffed by "regular" EMTs. That gives us a primary, a secondary (calls often come after long waits of nothing, and then we get two …or three), and room for the third to have a day off now and then. On Friday, Kit and I ran a call that ended up taking three hours — and we weren't even involved in the transport part! I can't say what took so long, but sometimes it happens that way.

I like all three of our ALS folks; they're superbly qualified, which I think is so cool in this tiny alcove of rural America. Them big-city medics ain't got nothin' on Ouray County! I know, because I used to work in the big city.
Anyway, on Friday the primary ALS medic was Colette, so she was on the call with us. Kit and I both loved how she calmly questioned the patient's wife about his medical history, getting the full picture of what was going on; it was textbook.
Colette's husband, meanwhile, was off at his own job in the next county over. We know him well: a climbing instructor and guide here in the Rockies. Well, not just "a" climbing instructor and guide, but one of the best in the world. And that's not just my opinion: I've long been aware that climbers from all over the U.S. and beyond come here seeking Mark. And Mark put his skills to more use than that: a lot of those folks came here to learn rescue techniques, since Mark is well known as one of the few go-to guys for "rescue rigging," or setting up the ropes and other systems to rescue people in trouble. Not everyone could come to him, so he traveled to seven countries to teach the techniques.
Giving Back
He also donated a lot of his expertise to the world-famous Ouray Mountain Rescue Team (one of my blog "EMS Stories" is about working with the team on a rescue; though it was long enough ago that I can't remember if Mark was one of the guys on that rescue). He also certified as a medic, so he could be sure the people he helped could get great care before they were delivered to the waiting ambulance crew.
Anyway, Mark was guiding a couple of mountain climbers from Europe. Why the heck would someone want to come to Colorado's mountains to climb in the dead of our freezing winters? The hint is in one of the stories this week: we have some of the best ice climbing in the world. Indeed, I've mentioned Ouray's municipal ice park before; Mark was one of the principal architects in the system that makes the ice there. They call it "ice farming," and Mark was responsible for creating some of the most amazing climbing routes in the park:
Mark wasn't climbing there on Friday, though; he was in a "wild" area near Silverton, deeper into the mountains.
Anyway, if you couldn't spot the climber in the photo above, here's a much-closer-up shot:
Q: How Do You "Farm" Ice?
A: With lots of pipes, branched out to end at just the right spot …with a shower head. Yes, a plain household shower head. They turn the water on at night, when it's really cold, and off in the morning. A terrible waste of water? Not at all: in the spring, it all melts and goes right back into the river flowing through the bottom of the gorge.
Missed Check-in
But on Saturday, I learned Mark didn't make it home from that job. The odds caught up with him: the ice he was on collapsed, dropping him about 800 ft. to his death. He was 50 years old.
"His death hit this small community with the same force that losing a Peyton Manning or a John Elway might slam Denver," the Denver Post said yesterday — and they're not quite right: it hit us harder; those guys were just football figures. Mark helped make rescuers safe, and during his time off he actively saved lives. Climbing magazine simply calls him a legend.
Sunday afternoon, about 100 of us gathered at the permanent memorial in the Ouray Ice Park for area mountain and ice climbers who are no longer with us. Mark's friends and colleagues told stories for over an hour about this quiet, competent man who gave so much to the community. It was 25 degrees (-4C), and in the canyon there was no sunlight to counter that cold, so most of us were growing little ice cubes on our cheeks.
We were numb in more ways than one. To give you an idea of how much Mark was respected in the community, that structure where we gathered is now permanently and officially known as the Mark Miller Memorial.
A Little About Mark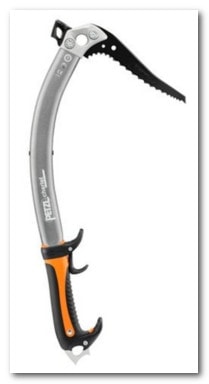 Mark grew up on a midwestern dairy farm, but moved here to fully engage with climbing. And he gave back what he learned, helping to make the world a better place. Not just by helping when a car went over the edge on a mountain road, but by making sure he wasn't the only one who knew how to safely rescue the driver.
There isn't a lot of money in volunteering like that, even with teaching, but he wasn't concerned with that. He was dedicated not just to professional climbers, but he made sure there was a special wall in the ice park for kids to learn how to climb. He helped teach the disabled to climb too: he didn't care what body parts were missing, said one man at the memorial yesterday who had an artificial leg — but rather he cared what you could do with what was left. ("We all use prosthetics when we climb," Colette interjected — like the one to the right.)
Mark wasn't the best climber in the world, but he was probably one of the most rounded. He wasn't the best medic in the world, but he knew how to get the job done. When we trained together, it was fun to watch him work a scenario over in his mind, trying to figure how to get around the impossible difficulties the trainer threw at us, because he knew that no matter how far-fetched the trainer-invented complications were, it was likely to be even worse on a real call.
Tradition
When a cop dies on the job, other cops usually put a black strip on their badges to memorialize their fallen comrade. Not everyone in EMS wears badges, so we will instead put the black stripe on our agency patch. And when a brother or sister medic learns that one of their colleagues have reached their permanent "End of Watch" (that they've died, especially on the job), their traditional response is, "Rest in peace, brother: we've got it from here." — those in need of rescue will still be attended.
I created this and posted it to a old-dog medic forum I haunt, as well as This is True's Facebook page:
Mark Miller was one of my medic brothers. He worked as a mountain guide and climbing instructor, but was also a volunteer with our EMS agency and our world-renowned mountain rescue team. He was the best of the best in teaching rescue rigging to other rescuers, who came here from around the world to learn mountain rescue. Mark was killed Friday (Jan 30) when teaching ice climbing — the ice face he was climbing broke loose, dropping him 800 ft. to his death. He was 50.
It got hundreds of responses, including a lot of "we got it from here" messages. What blew me away, though, is how many re-shared the post about Mark. Scores and scores of them, not just in Colorado (like Larimer County Search & Rescue [SAR]), but all the way to California (like Marin County SAR), to the Southwest (Central Arizona Mountain Rescue), to the far north (Southeastern Alberta, Canada, SAR), to the east coast (Champlain Valley SAR, New York), and everything in between (Weber County [Utah] SAR and Pennington County [S.D.] SAR), among others. That's how respected Mark was.
So, Mark…
So Mark, it's gonna take about six of us, but rest in peace: we've got it from here.
For Rescuers and Medics
…who make comments below, whether you're active or retired, please note your squad name and location. Colette will see this. Thanks! And definitely, comments from all are welcome.
– – –
Bad link? Broken image? Other problem on this page? Use the Help button lower right, and thanks.
This page is an example of my style of "Thought-Provoking Entertainment". This is True is an email newsletter that uses "weird news" as a vehicle to explore the human condition in an entertaining way. If that sounds good, click here to open a subscribe form.
To really support This is True, you're invited to sign up for a subscription to the much-expanded "Premium" edition:
Q: Why would I want to pay more than the minimum rate?
A: To support the publication to help it thrive and stay online: this kind of support means less future need for price increases (and smaller increases when they do happen), which enables more people to upgrade. This option was requested by existing Premium subscribers.