I want to tell you about my new Get Out of Hell Free product. I'm really excited about it: I've been dropping hints about it for several weeks now, and I'm happy to say they start shipping Friday.


I like the GOOHF card. It's simple, it communicates almost instantly (though most people do a double take when they first see it), it spreads good humor to 99 and 44/100ths percent of the people who see it, and it's cheap enough that people don't mind giving them away.
But It Could Be Better
On the other hand it's a bit plain, and sometimes people just don't get what it's about.
After my recent post on Cranky Customer complaining about VistaPrint, one of the readers of that rant told me about a printer that does very high quality color printing on very high quality paper stock — and they're set up to print on both sides.
Of course I immediately thought of the GOOHF card. I had 1,000 made as a test, and was very pleased with the quality (but I saw I needed to fine-tune a few things; the "flames of hell," for instance, came out muddy, so I redid them in my "spare time").
The Result: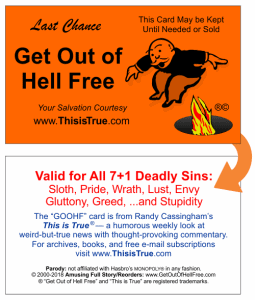 And I was extremely pleased with the reaction when I gave a bunch out: the new cards are gorgeous!
They're printed on really heavy paper stock: a stack of 100 of the classic cards is an inch tall; a stack of the new ones are 1.5″. And there was enough room on the back for me to say a little about what "This is True" is, and some wording that makes it clear that the cards are meant to be funny. (Now and then when I've handed out cards over the years, the recipient wonders exactly what church I'm from….)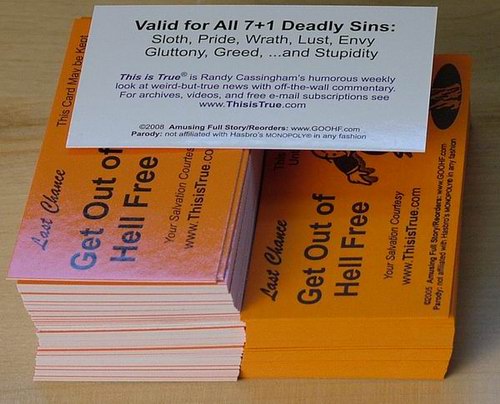 The Best Part: No Cost Increase
I've kept the price down on the cards: in the nearly nine (!) years since I first introduced them, they're the exact same price …except that postage used to be included, and starting in 2007 it became extra. I held on as long as I could, but with six postage increases since their introduction, I had to finally let the buyer pay that part.
The main way I've kept the price down is to print more and more of them at a time. The first batch back in April 2000 was 1,000 cards. The second was 2,000 cards. Then it was 5,000 for awhile, then 10,000, and for the past several years I've been getting 20,000 each print run. (There were some crazy times when I was getting 20,000 every week; once we sold out a batch of 20,000 in one weekend! Our printer couldn't quite believe it.)
My goal with the new "deluxe" card was to get them for the same price. And I succeeded — by increasing the order volume to several times 20,000 in a run. Since I have to order in much larger quantities, I'm passing that along: the minimum order is for 100 cards. That's probably not a big burden, though: the average order for the classic cards in 2008 was already 150 cards.
There's also a "Jumbo Pack" of about 500 cards for your mass salvation needs for a really great price.
For those who care, they're printed in the USA. Asia is known for its low-cost high-quality color printing, but American printers are really starting to compete. But even more than that, I needed to rely on fast turn-around, rather than wait for a container ship to come over from China.
They went on sale today: I put the URL on Twitter and Facebook — and the first order came in within minutes. To order the "Deluxe" cards go to my secure order site, and if you're new to the GOOHF concept and want to know more about their origin, see the GOOHF site.
– – –
I offered both the old and the new cards for some years. The last print run of the old cards took years to get rid of, since almost everyone preferred the new cards. Meanwhile, the manufacturing cost of the new full-color cards went down slightly as the old card printing costs kept going up, making the inferior card actually cost more. So, when that last print run finally ran out, I didn't have any more made and the "deluxe" is now the only card offered.
– – –
Bad link? Broken image? Other problem on this page? Use the Help button lower right, and thanks.
This page is an example of my style of "Thought-Provoking Entertainment". This is True is an email newsletter that uses "weird news" as a vehicle to explore the human condition in an entertaining way. If that sounds good, click here to open a subscribe form.
To really support This is True, you're invited to sign up for a subscription to the much-expanded "Premium" edition:
Q: Why would I want to pay more than the minimum rate?
A: To support the publication to help it thrive and stay online: this kind of support means less future need for price increases (and smaller increases when they do happen), which enables more people to upgrade. This option was requested by existing Premium subscribers.