As I was wrapping up writing last night at about 10:00 p.m., my pager went off. It was for the local fire department, for a report of a structure fire …a little over a mile from my house. Kit was already in bed (she had a very early appointment for this morning), but I popped upstairs to look out the window. Once I got the shade open, she heard me utter "Holy %#:7!" — I could see flames licking 40 feet into the sky.

I told Kit to go back to sleep, and jumped into my car. On my way I told dispatch, and then the responding fire chief, that the structure was fully involved. That activates mutual aid, sending a response from Montrose, the larger town to the north.
Support Crew
I wasn't going to help fight the fire — I'm definitely not a firefighter — but it's protocol in our county to send an ambulance to structure fires. It's not only that homeowners can get hurt, but in a retirement community, a lot of the community are …retired! And thus, a good portion of the volunteer firefighters are, too. Structure fires are not only dangerous, but the stress of working one can trigger heart attacks in the firefighters, especially as they get older; it's a well-known risk factor in the profession.
As I was approaching, I heard one of the volunteer firefighters on the radio — he clearly lived nearby, and had just gone straight to the fire, without a truck.
That must be a lonely feeling: a raging inferno, and you know that it'll take a minimum of 10 minutes for your brothers and sisters to get to the fire station, suit up in Nomex, and drive lumbering trucks weighed down with lots of water to get there to help. It's like when I'm on a medical call, and pulling into someone's driveway and getting an update that the situation is critical. I just hope there's another medic nearby who is available to drop everything and come help, since it takes the ambulance at least 20 minutes to get up here. So yeah, I knew how that firefighter felt.
I pulled up on the north side of the fire, and saw the ("the" is accurate) on-duty sheriff's deputy pull up on the south side, framing the scene and lighting up the access driveway with our lights.
You'd think it would be obvious which driveway to use, but it's not, even with the flames: most houses in this area are on 40-acre (16ha) lots, and shielded by dozens or hundreds of trees. It's hard for a firetruck to back up if they pass the driveway, and it's too narrow to turn around. Pointing the way saves them time.
Hell, I zoomed right past the driveway when I arrived — and when I found I was directly adjacent to the fire, I stuck my camera out the window and got a quick photo. My car, at least, is small enough that I could turn around!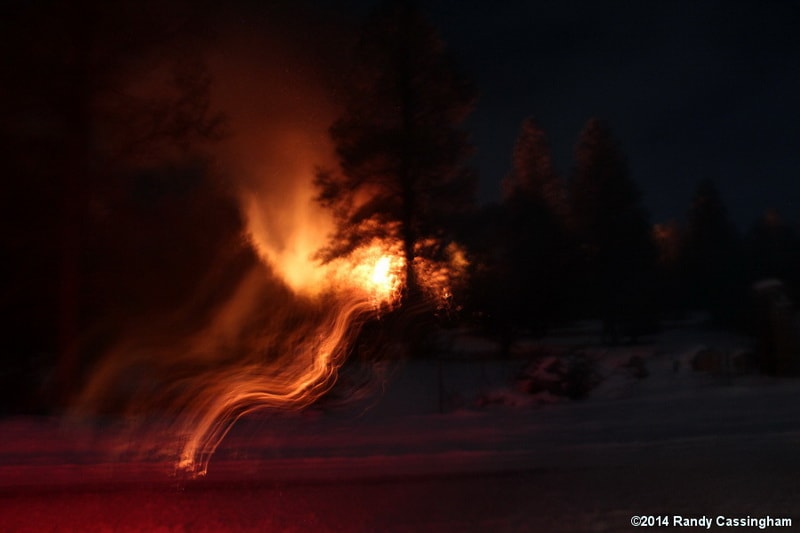 Once I got parked an SUV came shooting out the driveway, and headed north, toward town, zooming by me. This afternoon a neighbor told me that the homeowner was in his workshop, trying to fix a propane tank. It "exploded," which is apparently what made the fire so big so fast. I'm now guessing that the SUV was his wife taking him to the hospital, not knowing that there was a medic parked at the end of the driveway, and an ambulance part-way there.
Sigh.
That's all the neighbor knew; no word yet on whether he's OK or not.
I found a good place for the ambulance to park, which wasn't easy on a snowy road, which has a berm of plowed snow on both sides, making it narrow. But an extra-wide driveway away from the firetrucks made a great place to park. It was on the hospital side of the fire, so if needed they could dash off with a victim without having to figure out how to get by a bunch of firetrucks parked on a narrow road. Once they were in place, I could go home …and go back to work getting my writing done.
And Kit waited up for me, despite needing to leave the house at 4:15 this morning.
Time for a Short Break
We're taking a day off — tomorrow afternoon through late Wednesday. We won a stay at a neat little hotel in town. Ouray has a lot of hot springs, not just the municipal swimming pools that are warm enough that they attract visitors all year — even when it's well below freezing and snowing! Several hotels in town have their own springs, and we have a one-night voucher in one of them, so we booked a night there.
And get this: I'm not taking my computer! No worries: my assistant will be here to process orders (the poor dear doesn't get the day off just because I do!), and in fact there's no impact to you, or the publication. I'm just bragging a little. 🙂
– – –
Bad link? Broken image? Other problem on this page? Use the Help button lower right, and thanks.
This page is an example of my style of "Thought-Provoking Entertainment". This is True is an email newsletter that uses "weird news" as a vehicle to explore the human condition in an entertaining way. If that sounds good, click here to open a subscribe form.
To really support This is True, you're invited to sign up for a subscription to the much-expanded "Premium" edition:
Q: Why would I want to pay more than the minimum rate?
A: To support the publication to help it thrive and stay online: this kind of support means less future need for price increases (and smaller increases when they do happen), which enables more people to upgrade. This option was requested by existing Premium subscribers.