I Think Alexander Went Too Easy on the schools in a story this week. First, let's start with the story, from True's 23 February 2014 issue:

Stuck on Zero Tolerance
Principal Theresa Nolan finds it "bothersome" to have the drawing of a gun displayed at Tinley Park (Ill.) High School. "You can't look at this [sticker] and not think about Sandy Hook," she said. But she can't expel anyone for the black silhouette of a gun with a red line through it: it was designed by the Illinois State Police, and mandated by the state legislature to warn holders of concealed-carry permits that they can't pack on school property, or anywhere else where a property owner displays it. Other school officials in the state have said the outline drawing is "frightening." Nolan says she "would have appreciated something more subtle, yet still recognizable — a logo, perhaps, not a gun." (AC/Tinley Park Southtown Star) …It's subtle, but recognizable, that she's more dangerous than that picture.
Here's what that sticker looks like:

Adults — adults that we think are smart and responsible enough to take care of our children during the better part of their waking hours — are trembling at the outline of a gun on a sticker like that. To paraphrase a meme, stickers don't kill people, students enraged that school officials did nothing about bullying do.
But I want to take it wider: I actually avoid places that exercise their right to dictate "No Guns Allowed" — and here's why, helpfully illustrated by one example of many images that have been "going around" online (seen, for instance, on Facebook):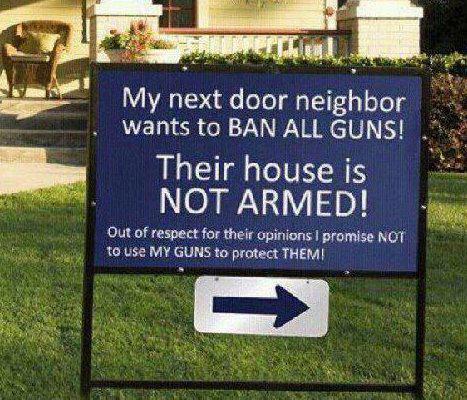 If you can't read that clearly, the sign in someone's front yard says, "My next door neighbor wants to BAN ALL GUNS! Their house is NOT ARMED!" And in smaller print it notes, "Out of respect for their opinions I promise NOT to use MY GUNS to protect THEM!" An arrow points to the next house.
Deflection
It's an amusing way to make a point — the sign is literally advertising to any criminals checking out the neighborhood that the safest place to rob is the one with no guns, and certainly not the house with the sign that notes they do have guns, and they're willing to use them to protect themselves.
If that sign was pointing at your house, you should probably be terrified. Criminals are being invited to attack with impunity. (Yes, there are other ways to protect a home than just guns. Calling the police is the most common suggestion. The gun folks have a saying for that, too: "When seconds count, the police are only minutes away." At my house, in the middle of the night I can expect a deputy to show up to an urgent call for help in a mere 30 minutes …if he's not already busy elsewhere.)
While that sign is obviously a joke, the ones on businesses aren't. When a restaurant, or movie theater, or other place puts signs on the doors saying "No Guns Allowed" I go elsewhere, for the exact same reason: it's an invitation for robbers to come right in. Someone intent on committing a felony isn't going to pay attention to the sign, they'll just view it as the most opportune place to rob, because the only people who will obey that sign are …honest, law-abiding citizens.
It Makes Things Worse
For the same reason, having a sticker on the door of every school is a false sense of security. Someone going to a school to murder children is going to be turned away by a sticker? Riiiight. All that sticker means is no one will be able to fight back until the cops arrive. And you can be sure they will have guns.
The anti-gun folks say that most mass shootings (apart from schools) are workplace incidents, and the gunman is going there regardless — they're certainly not choosing a place just because it's gun-free. Certainly! So the sign on the door helped …how? Well, it certainly helped the gunman prolong the incident and take out more people because his victims weren't allowed to have the means to fight back! The sticker sure didn't stop him.
Not Just a Theory
Sometimes gunmen do specifically choose gun-free places to strike. The 2012 Colorado movie theater shooting is one clear example. There were seven theaters showing Batman within 20 minutes of the killer's house, but he didn't choose the closest one. Rather, he chose the only one of the seven that had a no guns rule. I don't think that's a coincidence.
After that shooting, economist John Lott, who is ironically from Illinois (and has appeared in True previously), noted, "With just one single exception — the attack on congresswoman Gabrielle Giffords in Tucson in 2011 — every public shooting since at least 1950 in the U.S. in which more than three people have been killed has taken place where citizens are not allowed to carry guns." You know, like schools.
Simply put, gun-free zones don't protect innocent people; they put them at higher risk.
Some will say it's disgusting to think that good-ol'-boys with guns might think it's up to them to protect others. Surely that will result in "wild west shootouts" where the people most likely to be shot are innocent bystanders.
Yet that simply doesn't happen. In fact, studies show that the police are much more likely to shoot innocent bystanders than armed citizens are. Either way, if I'm in a place where a gunman is trying to kill as many innocent people as he can, I want an honest citizen next to me who has a permit (which means s/he has some training) and is in fact carrying their gun. It greatly increases the odds that I'll get out of there alive.
So if you want to patronize gun-free restaurants, theaters, and other establishments, by all means, do so. I won't be joining you.
– – –
Some Related Essays
- - -
This page is an example of Randy Cassingham's style of "Thought-Provoking Entertainment". His This is True is an email newsletter that uses "weird news" as a vehicle to explore the human condition in an entertaining way. If that sounds good, click here to open a subscribe form.
To really support This is True, you're invited to sign up for a subscription to the much-expanded "Premium" edition:
Q: Why would I want to pay more than the regular rate?
A: To support the publication to help it thrive and stay online: this kind of support means less future need for price increases (and smaller increases when they do happen), which enables more people to upgrade. This option was requested by existing Premium subscribers.