The Minor Format Change introduced last week brought a lot of positive comments. Just one example: "Love, love, love the new way you tease the 'missing' Premium stories." —Mark in New Jersey. That's awfully nice. But, of course, there were protest unsubscribes last week because I stopped gathering all the "stories you missed" summaries into a large paragraph, and instead left their story slugs up among the full stories, and included a brief summary of the story there. A few examples:

"Your showing premium only sucks. Unsubscribe me." —Multi-year reader Willmar in Florida.
"Don't like getting teased with so called 'premium edition'. Pathethic! Unsubscribe me." —Real in the Republic of Suriname
"Too blatant advertizing [sic] for $30 subscription. New format is insulting. Unsubscribe." —McK in Arizona, subscribed since 2009.
If "McK" thinks that's insulting, he should try working for a guy for free for six years, and then have him piss all over him rather than say thanks!
What it Looked Like in the Free Edition: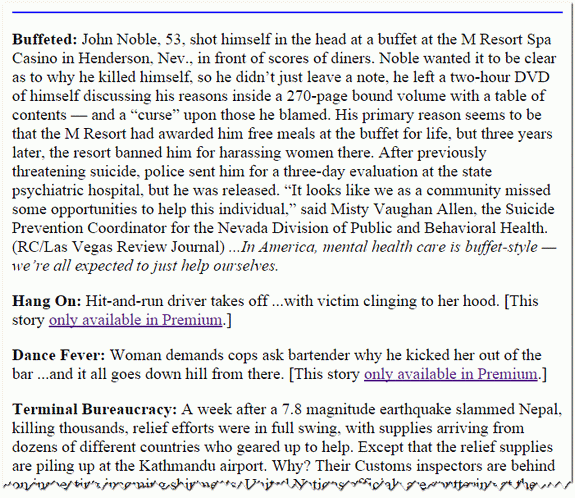 I've Said Dozens of Times over the years that if you can't afford an upgrade, you're welcome to stay on the free distribution for as long as you want. But that doesn't mean I won't work hard to get those who can afford it to upgrade, since that's what makes True possible — period!
The Premium subscription fee is quite nominal at well under a dollar a week, but multiplied by many readers, it brings in 85 percent of True's budget. Upgrades stop coming in, True dies; simple as that. Upgrades last week were triple the usual number, so whining that extra summaries of what you came here to read — more stories — is "distracting" just doesn't wash.
It's really very simple: if you want about triple the stories of the free edition without Premium marketing messages, that's simple to get: with an upgrade!
– – –
Bad link? Broken image? Other problem on this page? Use the Help button lower right, and thanks.
This page is an example of my style of "Thought-Provoking Entertainment". This is True is an email newsletter that uses "weird news" as a vehicle to explore the human condition in an entertaining way. If that sounds good, click here to open a subscribe form.
To really support This is True, you're invited to sign up for a subscription to the much-expanded "Premium" edition:
Q: Why would I want to pay more than the minimum rate?
A: To support the publication to help it thrive and stay online: this kind of support means less future need for price increases (and smaller increases when they do happen), which enables more people to upgrade. This option was requested by existing Premium subscribers.