"I'm So Tired!" — Lily Von Shtupp (Blazing Saddles, 1974)
"'Exhaustion' has been a recurring theme lately. It's mostly due to a serious but correctable medical condition." —Me in last week's newsletters.
Let me explain.

Already read Part 1: The Problem? Jump to Part 2: The Solution
For the 20 years I've been living in western Colorado's Ouray County, my allergies have been worse pretty much every year. Last year I got a referral to an allergist to work on it.
He is one of the best doctors I've ever seen in the sense that he actually takes his time, listens to everything his patients say, and thoughtfully considers what we say before acting. After our interview he ordered testing. No foods were implicated, thankfully, but I'm allergic to cats, dogs, horses, grass, weeds, pine, juniper and more — and we live in the middle of a pinion pine-juniper forest, interrupted only by fields of grass and weeds.
"No Wonder!"
The doctor tried a number of things, including standard immune therapy. After some months the result was …not just no improvement, but increasingly worse.
This Spring I was lying in bed reading as Kit slept, and I woke her up around midnight. "My allergies are killing me," I said. That sort of thing gets a wife's attention.
In the still of the night I could feel my body fighting. And with it getting worse every year, I knew I was losing. Hence "killing me," and I meant it literally.
I know I can't get away from "everything" I might be allergic to, but I reasoned that if I can get the incessant allergen load down so my body can recover from the 20-year exposure, it should help a lot.
The first thing we did was host a visit from a Premium reader/veterinarian who specializes in cats. She suggested a cat food designed to reduce the cat's allergen production. Didn't help.
The next thing we did was lock my cat, Agent 99, out of the bedroom. With Kit in the lead and me in a mask, we cleaned the bedroom from top to bottom, taking all the textiles out and washing them. 9 (as we call her for short) took it in style: she whined a bit the first night, but then settled into the new routine.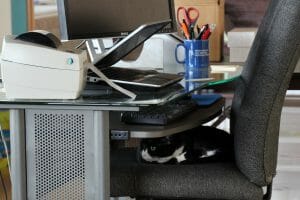 It helped …a little. It bought some time. But only a little. A neighbor offered to take Agent 99. Sadly, I gave her up, especially since Kit and I had agreed on the long-term solution. That helped some too — a little more time.
I've always had allergies, but they have gotten to the point that antihistamines hardly work; with doctor's orders, I was taking two "24-hour" antihistamines a day, and still had a lot of trouble breathing.
I have to get somewhere different to let my system clean itself out, which will take months, maybe years. I've tried leaving for a few weeks, which is expensive …and not long enough. But I did and do feel better whenever we are away.
In the meantime, I'm not to be very far away from epinephrine. Most would carry an "epi pen" but, as a medic, I already carry vials of epi and syringes. I have never needed the epi, but I grow more and more dependent on an albuterol inhaler — except when I travel.
Back to the Doctor
I went back to the doctor to say I had decided to stop the immune therapy since 1) it wasn't working and 2) Kit and I have another idea. After hashing through it all, he agreed with the conclusion: that I need to leave Colorado — which I truly love — to get away from the allergens around me.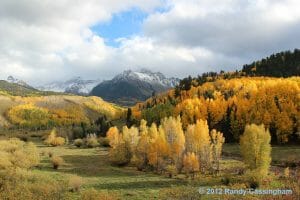 In May, Kit suggested that we put our semi-retirement plan into effect. It's "semi" in the sense that we will both keep our "day jobs" — me as a writer/publisher and Kit as a coach — and drop everything else. I've already told our EMS chief and the sheriff that I'm retiring from the work I do for them as soon as the house sells. Kit has already retired from EMS and as deputy coroner.
Our house went on the market while I madly went through files to scan things I need, and recycle things I don't. I still haven't found everything I'm looking for, but there are still more boxes to go through.
We had a 10-day trip planned, and went: Utah, Montana, and Idaho, where I wrote the first draft of this. At dinner the first night the real estate agent texted: we had an offer. We accepted it. I was hoping for a little more time, but the closing is at the end of September.
As with most trips, the first day I used a lot of albuterol (nine times that first day). Each day I needed it less. But we got home over the weekend, so I know it'll be rough again soon.
Back to my body fighting the environment. It's …exhausting.
In summary, that's The Problem.
The Solution? The semi-retirement: I've always said that I can work on True from anywhere with an Internet connection. The idea behind the semi-retirement plan, which started to form in 2015, is an interesting one that leverages that idea to the hilt.
---
What Does Semi-Retirement Look Like in 2024?
(Part 2, added 27 August 2023)
I really like to travel and soak up the feel of places and cultures. Kit is the same, but substitute her "loves" for my "really like"! The reason I haven't "loved" it is because it's such a hit on my schedule: True allows me to work "anywhere" I want that has an Internet connection, but when I get home, I spend a week of long days for every week we were gone, catching up with orders that need to be shipped, chores around the house, etc. etc. etc.
Not only have I not caught up with publishing True and Honorary Unsubscribe books, I've fallen further behind. I'm hoping a new, hugely-less-cluttered life will help with that too.
We're going to use our capital gains exemption and "keep" the entire proceeds of the house sale, and travel full time. But to make it a more relaxed process, we're going to hop on a newish trend: Residential Cruising. We are going to live full time on a cruise ship that's designed for full-time residents. We hope to jump aboard late this year.
A "regular" cruise ship turns over its entire passenger population every week or three, bringing a fresh set of germs. No thanks! We want a relatively stable population that we can get to know, and create some real community. And we get to "Travel the World, Go Home Every Night."
The trend is for cruise ships to be bigger and bigger. Royal Caribbean's new Icon of the Seas launches in 2024 and holds a maximum of 6,700 passengers and 2,350 crew — more than 9,000 people. Insane! But that does mean cruise lines are taking smaller ships out of service. You know, tiny ships that "only" hold 750-1,000 passengers and 400-500 crew.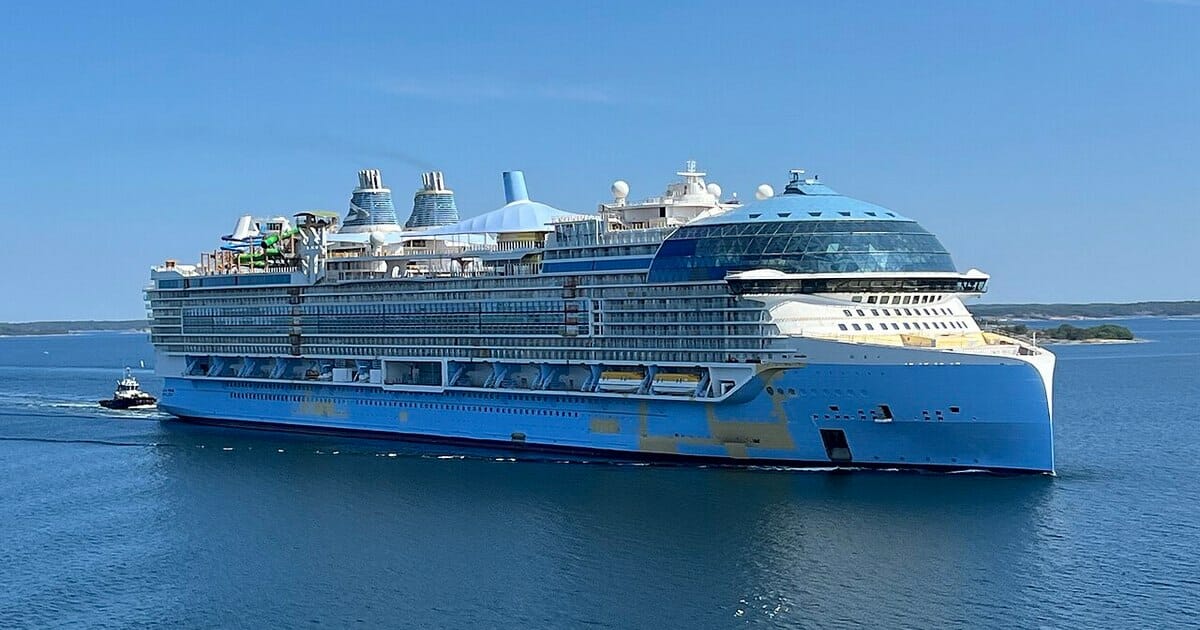 Smart companies are buying or leasing those smaller ships, refurbing them for residential use, and setting sail. That's a reasonable size: a small town about the size of …Ridgway, Colorado.
We'll slowly go around the world from Alaska to Antarctica and pretty much everywhere coastal in-between — political situations permitting — and still "go home every night" so we don't have the stress of "vacation" travel.
And you know me, I want to write about everything. I could hardly believe it, but I managed to snag ResidentialCruising.com to write about all of this! You'll like the slogan in its logo. I've been building out the site and Kit and I have been writing content for a full launch "soon." Of course, you can already sign up for email post alerts there.
Feel free to go through the site, and maybe exercise the article comment functions.
Working At Sea
Can I really work? Can I really continue to produce the newsletter and write for the new site? Yes: most such ships include high-speed Internet access, knowing that "Digital Nomads" still want to work and be travel customers. More employers are allowing it thanks to the successful remote work scenarios that were reinforced by the pandemic, and the technology to allow true broadband "anywhere" has significantly improved over the past couple of years, and will continue to do so.
Even my tyrant of a boss is all in on it!
I look forward to having a gym within a short walking distance, rather than a drive. A place to walk no matter how hot (or cold) it is outside. Good food without having to make it (or clean up!) They even do the laundry.
Yes cabins are small, but mostly they are for sleep and work (some ships actually have separate office space for rent). There are lounge areas and desks all over the ship. Theaters for lectures and entertainment. Coffee and snack bars (and bar-bars). Everything is included in the price, usually except alcohol.
The best thing is, I ran the numbers: it all costs just slightly more than what it costs to own and maintain my Colorado home (when taxes, insurance, car ownership, utilities, and food are all honestly figured in).
Am I really going to give up saving lives as a hobby? Yes. While I loved EMS, and it brings great satisfaction to serve, there is also a psychological burden to being on call 24×7. Not to mention all my other side jobs, such as being the county's "radio guy." It all has definitely added to the exhaustion. I'm going back to the purity of writing and publishing — and, of course, letting by body heal and having more time with my wife.
The Best Part: the doctor approves. He said that during medical school, he did a "Semester at Sea" on a cruise ship, and that's where he met his wife! He agreed that being at sea would be of great way to rebuild my strength and clean out my body.
All in all, a good solution for the digital semi-nomad I've been all along.
My body and I can hardly wait. The ship is scheduled to depart before the end of the year.
To subscribe to the Residential Cruising email list, click here for a form. No need to say where you heard about it. 🙂
P.S.S.: If you would seriously like to join us, pipe up in the Comments or Contact form on Residential Cruising.
– – –
Bad link? Broken image? Other problem on this page? Use the Help button lower right, and thanks.
This page is an example of my style of "Thought-Provoking Entertainment". This is True is an email newsletter that uses "weird news" as a vehicle to explore the human condition in an entertaining way. If that sounds good, click here to open a subscribe form.
To really support This is True, you're invited to sign up for a subscription to the much-expanded "Premium" edition:
Q: Why would I want to pay more than the minimum rate?
A: To support the publication to help it thrive and stay online: this kind of support means less future need for price increases (and smaller increases when they do happen), which enables more people to upgrade. This option was requested by existing Premium subscribers.