This week's newsletter has two items that prompted deeper commentary, starting with the Headline of the Week:

---
Especially Since There Was a Public Backlash
San Francisco Restaurant, Facing Backlash, Apologizes for Ushering out Police Officers over 'the Presence of Their Weapons'
San Francisco (Calif.) Chronicle headline
---
It Seems Most of the Time, when a restaurant gets into the news for doing something dumb (like throwing cops out simply because they're cops), it's some stupid employee who did it, bringing scorn from the public despite the owners' own policies — and despite them not being there. Yet in the San Francisco case, it was the owners themselves who made the decision and took the action.
"On Friday, Dec. 3," they wrote on Instagram, "three armed and uniformed San Francisco police officers came in to dine at Hilda and Jesse. Shortly after seating them, our staff felt uncomfortable with the presence of their multiple weapons. We then politely asked them to leave.
"At Hilda and Jesse, the restaurant is a safe space. The presence of the officers made us feel uncomfortable. We respect the San Francisco Police Department and are grateful for the work they do. We welcome them into the restaurant when they are off duty, out of uniform, and without their weapons.
"This is not a political statement, we did what we thought was best for our staff."
Wait… What?
Out of uniform and without their weapons?! It used to be common knowledge that cops are cops "24 hours a day," and have a duty to act if they witness a crime. Not surprisingly, public backlash was swift and harsh: online restaurant review sites such as Yelp were inundated with 1-star reviews for the place (certainly mostly from people who had never heard of it before, let alone tried it), further trashing the eatery's reputation. Which, in my opinion, is what led to the apology, which reads:
"We made a mistake and apologize for the unfortunate incident on Friday when we asked members of the San Francisco Police Department to leave our restaurant. We are grateful to all members of the force who work to keep us safe, especially during these challenging times. We hope this will be a teachable moment for us as we repair and continue to build bridges with the SFPD. These are stressful times, and we handled this badly. — Rachel Sillcocks and Kristina Liedags Compton, co-owners of 'Hilda & Jesse SF' Restaurant".
A "teachable moment" they created by an "unfortunate incident" that they themselves instigated.
The San Francisco Police Officers Association, local TV news reported, said that it was three "foot beat" officers who regularly patrol the area who were looking for a place to rest and eat, but were kicked out, "treated without any tact or class by this establishment." Yep, in San Francisco, many officers still walk beats, and boy should local merchants appreciate it!
When I was a police cadet in Menlo Park (further down the peninsula), we were asked to walk the downtown beat in uniform (but, of course, without weapons) during the holiday shopping period. Those merchants were definitely outgoing in showing their appreciation. I wonder if the Menlo Park P.D. has cadets do that still. I did check, and the department still has an Explorer Cadet program, which is affiliated with the Boy Scouts of America, and previously known as Explorer Scouts. The program offers such internships, if you will, in multiple fields. There's a similar program in the U.K.
Sometimes the reaction of the public is terribly unfair, such as when an employee goes against policy to create such incidents. That's not what happened this time. When I checked last night they had 849 reviews on Yelp; as of Monday afternoon there were 645, so clearly Yelp removed at least some, though it still shows as a 1-star joint. It will be interesting to see if the place survives.
Note: As I was posting this, I went back to their Instagram page to grab one of the posts to use here as an illustration. Too late: since yesterday the restaurant owners closed their Instagram page. I hadn't noticed any abusive comments there, but they were probably getting them. So my estimate of their survival has gone down in the past 24 hours …and it was pretty low already. Fair, or unfair? You be the judge.
Then There's This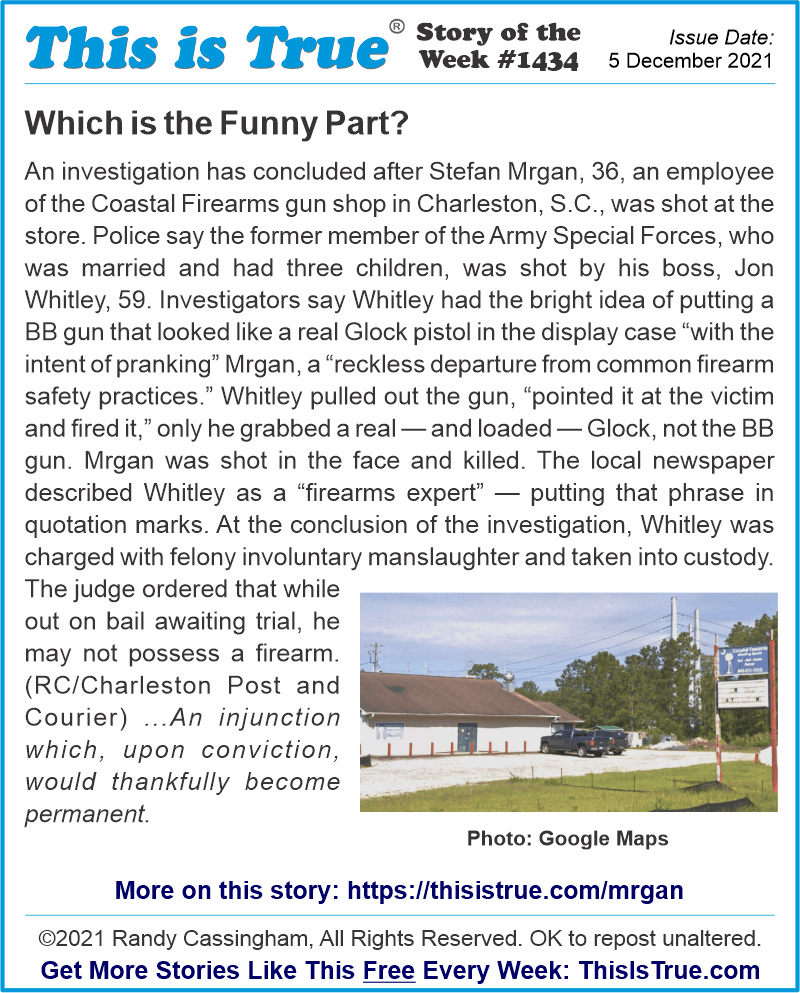 I Looked Up Coastal Firearms on Google after writing the story above, and noticed the customer reviews there, too. The highlighted three on top: "Excellent service, great selection and pricing" (5 stars), "Amazing environment and prices along with very friendly customer service" (5 stars), and "The owner shoots his employees dead" (1 star).
Upon deciding to post this story, too, I went back to Google to screenshot those three reviews. The last one was deleted; unclear if by Google or by the poster.
A couple of other 1-star reviews: "I had my Glock 34 upgraded for a smoother trigger pull. He put in new springs and striker. After having problems, I had a certified Glock gunsmith take a look. The springs were put in backwards." And "The gunsmith marred a brand new $1k scope during installation. It's a hunting rifle so, the scratches weren't a big deal. However, I was unable to hit a 24×24 target at 100yds, after being told by coastal that the firearm had been bore-sighted. It turns out that the ring screws weren't tightened correctly (and a couple were stripped) causing the rear of the scope to sit high."
So yeah, assuming Whitley has been the owner all along, putting "firearms expert" in quotation marks expresses a valid, if somewhat subtle, opinion. No one has to be an "expert" to know the "basic rules of gun safety" propounded by the late Col. Jeff Cooper (U.S. Marine Corps), who was an actual expert on gun safety:
All guns are loaded.
Never point a gun at anything you do not intend to destroy.
Keep your finger off the trigger until on target and ready to fire.
Maybe #4 should be "Don't be stupid."
"In the Navy SEALs today," writes American Rifleman magazine, "Cooper's rules are so sacrosanct that a single violation of Rule Three can be enough to get you kicked out of a platoon and sent down to ride a desk." Or, as Whitley is accused of, violation of all four rules being enough to be kicked out of society to ride a prison cell.
Review Spam
No especially profound thoughts about the topic, but just like guns, reviews can be used as a weapon; they definitely can be deadly to a business. Like guns, sometimes the shots fired seem justified, and other times not. And (like guns!) the shots are often cowardly.
P.S.: Don't even think of giving your kid one of those Glock BB guns. If a cop sees someone playing outside with that, they could very well be shot to death — and it will be ruled justified.
– – –
Bad link? Broken image? Other problem on this page? Use the Help button lower right, and thanks.
This page is an example of my style of "Thought-Provoking Entertainment". This is True is an email newsletter that uses "weird news" as a vehicle to explore the human condition in an entertaining way. If that sounds good, click here to open a subscribe form.
To really support This is True, you're invited to sign up for a subscription to the much-expanded "Premium" edition:
Q: Why would I want to pay more than the minimum rate?
A: To support the publication to help it thrive and stay online: this kind of support means less future need for price increases (and smaller increases when they do happen), which enables more people to upgrade. This option was requested by existing Premium subscribers.