I live in one of the most beautiful parts of one of the most beautiful states in the union. If you've been following this blog, you know I work a lot, and know I stare out at the mountains from my office window — I have a great view.

Recently I decided it was time to spend more time outside, living in the view, rather than just looking at it. This is the story of taking just one day off this week.
I never do anything in a terribly conventional way: I took off from 5:00 p.m. Wednesday to 5:00 p.m. Thursday….
Note: Clicking on any photo will give you a bigger size to see it better.
Note 2: There has been no color "correction" on any photos. Differences in sky tone are due to normal camera exposure compensation. You'll quickly understand why they call this state "Colorful Colorado". Really: the mountains look like that when you're close up!
Orientation
My house is on a mesa looking at two portions of the San Juan mountain range: the Sneffels section, which features the 14,150 ft (4,312 m) Mt. Sneffels, and the Cimarron range.
The point of the valley where the two meet is the town of Ouray (aka "Switzerland of America"), our county seat, and an old mining town. It's an extremely charming town, but not for me to live in: I like to be back a bit so I can see the mountains, and being in such a tight canyon, it doesn't get much sun. And being in such a tight canyon, there isn't much unbuilt land. By going north a bit, I not only got the views, but I was able to afford the 45 acres (18.2 Hectares) I live on.
One of the very cool things about Ouray County is it actively encourages people to explore the back roads in the mountains — and we have a lot of mountains. The county is 542 square miles (1,404 km2). The county spends a lot of its limited resources to maintain the jeep roads, but volunteers help too. The Western Slope 4-Wheelers jeep club, for instance, has helped improve roads by going so far as to help build bridges and clear avalanche debris.
Choose Your Vehicle
Naturally, my first thought was to get a jeep. I went out with a friend in the WS4W club a few times, and I liked it, but it's a fairly slow and expensive hobby. After thinking about it for a long while, I decided that wasn't the direction I wanted to go, even though I really liked the idea of exploring those back roads and old falling-down mining towns.
Then a good friend got a new toy. Dave Casler and I have a lot in common. He's a fellow writer, a fellow publisher, a fellow photographer, a fellow techie, and a fellow ham radio operator (that's how I met him: when I first arrived in Boulder, he was the first local I made contact with on the radio — literally, from my car as I first rolled into town). He writes novels, and his small firm, Mt. Sneffels Press, publishes them in addition to other books.
His new toy: a street-legal dirt bike. "Dirt bike" gets you around on the steep jeep roads. The "street legal" part gets you to the start of those roads without having to fool with a trailer, or worry about whether you need a licensed vehicle while on public lands.
Dave and I have so much in common: when he got a new toy, I wanted one too! So I got one; for those who know bikes, it's a Suzuki dual-sport; a DR-Z400S: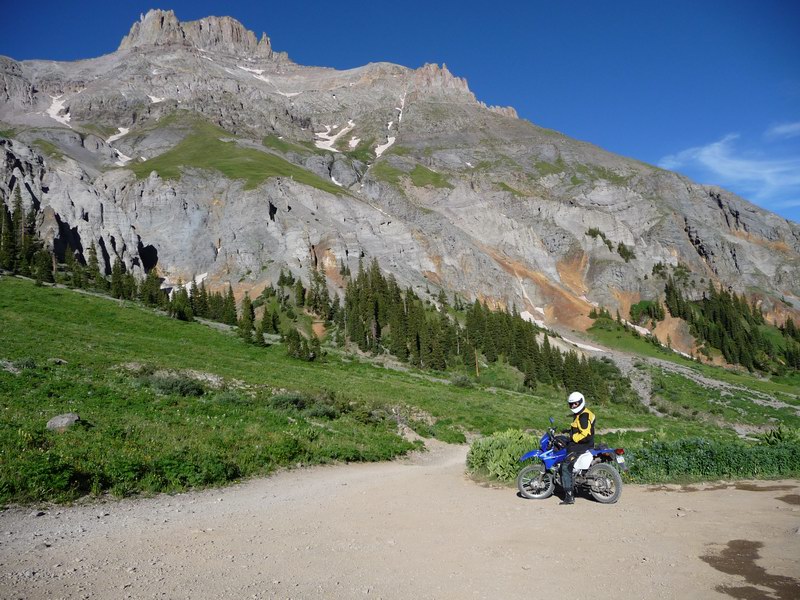 It was a fantastic day to go riding: the weather was gorgeous, as you can see. Something else you might notice from that shot: it's pretty steep up there. Ouray is pretty high in elevation: about 7,800 ft (2,375m). Where this shot was taken in Yankee Boy Basin (named for the Yankee Boy mine, or maybe vice-versa), the elevation is about 11,400 ft (3,475m) — and it's only about a 7-mile ride. (And a lot of it is fairly level!)
Warm-Up
Since I started the trip at 5:00 p.m., and the sun went down around 8:30, that's all we did that day. It was a warm-up for the next morning.
Dave and I both have street bike experience (him a lot, me a little), but not much dirt experience, so we like to go out with other, more experienced riders who know the back roads well, and can give us some tips about the hard parts: novices can get into real trouble really easily.
The road to Yankee Boy Basin, for instance, has several places where there is a several-hundred-foot drop right at the edge of the road. Guard rails? Forget it! We can't afford guard rails on our highways around here! (Seriously.) A nice wide shoulder? Sometimes the road is cut into the cliff with dynamite, and they're not going to make it any wider than absolutely necessary.
Or any taller, for that matter: in one spot the road is literally a C-shaped gash in the cliff: there's rock directly over your head. So all you get is one jeep width (or really: one mule train width!), which is plenty for a motorcycle.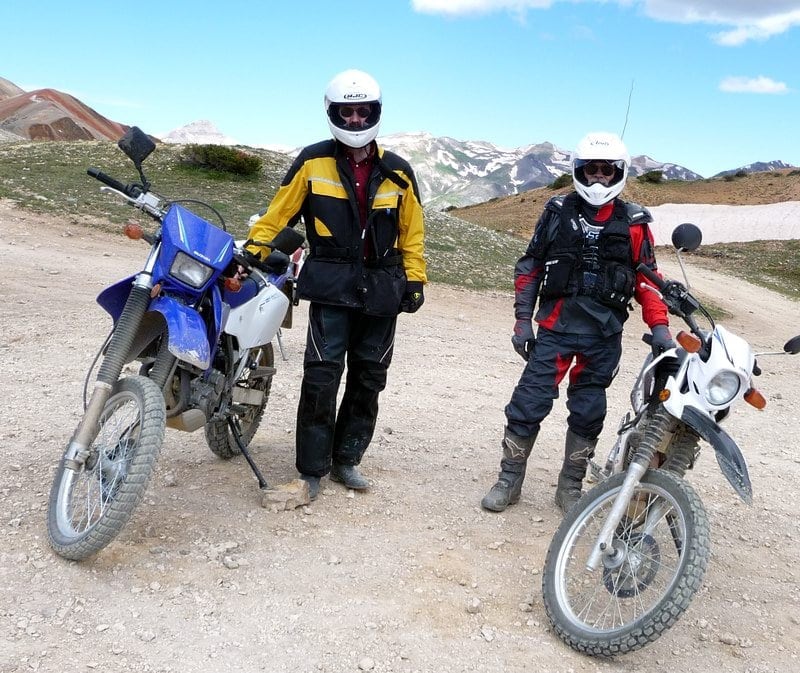 So for the next morning, the long ride, we arranged for a tour from Terry. He's a friend-of-a-friend who has been riding the back roads for decades, and he was itching to get out so much that he was willing to take on a couple of novices. We met at Ironton, an old mining area well above Ouray, to do Corkscrew:
Start

at nearly 10,000′

Ironton, right alongside U.S. Highway 550, is on the far side of the gorgeous (if a bit white-knuckle) Million Dollar Highway portion of the highway. It's at 9,800′ (3,000m), and after a quick briefing from Terry we all headed up a steep dirt road — one of Ouray's county roads. Dave turned on his GPS tracker as we got going.

As we started up the side of Red Mountain 1, you can see the switchbacks in the road — as the contour lines on the topographic map show, it's steep: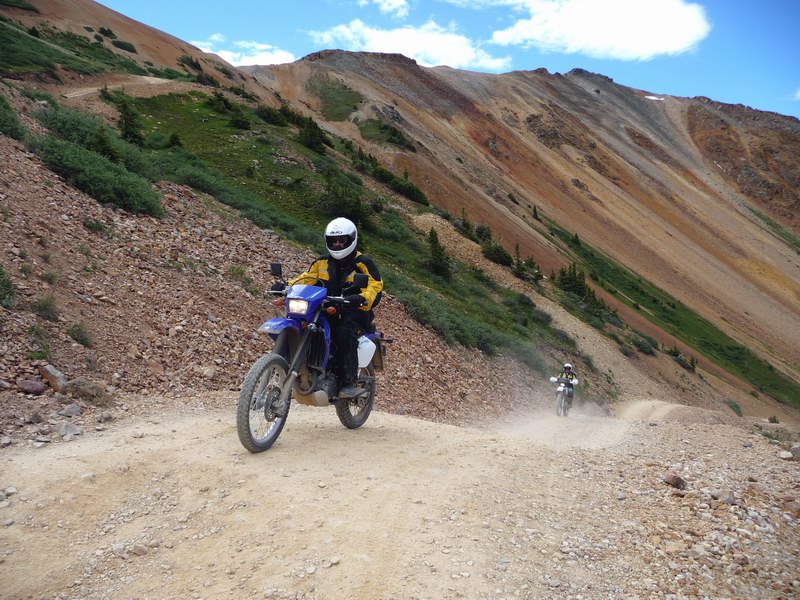 I stopped at that switchback to rest, and turned around a bit from the angle of the previous shot to get a photo of the basin we came up through: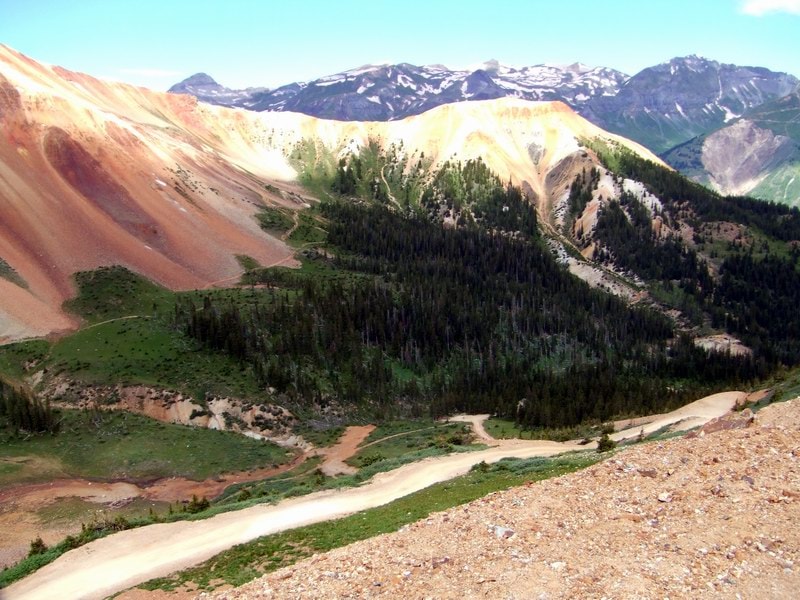 From there, it was a relatively easy ride down into Silverton, another old mining town in another tight valley that's another fun tourist attraction:
We stopped in town and bought Terry lunch, and were riding out on another dirt road just in time to see the train come in from Durango — the Durango and Silverton Narrow Gauge Railroad, which I need to ride someday:
We got back on Highway 550 toward Ouray, but at the county line popped back up into the hills again to see some more of the old mining areas: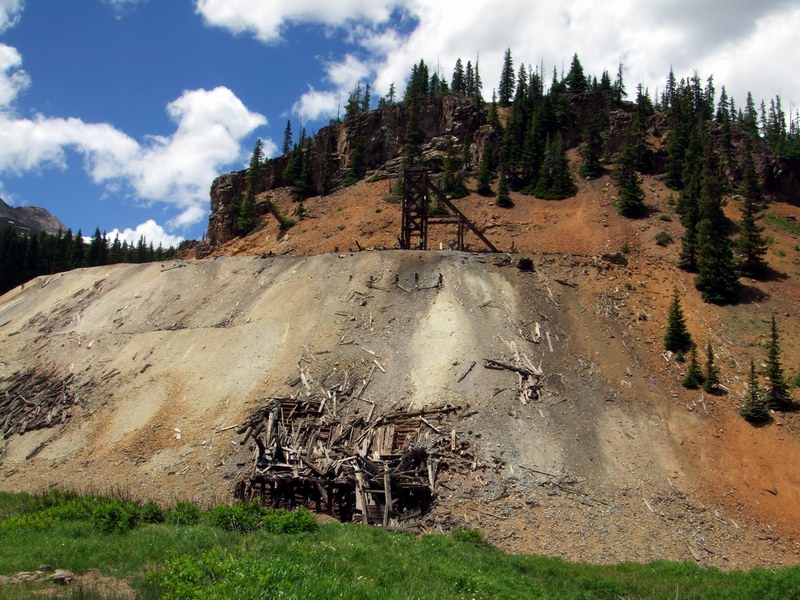 Hardy People
Hard rock mining is a tough life, but there are hundreds of mines in the mountains around here. This is the top of a mine shaft: a shaft is vertical (think elevator shaft); a horizontal mine bore is called a drift. The falling-down structure at the top is the headframe, the top of the shaft.
Miners — and mules! — were lowered down into the mine from here to do the digging and bring the ore back to the shaft, and the ore was brought to the surface with power from a hoist house (not shown above: it has collapsed).
The weird looking brown stuff? Those are tailings. Most of the time, there's a mill that separates the desired mineral from the ore (usually metals in these mines, especially silver), and the tailings are what's left — the largest fraction of the ore, and it's just tossed aside and left in huge piles.
Unfortunately it's often pretty toxic, with acids, arsenic (especially in gold mines), mercury and other nasty stuff — note that there are no plants growing in the pure tailings, even though this mine was probably abandoned in the early 1900s.
I love these old falling-down structures; I think they're gorgeous. There's even a horrific beauty in tailings; check this pile out, taken from across a small valley: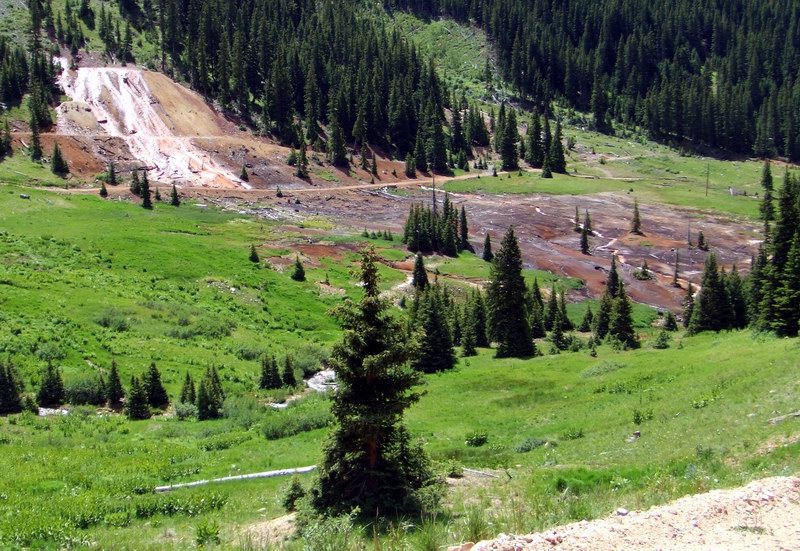 I don't know if the waterfall was there first, or the tailings (my guess: the waterfall), and the water is carrying toxic gunk across the meadow, killing just about everything in its path. (Yes, there's plenty of clean-up work in progress in these mountains.) I find this grotesquely gorgeous, even though I can see the environmental damage done by this.
And yes, it bothers me that in most cases with these mines, "someone" came in, pulled out their fortunes, and then moved on, leaving some other generation to clean up the mess later.
Our last stop was the fairly famous Yankee Girl mine site, which was saved from destruction just recently:
The Yankee Girl (established 1882) was a rich mine, producing huge amounts of silver and gold from its vertical shaft, which goes down about 1,000 feet. It was so rich with silver that the ore fetched up to $10,000 per ton — in the late 1800s — without even going through a mill first. Here's a photo from the era — 1888:
All told, in the two trips we rode more than 150 miles, mostly on dirt roads that would probably terrify the average flatlander. Yep: I'm getting my heart pumping a bit more, not just sitting at a desk!
Many thanks to Matt Goetsch of the Western Slope 4-Wheelers jeep club for help in identifying the mines shown in some of the photos on this page.
—
Update: Once I saw what I wanted of the backcountry, I sold the bike in favor of a different hobby.
– – –
Bad link? Broken image? Other problem on this page? Use the Help button lower right, and thanks.
This page is an example of my style of "Thought-Provoking Entertainment". This is True is an email newsletter that uses "weird news" as a vehicle to explore the human condition in an entertaining way. If that sounds good, click here to open a subscribe form.
To really support This is True, you're invited to sign up for a subscription to the much-expanded "Premium" edition:
Q: Why would I want to pay more than the minimum rate?
A: To support the publication to help it thrive and stay online: this kind of support means less future need for price increases (and smaller increases when they do happen), which enables more people to upgrade. This option was requested by existing Premium subscribers.