This is being written in an unusual location. Not my office, not home, not even sitting in the passenger seat while Kit drives. Someone else is driving on our trip to Reno for the Mensa "Annual Gathering" (read: national convention), where Kit and I are speaking. We're on the California Zephyr — a train (yeah, in the United States!)

There's More than Cars
Trains are normal in Europe, I know (we've been on them), and a fairly usual choice in the eastern U.S. But not so much in the western U.S.
Yet the choice was simple: a 14-hour drive to Reno, or catch the train in Grand Junction (75 miles north of home), enjoy the view as the Zephyr chugs (OK: rumbles) through the Ruby River Canyon (the river: the Colorado), stroll down to dinner later in the dining car, sleep overnight while still rolling, and arrive in Reno in the morning, refreshed after a quick breakfast.
Pretty much a no-brainer, eh? It's about the same cost as flying — or less. It's our third time to train to conferences in Reno.
Yeah, I know that this being a novel idea is a head-scratcher for those of you in other parts of the world, but in the U.S., we let the Automobile Culture take over, and lost most of our passenger rail capacity.
Everyone is in such a hurry that the thought of taking awhile to just "chillax" on a trip is a forgotten concept. Kit and I didn't forget. (My favorite Amtrak story from This is True, from 1994.)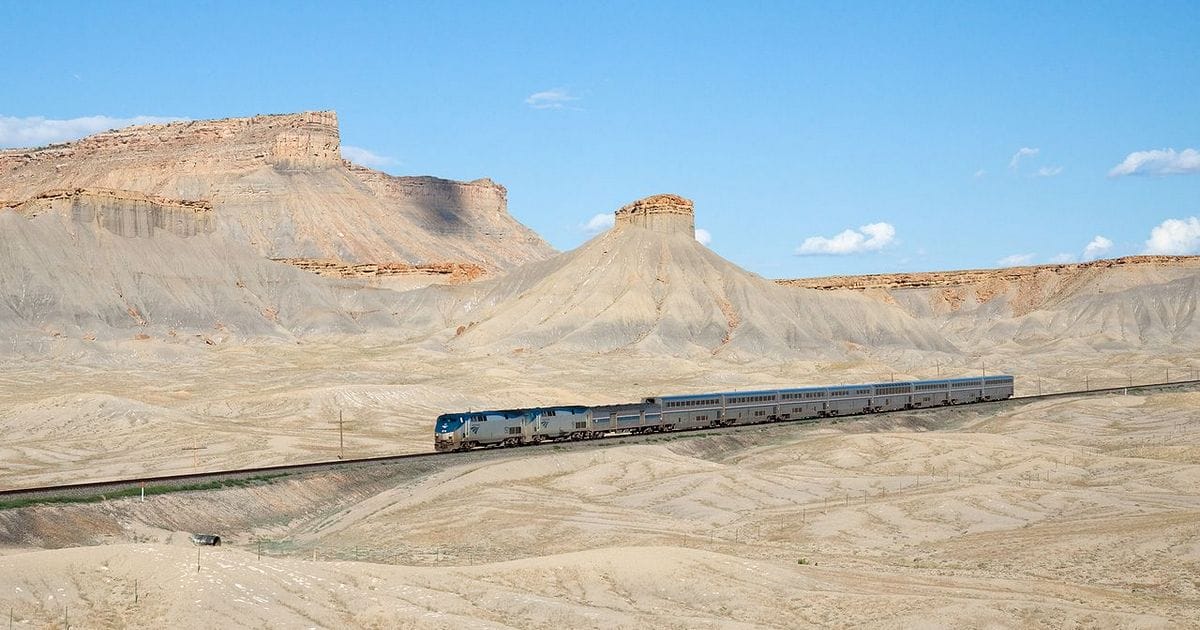 Most Americans have completely forgotten how civilized it is. There's no strip search, manual or techno. We brought a flask of martinis (my fave: vodka and espresso. Yes, it's within the rules if you have a sleeper.) It's roomy enough to roam around, and quiet enough to talk to other passengers. Want to get away? A private cabin awaits (at least, if you have a sleeper). Airliners, meanwhile, are a place of stress and confrontation, since after all, the terrorists won….
Technology: What a Concept
I'll never forget our first train trip to Reno, in 2004. It was my first cross-country trip on a train in the U.S., and I enjoyed every minute. We struck up a conversation with an Amish couple who were also heading to Reno. He was an onion farmer who sold his crop to Wendy's for hamburgers.
The Amish don't fly, but the train is apparently OK. What made him so memorable? He proudly showed me his Nextel cell phone — the one with the push-to-talk walkie-talkie feature. He just loved that feature. That's when I realized that the world is really, Really changing, even for the tech-phobic Amish.
The changes brought by technology have also been fantastic for This is True too, of course, even beyond just making it possible in the first place. In 2000 we went to Eastern Europe for several weeks, and I worked like a dog to pre-write True's issues, set them up on the server to come out at the right time, and hoped everything would work OK. I not only didn't count on finding Internet cafes way back then, I gave up completely: I didn't even bring a laptop. Everything worked out just fine.
Work Anywhere…
But now, while being on the road slows the workflow down a bit, it doesn't really change my work schedule. My assistant still enters your orders for Premium subscriptions, GOOHF cards and whatever, and my own tech-wonder tool of choice, an Android phone, gives me a WiFi hotspot that allows me to get online with my laptop to post this from the train.
It's something the richest man in the world couldn't do in our father's time: do productive work while simultaneously interacting with the outside world.
Yet that can be a trap. Because we can work anywhere, we often do. I am because tonight's my deadline, but once I post this I'm going to shut down, and take my time at dinner in the dining car. If an error is reported on the Errata page, I may deal with it …or I might just let it wait until morning (or until I get to the hotel).
…and Then Play
The important thing is to remember to take time off, to relax, to recharge. Kit and I remember that, too: she tells people "we work every day — but we also take time to play every day."
That "play" time is important. Reading, reflecting, even just lying awake in bed and thinking. That's when our brains get to put pieces together, where insight gets to pop up. It's vitally important time. I hope that True is part of that time for you: reading about things that don't have anything to do with That Big Deliverable you have for work on an impossible deadline. When you "chillax" and let the juices flow, there's no telling where it can lead you.
That's why companies like 3M make it a part of their culture to allow employees to spend 15 or so percent of their work time to just chill, to talk to other employees, to pursue random ideas that they have. (That's right: Google didn't invent that, 3M did.) And that is why 3M is so innovative, and has been for generations. Time not concentrating is sometimes the most productive time of all.
Morning Routine
Kit razzes me because after I wake up, I'll lie in bed for as long as an hour to just let my brain work on whatever it wants to. No TV. No phone calls. My cat likes to come visit because the "energy" is so calm. She'll lie there, attached like Velcro to my hip, gently purring, and I'll idly pet her (she's really soft, even for a cat). And I simply think about whatever needs to be thought about.
Do you take time like that? I highly recommend it. If True is part of that time for you, I'm honored. I hope that the "Thought-Provoking Entertainment" does just that for you — provokes thought. Whether it turns out productive or simply insightful about The World doesn't matter; what you do with it from there is up to you.
Woo Wooooooooooooo!
My kind of unusual environment. Another perspective to provide more inspiration.
– – –
Bad link? Broken image? Other problem on this page? Use the Help button lower right, and thanks.
This page is an example of my style of "Thought-Provoking Entertainment". This is True is an email newsletter that uses "weird news" as a vehicle to explore the human condition in an entertaining way. If that sounds good, click here to open a subscribe form.
To really support This is True, you're invited to sign up for a subscription to the much-expanded "Premium" edition:
Q: Why would I want to pay more than the minimum rate?
A: To support the publication to help it thrive and stay online: this kind of support means less future need for price increases (and smaller increases when they do happen), which enables more people to upgrade. This option was requested by existing Premium subscribers.