Zero Tolerance is insidious. An abdication of common sense and professional ethics, in schools it seeks to apply one punishment — suspension, usually leading to expulsion — to any level of "crime."

In this particular case, it didn't help that a fifth-grader's "scary" Halloween image was a school assignment. It didn't help that his art teacher helped him create the image. Where Zero Tolerance reigns, common sense is forgotten.
But let's get specific, with this story from True's 9 November 2008 issue:
Zero Tolerance Trick, No Treat
An art class at Pooler Elementary School in Savannah, Ga., was assigned to draw a "scary" Halloween mask. Fifth-grader Jordan Hood drew a bloody vampire with the caption, "I Kill For Blood". Art teacher Lloyd Harold even helped him, showing how shading the figure's eyes makes it even creepier. But when Melissa Pevey, the boy's home-room teacher, saw the drawing, she found it "disturbing" and called in the assistant principal — and a school police officer. Pevey claimed the caption "could" be a reference to the street gang "The Bloods", and the drops of blood "looked a lot like" gang tattoos. "They told me the droplets could actually be a gang symbol for the number of people he killed," said Jordan's mother, LaKisha Hood. While the campus cop "wasn't sure [the drawing] meant anything," said district spokesman Bucky Burnsed, Jordan was required to pass a psychological evaluation before he could return to class. He passed, and "the child is back in school where he belongs," Burnsed said. (Savannah Morning News) …Yeah, but so is Pevey, and she definitely doesn't belong there.
"Disturbing"? Really?
The so-called "disturbing" image is pretty much what most 10-year-old boys would draw when told to do something "scary," as the school's art teacher well knew. And here it is: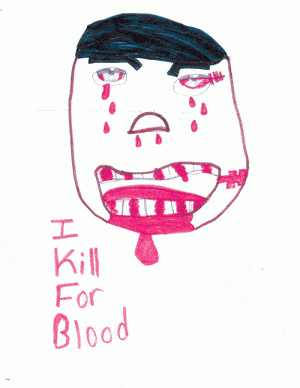 Kudos to the police who understood that the drawing didn't "mean anything" — because it doesn't. And indeed, clearly the professional that did the "psychological evaluation" agreed too.
You can argue that the teacher was "being careful," but common sense should have kicked in when the police found no concern. The presumably better-educated assistant principal could have stopped the trauma to the boy, but didn't (so why is he or she there?!)
Other parents should rally to support LaKisha Hood, and demand common sense from the "professionals" responsible for educating their children.
If school officials refuse to practice better judgment, they need to be fired. Simple as that.
– – –
Bad link? Broken image? Other problem on this page? Use the Help button lower right, and thanks.
This page is an example of my style of "Thought-Provoking Entertainment". This is True is an email newsletter that uses "weird news" as a vehicle to explore the human condition in an entertaining way. If that sounds good, click here to open a subscribe form.
To really support This is True, you're invited to sign up for a subscription to the much-expanded "Premium" edition:
Q: Why would I want to pay more than the minimum rate?
A: To support the publication to help it thrive and stay online: this kind of support means less future need for price increases (and smaller increases when they do happen), which enables more people to upgrade. This option was requested by existing Premium subscribers.