My recent editorial analyzing a Zero Tolerance case (Patrick Timoney's "Gun") showed just how crazy people can get trying to control others, and their desire to punish non-transgressions just the same as if the person was actually doing something wrong. Most people fully got the point. Others, to my shock, didn't.

One reader commented on that post, "This does not seem like a ZT case to me. I thought in ZT it was someone following blindly an 'established guideline.' Based on the information presented here, it seems to be a person not following established guidelines. Thus not ZT. QEP"
Q Who?
I'm guessing the reader meant "QED" there, an abbreviation for the Latin quod erat demonstrandum, which is used to signify that "the last statement deduced was the one to be demonstrated; the abbreviation thus signals the completion of the proof." (Wikipedia) Or, in other words, "Thus I have proven my contention."
The reader's logic is faulty.
Yes, ZT is a policy, but it's also a mindset, as I've been trying to make clear all along (but I obviously failed in his case). The whole point is that even if an organization has a model policy, as apparently New York City schools does, some people don't follow it, and instead use a zero tolerance mentality.
The Question, of Course, is Why?
To me, the answer is obvious: kids grow up. And when they grow up in a school where ZT was practiced, or go to (say) a teacher's college where it was taught, it simply becomes "what they know." They're not taught that they must exercise common sense, they literally learn not to apply common sense; that every situation that seems to go against what they think must be a transgression.
Worse, if it seems to be just a little bit bad, there are no escalating levels of response — a transgression always means the worst it could mean, and (of course) the most extreme response is not only called for, it's necessary. Thus, in the last blog post, the principal insists a tiny toy gun "is a gun is a gun is a gun." And since "guns are bad" and forbidden, a transgression, no matter how innocent, is worthy of forcing a written confession out of a 9-year-old, which supports suspension from school, which supports expulsion, and in many cases, supports calling in police for criminal charges. That's what ZT is.
No Way!
But that's insane, you say. Sure: but we have seen case after case after case of just that. Sometimes, it's school policy. Yet even when it's not school policy (such as in New York City), young administrators are practicing what was practiced on them, or taught to them. They're simply going with what they learned, "reverting to their training" when faced with something that they're not sure how to handle.
How far might that go? Very far: how about school officials thinking that it's OK to activate spy cameras in your home to eavesdrop on your private conversations? Hey, no problem if you happened to be in view and are undressed: surely they won't capture images and post them to the Internet, right? Sure — you can count on their common sense! Yet, in True's 21 February 2010 issue, there it is:
The Thought Police
Pennsylvania's Lower Merion School District thought they were at the cutting edge when they provided every high school student a laptop computer for "an authentic mobile 21st Century learning environment." That may have seemed like a good idea until student Blake Robbins was called in by Assistant Principal Lindy Matsko at Harriton High School. The boy was reprimanded for "improper behavior in his home," and Matsko showed the proof: a photo taken of him in his home through a camera, which was included in the 2,300 computers. She told Robbins she can activate the camera at will. "Many of the images captured and intercepted may consist of images of minors and their parents … in various stages of dress or undress," alleges the resulting federal lawsuit against the school. The FBI is assisting local authorities in investigating possible criminal charges. Robbins, 15, says the school accused him of taking drugs, but he was actually eating candy. (Philadelphia Daily News) …Huh: things are just 26 years behind schedule.
But Wait, It Gets Worse
Here's something scary: my source for this week's story, the Philadelphia Daily News, ran a survey of site visitors asking whether schools should be allowed to spy on students and their families with cameras in their homes, as was done in the above story.
"Is there any scenario where a school district is justified to monitor students at home?" It's not a "scientific" (statistically valid) survey since the respondents are self-selected, but look at the results as of this posting:
Yes, there's hope in the massive "no," but don't let that blind you to the rest of the data. Of just over 7,000 people, 181 of them (2.6 percent) think that's just fine "if the webcam captures illegal activity."
And 99 more (1.4 percent) think it's OK "if the webcam captures a student suffering physical abuse." And 127 more (1.8 percent) are "not sure"!
Consider that most people who go to read that article are there because they're outraged over the school district's actions; I think it's likely that if the respondents actually represented a statistically valid cross section of Americans, the Yes and Not Sure answers would be significantly higher — an Orwellian Big Brother scenario is acceptable to them! Or, at the very least, they're "not sure" if that would be bad.
Way Too Many Are OK With It or "Not Sure"!
The only correct answer in a free society is of course "No, there is no scenario where this would be okay." Yet people brainwashed by ZT and the lack of common sense are starting to think that self-appointed thought police officers should be peering into people's homes just in case there maybe, perhaps, is something illegal going on there. The end justifies the means.
And this is in the "land of the free" and the "home of the brave," where our forebears (successfully, or so they thought) fought to the death for individual rights, including the right to be presumed innocent until proven guilty (not to mention the right "to be secure in their persons, houses, papers, and effects, against unreasonable searches").
But now we're moving toward being fine with government agents secretly looking into homes "if the webcam captures illegal activity" or "if the webcam captures a student suffering physical abuse"?! Incredible!
The Slippery Slope
Yet isn't that exactly the next step in the ZT mentality? "No drugs" means "no life-saving medications" means "no help for teen menstrual cramps" means "no candy" means "nothing anything like drugs" at off-campus school functions (because it's a school function, after all!) means "no candy at home" when you're sitting at the school-provided computer — or you get hauled into the vice principal's office and accused of "improper behavior" at home because some idiot can't see the box of Mike and Ike you're eating from (a well-known gateway to Hot Tamales). Well, it's probably drugs, and LOOK! We have the photographic evidence right here, and we're adding it to your personal disciplinary file!
But that's what we can expect to get when we don't say NO to zero tolerance, whether it's an official policy or "just" the mindset of school officials.
Kids grow up. We must demand that they're taught common sense, and that something that "looks wrong" isn't necessarily actually wrong, and that there are degrees of propriety and mitigating circumstances (a toy gun is not a gun is not a gun is not a gun), and therefore, there are appropriate levels of response depending on the situation and the facts at hand.
Because those kids are going to grow up and become the next generation of teachers, school administrators, doctors, cops, construction workers, mechanics, lawyers, engineers, medics, judges and more, and they'll need common sense to do their jobs right. We must demand common sense!
If we don't, there will continue to be a "natural" progression toward the worst George Orwell can imagine, and if you didn't read Nineteen Eighty-Four, let me tell you his imagination was pretty horrific.
More Info:
April 2010 Update: Example Photo Released
I've been following this story in the Philadelphia Daily News and the Philadelphia Inquirer, and it's been pretty …interesting.
First, there were two school employees who were allowed access to the cameras: Michael Perbix, a network technician, and Carol Cafiero, the information systems coordinator. Both are 12-year school employees, and both have been put on paid leave. (The assistant principal who confronted the boy is apparently still working.)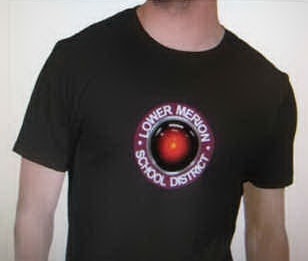 "A phone call had to come from the high school to turn [the web cameras] on," said attorney Charles Mandracchia, who represents Cafiero. "And if it was turned on, it was turned on with the understanding that the computer was either lost or stolen."
He points out that the system has been used to recover stolen computers, so obviously the police know about the system. The software being used also takes a screen shot of what the student is doing on the computer, and records the computer's IP (Internet) address, which can help show where the computer is.
Informed Consent? Nope.
The school district admits it never told parents about their ability to use the camera to spy inside their homes whenever they pleased.
In at least one case, the cameras showed the "stolen" computer was in a classroom; the resulting photos showed the teacher (gasp!) was teaching the kids like she was supposed to!
The school says it activated the camera on Blake Robbins' computer (he's the kid in the original story) because his family didn't pay the $55 insurance fee for the computer. So is that a case of it being "lost" or "stolen"?
Cafiero was subpoenaed in the lawsuit, and worked to get the subpoena quashed. She refused to give a deposition as to the scope of the spying. Her attorney says calling her for a deposition is "premature" and "unnecessary," and says the plaintiff's attorney would "ambush her" unfairly. "We didn't say we wouldn't produce her," Charles Mandracchia said. "We're just saying we're not going to produce her now."
Mike Perbix, the network technician, did agree to a deposition, as has Lindy Matsko, assistant vice principal who confronted the boy with the photo.
When she did appear for a deposition, Cafiero — who has not been accused of any personal criminal wrongdoing — invoked her Constitutional right to not incriminate herself. "To each and every question I would ask her, other than her name, she asserted the Fifth," said attorney Mark Haltzman, who represents the boy in his lawsuit.
Not Just a Photo or Two
Haltzman released an example of the more than 400 photos that he has been able to obtain that were taken of Blake Robbins alone — part of what the school district employees were looking at.
That's Robbins asleep in his bed (right: click to see larger — it's a high-resolution camera!)
Yep: the school was watching kids in their bedrooms. It's not the only such photo, Haltzman says, and the photos he has received "includ[es] pictures of Blake partially undressed."
And Robbins isn't the only subject, either: there are "thousands of webcam pictures and screen shots have been taken of numerous other students in their homes," he said. (Source — one of the few articles about this case that are still online.)
Voyeurs: Just the Tech and Cafiero?
Haltzman also obtained an email where a staffer told Cafiero that watching the kids was "a little [Lower Merion School District] soap opera." Cafiero allegedly responded, "I know, I love it."
U.S. Senator Arlen Specter, who represents Pennsylvania, isn't waiting for the lawsuit's results. He has already introduced legislation to make such unauthorized monitoring against federal law, and has held a hearing on the issue.
"Many of us expect to be subject to certain kinds of video surveillance when we leave our homes and go out each day," Specter said, "at the ATM, at traffic lights, or in stores, for example. What we do not expect is to be under visual surveillance in our homes, in our bedrooms and, most especially, we do not expect it for our children in our homes."
Frankly, I disagree: given such power, I do expect it to be abused, so indeed such a law is needed.
October 2010 Update: Conclusion
After a six-month investigation, federal prosecutors declined to fine any criminal charges in the case, they announced in August.
"For the government to prosecute a criminal case, it must prove beyond a reasonable doubt that the person charged acted with criminal intent," said U.S. Attorney Zane Memeger. "We have not found evidence that would establish beyond a reasonable doubt that anyone involved had criminal intent."
A computer forensics study found the school took and saved 66,503 photos, either through the computer cameras or of the computer screens to see what the students were doing. Slightly more than half were through the cameras. The report also found there were well more than two school employees with access to the system and photos: 18 were system administrators, and 16 of those had access to the photos stored on the server. Some of the photos were forwarded to others.
In addition to Robbins, another student was apparently especially targeted: Jalil Hasan. School officials took 543 screen shots of his computer, plus 469 photos through his laptop's webcam.
"I was really shocked," said his mother, Fatima. "They were all pictures of Jalil, and all web shots from his laptop, and that's not an easy feeling." Well, not all of them: in addition to shots of the boy in his bedroom, there were photos of other family members and friends. She felt so violated that she also filed a lawsuit against the school district for invasion of privacy.
Both suits were filed in federal court, since they're civil rights cases.
Settlement
By October, the school board had had enough: after consultation with the district's insurance company, they settled with both families, paying $175,000 to Robbins, which will be placed in trust for his future, and $10,000 to Hasan. In addition, the school paid $425,000 for their attorney's fees, for a grand total of $610,000, funded by insurance.
– – –
Bad link? Broken image? Other problem on this page? Let Me Know, and thanks.
This page is an example of Randy Cassingham's style of "Thought-Provoking Entertainment". His This is True is an email newsletter that uses "weird news" as a vehicle to explore the human condition in an entertaining way. If that sounds good, click here to open a subscribe form.
To really support This is True, you're invited to sign up for a subscription to the much-expanded "Premium" edition:
Q: Why would I want to pay more than the regular rate?
A: To support the publication to help it thrive and stay online: this kind of support means less future need for price increases (and smaller increases when they do happen), which enables more people to upgrade. This option was requested by existing Premium subscribers.