While Working, I Have My police/fire/ambulance radios running in the office, which helps me anticipate being called out (Kit and I are volunteer medics, as you probably remember). Today while working on the Premium newsletter I heard the local cops head over to the school for a "lockdown drill" — tying in nicely to the shootout story this week. I commented to Kit, "We only had to worry about fire drills." She quickly retorted: "And nuclear war 'duck and cover' drills."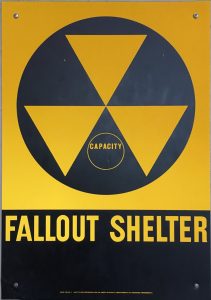 Oh yeah: funny about how one forgets preparing to die as a kid — as if the duck and cover procedure would save your life in a nuclear war. (And even if it did, would you want to survive?)
American schools did such drills in the late 1940s into the 70s, and I certainly remember doing them as a kid (toward the latter end of that span, thank you!)
Yes, I know that if there's any big explosion, it's smart to get away from windows, and certainly not try to watch what's happening. In 1917, a ship in the harbor in Halifax, Nova Scotia, Canada, caught fire, and its cargo — high explosives — blew up. The blast, the largest man-made explosion ever (holding that record until nuclear weapons debuted), killed about 2,000 people and injured 9,000 more, many who saw the flash and went to their windows to see what it was (or had seen the fire on the ship, and were already watching). When the shockwave from the explosion arrived seconds later, the windows were instantly reduced to shards, blowing onto anyone standing behind them looking out. If the shrapnel didn't kill them, it blinded them.
So indeed, "duck and cover" is a rational strategy even if it doesn't involve an atomic blast.
Original Duck and Cover Film
The official government film for children, released in 1952 (length 9:14):
---
Timely Addendum
After writing the above, I then went to research the Honorary Unsubscribe. As often happens, I found several interesting people, who I will often slip in as "And So Long To" types of brief mentions after the write-up. And that included this one:
A Final Duck and Cover to graphic designer Robert Blakeley, known for creating the black-and-yellow Fallout Shelter sign in 1961 — 1.4 million of them were made. He died October 25 at 95. (The sign is shown above.)
– – –
Bad link? Broken image? Other problem on this page? Use the Help button lower right, and thanks.
This page is an example of my style of "Thought-Provoking Entertainment". This is True is an email newsletter that uses "weird news" as a vehicle to explore the human condition in an entertaining way. If that sounds good, click here to open a subscribe form.
To really support This is True, you're invited to sign up for a subscription to the much-expanded "Premium" edition:
Q: Why would I want to pay more than the minimum rate?
A: To support the publication to help it thrive and stay online: this kind of support means less future need for price increases (and smaller increases when they do happen), which enables more people to upgrade. This option was requested by existing Premium subscribers.