The Feel-Good Story of the Week comes out of Colorado. It starts, however, in tragedy: a family — a man, woman, and four kids — rolled their car over in Brighton, which is northeast of Denver, along Interstate 76. The father of the family was killed. I know, this doesn't sound too feel-good, but stay with me.

When Brighton Police officer Nick Struck arrived at the crash, one of the other first responders handed him one of the kids — a 2-year-old girl who had been thrown out in the wreck.
Healing Begins On-Site
"The first thing we do when we get on scene is we just try to, if we can comfort anybody, of course we're going to go to the kids," Struck said. He has a 2-year-old daughter himself, and he did what he does to comfort her: "My daughter …when she falls down and hurts herself? I sing Twinkle Twinkle Little Star'."
"I know for my daughter, it's just the attention that someone is there, listening," Struck said later. "It's the same for adults, but kids, they take it on a whole other level. They'll gravitate to you, and I remember when I was holding her, she was grabbing the back of my arm, which is something my daughter does. Just stroking to the music, 'twinkle, twinkle'."
The scene was captured by Jessica Matrious, a witness to the accident, who took a photo of Strunk distracting the little girl to perhaps give her better memories of that day: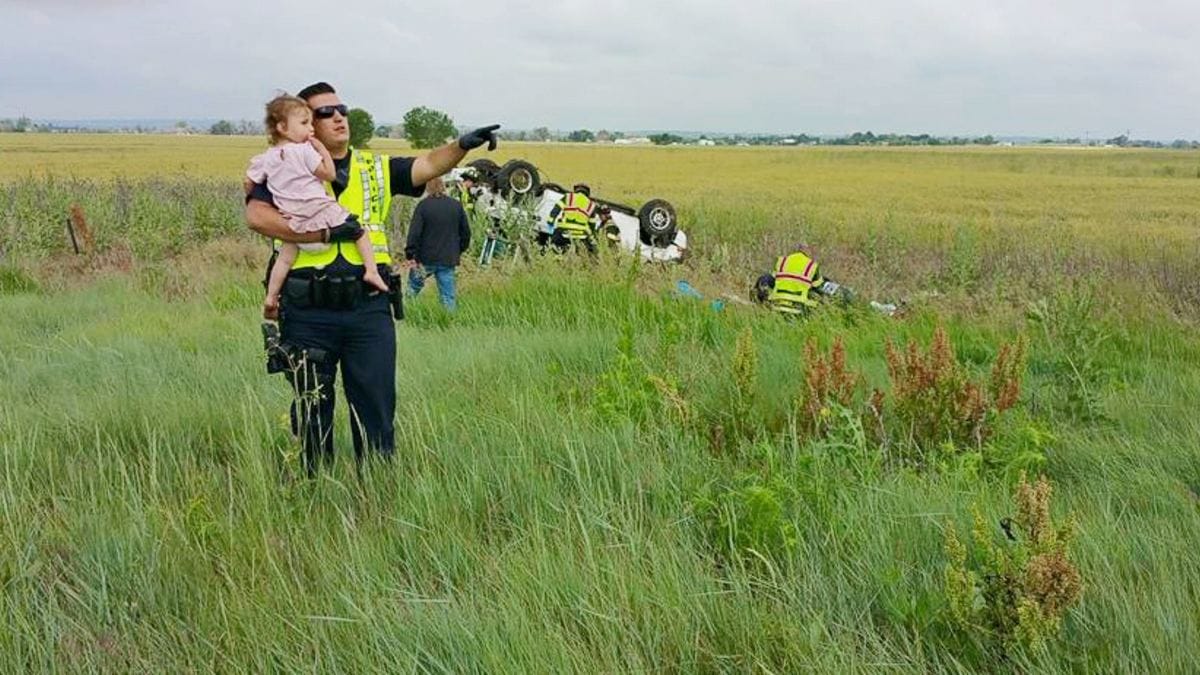 Matrious said the family's car blew a tire, and crashed. The entire family was thrown out of the car as it rolled over. Clearly, investigators say, the family wasn't properly restrained in the vehicle.
"I have a 2-year-old daughter and she's my first kid," Struck said. "So of course, your first thought is that could be your little daughter. I'm not a medical person, but I know how to give a hug to somebody, and you better believe every one of those officers on scene would do the same thing."
And Here's the Thing: cops, firefighters, and medics do this every day. It's not at all unusual. What's different here is someone was there to take a photo, thanks in large part to cameras being included in nearly every cell phone. Cameras not only catch wrongdoing. More and more, they also catch the heroism that first responders perform every day. And that makes me feel good.
Oh, and wear your seatbelts and put your kids in proper car seats, OK?
– – –
Bad link? Broken image? Other problem on this page? Use the Help button lower right, and thanks.
This page is an example of my style of "Thought-Provoking Entertainment". This is True is an email newsletter that uses "weird news" as a vehicle to explore the human condition in an entertaining way. If that sounds good, click here to open a subscribe form.
To really support This is True, you're invited to sign up for a subscription to the much-expanded "Premium" edition:
Q: Why would I want to pay more than the minimum rate?
A: To support the publication to help it thrive and stay online: this kind of support means less future need for price increases (and smaller increases when they do happen), which enables more people to upgrade. This option was requested by existing Premium subscribers.