A story in this week's issue needs a lot more room for explanation, not to mention a full-sized copy of the graph involved. First, let's start with the story, from True's 17 May 2020 issue: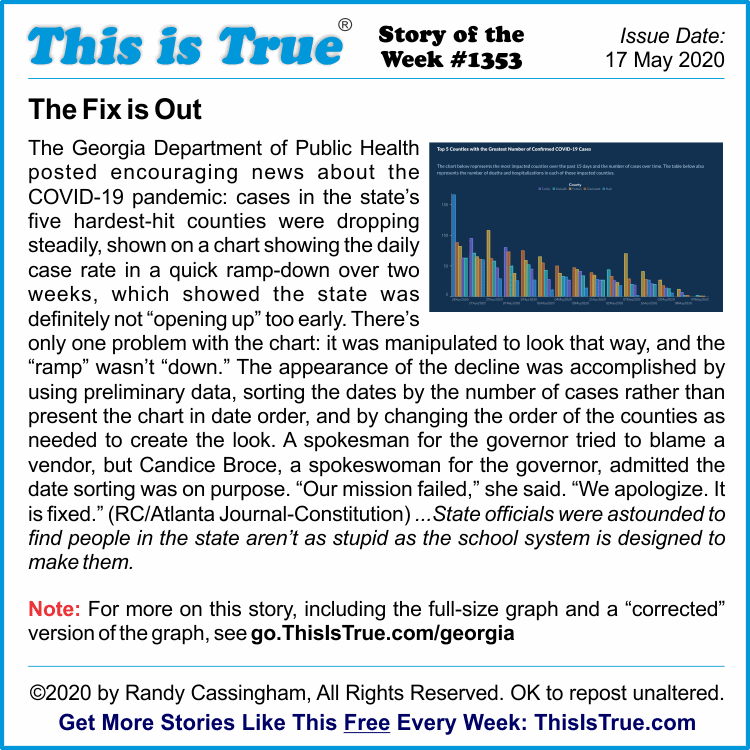 That said, the newspaper did not publish, nor could I find, the "corrected" graph. In fact, I really had to dig to find the original! I couldn't believe the AJC would publish a lengthy story about a manipulated, state-issued graph without including a copy of the graph for readers to see for themselves! What I found is below.
The Atlanta Journal-Constitution noted the DPH changed the graph "after more than a day of online mockery, public concern and a letter from a state representative." They didn't publish that graph either.
Slamming the State
The AJC was pretty scathing in their report on what they called an "unforced error" at the hands of the state's Department of Public Health. They say "observers" have "noted sloppiness in case counts, death counts and other measures that are fundamental to tracking a disease outbreak."
Further, they continue, "DPH data issues caused confusion over whether novel coronavirus deaths had topped 1,000 — they are now more than 1,490*. The agency erroneously posted at least twice that children died."
*(As of the date of the story's publication, May 13.)
"Where does Sunday take place twice a week? And May 2 come before April 26?" they said at the top of their story. "The state of Georgia," they said, in their "latest bungling of tracking data".
But it wasn't just the newspaper editorializing: they quoted others, too.
"It's just cuckoo," said state Rep. Scott Holcomb (D-Atlanta). "I don't know how anyone can defend this graph as not being misleading. I really don't."
I don't either.
Then there's State Rep. Jasmine Clark (D-Lilburn), who has a Ph.D in microbiology and molecular genetics, who pressed the point even harder. "I have a hard time understanding how this happens without it being deliberate," she said. "Literally nowhere ever in any type of statistics would that be acceptable."
And she's right.
The newspaper says Dr. Harry J. Heiman of the Georgia State University School of Public Health called the doctoring of the chart "criminal," and that the agency has shown a pattern of reporting misleading data. My take:
I'll say it explicitly: I believe the state purposefully manipulated the chart to give the false impression that the Covid-19 cases in the state were ramping down to justify "reopening" businesses. Who at the state is responsible is another question, but clearly the manipulated chart serves the governor's narrative.
The Graphs
Let's get to those, so you can see what all of us "observers" mean. (Click each if you want to see them larger. Once I had a lead on the chart I grabbed the largest one available, and the second is based on that too.)
I give them a little credit in that they didn't hide the dates completely. My guess: whoever was tasked to create the chart insisted the dates be included.
"But Randy," you might be tempted to say. "The last two days really are small by comparison. Doesn't that show a decrease?" Maybe, but we won't know until the data are updated: "counts for recent dates are often a fraction of what they turn out to be when the data is more complete," the AJC reports. I have not seen any updates in those specific numbers to be able to say either way.
It was a PITA, but I pulled the graph into my graphics software to cut each day out and rearrange them in date order. I didn't try to change the order of the bars within each date as would be proper, since that would have been a nightmare of a job. Still, you'll get the basic idea: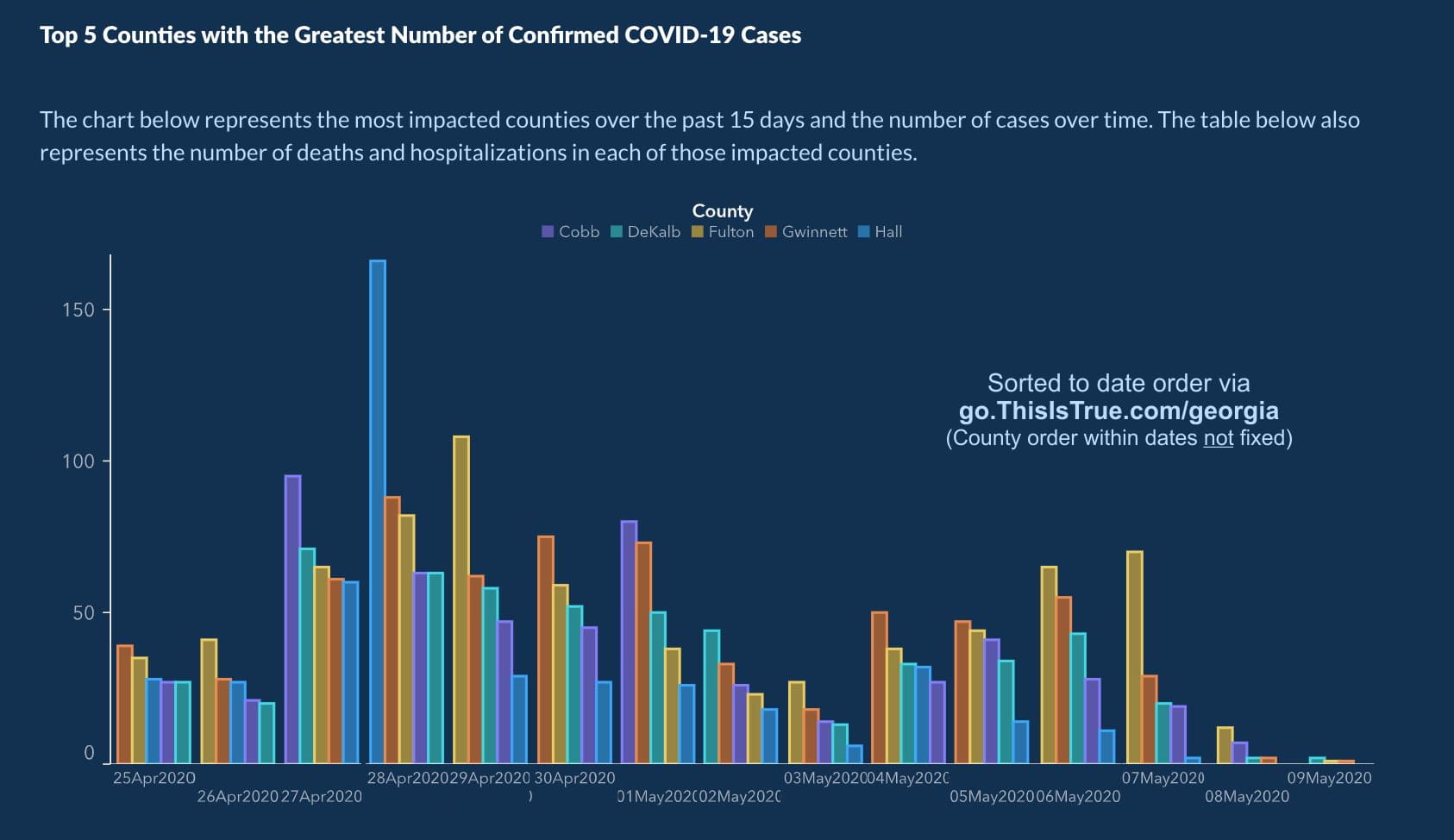 Just like that the "downward trend" is gone. If anything the trend is up starting on May 4 (depending on the final numbers for the later dates).
More Details
True's retelling of the story notes "Candice Broce, a spokeswoman for the governor, admitted the date sorting was on purpose." That's my summary of this sentence from her Tweet about the fiasco, which is also embedded in the AJC's story: "The x axis was set up that way to show descending values to more easily demonstrate peak values and counties on those dates."
Separately, Broce told the newspaper that "We are not selecting data and telling them how to portray it, although we do provide information about constituent complaints, check it for accuracy, and push them to provide more information if it is possible to do so."
Even the Wall Street Journal sneered at the fiasco behind the state's Covid data reports: they "dubbed [Gov.] Kemp's controversial decision to begin reopening, 'The Georgia Model'," the AJC reported.
The newspaper did get one Republican to weigh in on the matter, State Sen. Kay Kirkpatrick (R-East Cobb), a physician who was treated for Covid-19 and, obviously, recovered. "I don't feel there's any intention," she said, "to mislead anyone or present [the data] in a way other than how they are." Apparently, she didn't actually look at the chart, let alone the actual trend.
The newspaper had a good bottom line by quoting Prof. Joseph Cappella, an expert on public health communication at the University of Pennsylvania's Annenberg School for Communication. Such data presentations "need to be clear, they need to be consistent, they need to be credible, and they need to be apolitical," he said.
Yep: right again.
– – –
Bad link? Broken image? Other problem on this page? Use the Help button lower right, and thanks.
This page is an example of my style of "Thought-Provoking Entertainment". This is True is an email newsletter that uses "weird news" as a vehicle to explore the human condition in an entertaining way. If that sounds good, click here to open a subscribe form.
To really support This is True, you're invited to sign up for a subscription to the much-expanded "Premium" edition:
Q: Why would I want to pay more than the minimum rate?
A: To support the publication to help it thrive and stay online: this kind of support means less future need for price increases (and smaller increases when they do happen), which enables more people to upgrade. This option was requested by existing Premium subscribers.