An item in this week's newsletter is the tip of the iceberg of a much deeper problem: how bureaucrats so love to kill the messengers. First that item, from the 9 August 2020 issue — the Headline of the Week:

---
Huh
Paulding County School Reports Multiple Covid-19 Cases after Photo of Packed Hallways Goes Viral
WAGA Atlanta (Ga.) headline
---
This is the latest in the saga sparked by Hannah Waters, 15, a sophomore at North Paulding High School in Dallas, Ga. Paulding County is in northwest Georgia, with a population of about 169,000 people; its towns are suburbs of Atlanta. Its high schools are the cleverly named Paulding High, East Paulding High, South Paulding High, and North Paulding High …plus one other in the town of Hiram, Hiram High.
Miss Waters, an Honors student, was excited to go back to school when it reopened after closing for the pandemic. Excited, that is, until she saw scenes like this in the hallways: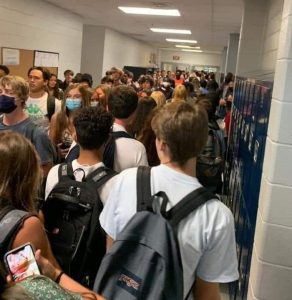 The next day was no better:
She was so upset at the scene that she reposted the photos to Twitter (it's unclear to me who actually took them) on August 4, where they quickly went viral, even though she only had eight followers at the time. "This isn't a joke. These are many lives," she said in one post — "kids to be precise."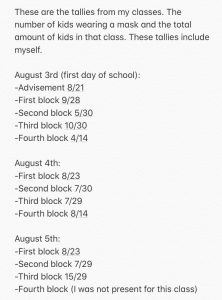 The next day she posted her tally of how many students wore masks in each of her classes.
We Know How to Fix This!
School officials took quick action to remedy the situation: they suspended Hannah and another student for 5 days for "violating phone and social media policies."
When that "kill the messenger" response also went viral, outraged parents and onlookers pounded on school officials. Their outrage was reinforced by free speech experts. "Children do not waive their constitutional rights in school," said the Southern Poverty Law Center, "and the district abused its discretion in suspending these students."
"We share the outrage expressed by people across the country at these wrongful suspensions," the SPLC said, "and urge the school district to immediately reverse and remove them from the students' records."
Then: "To be very clear, discipline decisions are constitutionally the purview of local boards of education," announced the State Superintendent of Schools, Richard Woods. "With that said, I want to encourage our districts and schools to operate with transparency, and to ensure that students and staff are not penalized for expressing their concerns."
In the face of all that, school officials backtracked and "deleted" the suspensions, expunging them from the students' records.
As of this posting, Hannah has 16,600+ followers on Twitter, an increase of over 200,000 percent in a few days.
Then It Gets Ridiculous
"Wearing a mask is a personal choice," Paulding County School District Superintendent Brian Otott declared in a letter to parents, "and there is no practical way to enforce a mandate to wear them."
Really.
Just about any female who went to public school in America can tell you how they were shamed (and forced to go home and change clothes) for such "violations" as wearing tops with not-quite-wide-enough straps, or skirts or shorts that were half an inch too short, or some other tiny infraction of rules — which rules are in place because such clothing is supposedly "distracting" to the boys.
Yet the boys are never told to learn not to be "distracted" by what other students wear. Whose fault is it if they're distracted? The girls, according to obliviotic school officials, because boys will be boys. Isn't it high time we taught our boys to grow the hell up?
So school officials can police the exact spot clothing hits the knee, but "there is no practical way to enforce a mandate" that students follow the guidelines of pretty much every health official in the country to wear a mask to protect their health, and perhaps their lives?
My but aren't they powerless!
…by choice.
And Then it Gets Sad
Which brings us to that Headline of the Week, and total vindication for Hanna and her sister student: "Paulding County School Reports Multiple Covid-19 Cases after Photo of Packed Hallways Goes Viral".
The story under that headline: as of Saturday, 6 students and 3 school staff members had been diagnosed with Covid-19 — after just 3 days of school. I can't but believe there will be many more over the next two weeks.
Notably, that case load didn't include Paulding County School Nurse Amy Westmoreland, who said she was shocked to see the photos above, as well as Supt. Otott's decision to stand behind his refusal to mandate masks, which "confirmed my worst fears," she said.
"I couldn't believe it," she said of the decision. "I mean, part of me knew that it would happen, but I had a little bit of hope that they would do the right thing."
Got that? She expected district officials would fail to do the right thing. It's like she has somehow seen it before. "When all of the information we were getting from the Board about reopening came out, and social distancing might not be possible in certain situations and that masks were a 'personal choice,' I just could not get over that."
She wasn't exposed to Covid by the students she looked after for four years because when the school district announced the schools would reopen without requiring masks, she resigned rather than subject herself to the risk. As a health professional, she understands those risks, even if school officials refused to listen to the experts.
"I do feel like I made the right choice," she said. "Of course, I would love to be there helping the children, but I was not able to provide them with safe care."
How many other school staff will resign rather than be subjected to sick students, the youngest of whom are already massive germ factories even without an out-of-control pandemic? Answer: the more politicians kowtow to political pressures rather than listen to medical experts, the more faculty and staff will resign.
Now What?
With the sudden rush of cases, North Paulding High has closed for cleaning, and will fall back to online learning. For two days, that is: it expects to reopen for in-person classes on Wednesday, still without any requirement that students or staff wear masks.
Good luck, Georgia — you're going to need it. But considering that we "make" our own "luck," it's likely you'll mostly have the bad kind, and your kids and families will suffer greatly for your choices.
Note: Before the school district announced the new cases at North Paulding High School, Paulding County had 1,651 confirmed cases of Covid-19, which has so far resulted in 123 hospitalizations and 22 deaths. On Thursday, the state reported that a 7-year-old boy with no underlying health conditions had died from the disease. Nearby Florida has reported at least 7 child deaths from Covid-19; the youngest a 9-year-old girl.
Update
As of the end of the first week of school, according to district figures, North Paulding High reported 24 new cases of Covid-19 were diagnosed that week. By the end of the second week, they reported 19 more. They did not break those numbers down between students and staff.
The school did open again: it divided the students into two according to last name, and each group is alternating between online and in-person classes.
North Paulding High wasn't the only Covid hotspot in the state. The first-day photo of Etowah High School, in Woodstock, wasn't a candid in the hallways: the kids lined up out front!
What happened next is predictable to anyone with common sense. "This really led to the outbreak and closure of that school," said professor of pediatrics and pediatric infectious diseases at Northwestern University. "In that particular community, the rates of infection are actually quite high, so it probably was not the best idea for that school to open."
Within eight days, the Creekside School District school had 14 cases of Covid-19, with 15 tests of students still pending. Because of that, the school had to close again, and 294 students and staff had to quarantine.
Meanwhile, two other Creekside schools had to close. Creekview High School had 25 cases, leading to around 500 students — over 27 percent of all students — in quarantine. As more tests were done, district officials said, they said they expected that percentage to "significantly increase."
I didn't find numbers for Woodstock High School, but it, too, closed. As far as I can tell, all three schools reopened as scheduled — with alternating online and in-person classes — on August 31.
– – –
Bad link? Broken image? Other problem on this page? Use the Help button lower right, and thanks.
This page is an example of my style of "Thought-Provoking Entertainment". This is True is an email newsletter that uses "weird news" as a vehicle to explore the human condition in an entertaining way. If that sounds good, click here to open a subscribe form.
To really support This is True, you're invited to sign up for a subscription to the much-expanded "Premium" edition:
Q: Why would I want to pay more than the minimum rate?
A: To support the publication to help it thrive and stay online: this kind of support means less future need for price increases (and smaller increases when they do happen), which enables more people to upgrade. This option was requested by existing Premium subscribers.