Odd deaths are a staple story type in True, sometimes as a cautionary tale about what not to do, and sometimes as a way to point out how horribly we can treat others. There has been an update in a 2007 "weird death" story.

When My Thoughts are Provoked
Thanks to reader Gail in California who sent me the update. Unfortunately, I read it while I was in the middle of writing this week's stories, and it occupied my mind so much that I had to get this update out before I could go back to writing.
Yeah, sometimes the deaths make me angry, and sometimes — like in this case — it's the reactions and even "justifications" for the deaths that really get me going.
As usual, let's start first with my version of the story, which also happens to be one of many in my "freak of nomenclature" line, thanks to the victim's oddly appropriate name. It's from True's 14 January 2007 issue:
Strange Way to Die
Jennifer Lea Strange, 28, was found dead in her home in Rancho Cordova, Calif., after competing in a contest on a local radio station called "Hold Your Wee for a Wii" — with the prize being a Wii video game console to the person who drank the most water without peeing. The coroner's preliminary findings are her death is due to water intoxication, which occurs when someone drinks excessive water over a short time period. The contest was held by station KDND in Sacramento, which promotes itself as "The End". (Sacramento Bee) …No doubt it was billed as "Another killer promotion!"
There was such a reaction from readers that I thought I should share more information about the case, which I did in the next issue:
During the radio station contest where Jennifer Lea Strange died from water intoxication, a nurse called the radio station to warn them that what they were doing was extremely dangerous. One DJ said he was even aware of such a case that ended in death, and another shrugged it off: "Yeah. They signed releases, so we're not responsible." (Sure: that'll keep her alive!) The radio station has fired ten people over the incident, including the DJs, and — sure enough — the family is filing a lawsuit over it all. (One headline I saw: "Strange Family To File Wrongful Death Lawsuit"!) That's not the station's only worry: the county sheriff has opened a homicide investigation. And no, Ms. Strange didn't even win the contest, which she entered so she could get the game console for her three kids.
I haven't seen anything about homicide charges, but nearly three years later, the lawsuit has reached its conclusion.
The Evidence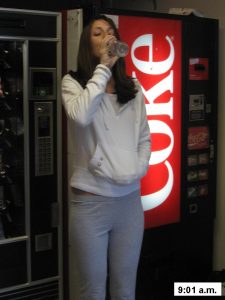 During the case, a tape of the stunt was played to the jury. It not only included a caller warning that such stunts were very dangerous, but also the DJ admitting he knew of the case of Matthew Carrington, a 21-year-old student at California State University, Chico, who died from water intoxication during a Chi Tau fraternity hazing incident in 2005.
Chico is about 85 miles north of Sacramento — within radio coverage of station KDND. A member of his fraternity pleaded guilty to felony involuntary manslaughter and misdemeanor hazing; two others pleaded guilty to being accessories to manslaughter and hazing; a fourth pleaded guilty to hazing. The case led to Matt's Law in California, which boosted such severe hazing cases to Penal Code felonies, rather than Education Code misdemeanors.
The Strange's lawyers asked for $34 million from KDND's owners, Entercom Sacramento LLC, and its corporate parent, Entercom Communications Corp. of Boston. The station denied negligence. But even when they discovered the station knew the dangers of the stunt, the jury wasn't completely sympathetic. They held Strange herself was not negligent in her own death, and the radio station was; but rather than $34 million, Billy Strange and the couple's three children were awarded $16,577,118.
The End of the Case
Entercom said they would not appeal. "Jennifer Strange's death was a tragedy," said spokesman Charles Sipkins. "Our hearts go out to all of her loved ones, including, in particular, her husband and children. While legal restrictions preclude us from commenting further on the verdict, we respect the jury's decision and hope that it will assist the Strange family in coping with its loss."
Strange had drunk about two gallons of water, by the way. She still came in second, behind Lucy Davidson.
Strange was a "selfless" woman who was "totally devoted to her babies," said friend and co-worker Tracy Beam. "She had her hands in anything that had to do with humanitarian activities, diseases, save the Earth or children. I called her a modern day Mother Teresa. Everything was about what she could do for somebody else."
"She didn't have any idea of the health factors," Beam said. "She didn't know the extent of what that kind of thing can do to you."
The Medical Factors
Here's what water intoxication can do: the excess water flushes so much sodium out of the bloodstream that it leads to hyponatremia (hypo — too little, natrium — Latin for sodium; thus, too little sodium in the blood), and the body can't balance its chemistry.
Overwhelmed with water, the organs start to swell, and the heart's electrical system is compromised by the electrolyte imbalance, and the heart can race wildly — or stop altogether. Even if that doesn't happen, the victim's brain can suffer from an incorrectable lesion (central pontine myelinolysis).
Neither is pretty. It's unclear what mechanism killed Strange, but before she left the radio station she could be heard saying on-air that she had a terrible headache; she then ran to the bathroom to vomit, followed closely by Davidson.
Another DJ Weighs In
In a guest editorial in the Sacramento Bee, Bruce Maiman, a former DJ from another station in the Sacramento area, admitted he has run similar contests for years, and notes other contestants in the Strange case "sought financial restitution and got it, as if to jump on a tragedy just for a quick payday."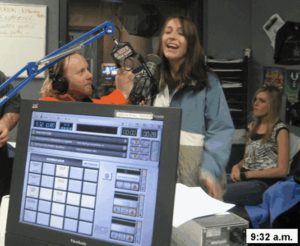 Gee, Bruce: isn't that the exact sort of person that goes for such stunt-themed contests in the first place?!
He even admits "People do stupid things all the time. It's unavoidable. But when given a platform to act stupidly, it creates an opportunity for others to act in poor judgment."
Yep: it's one thing that there are stupid people out there doing stupid things on their own. It's another to invite them to come down to do stupid and life-threatening things live on the air in order to entertain others for ratings. Yet that's what such radio stations are doing, and they've been doing it for years.
Maiman continues: "We can ask the rhetorical question, 'How do you live with yourself?' Apparently we can, because we keep tuning in." Speak for yourself, Bruce. There's also a huge difference between our natural human interest in watching a somewhat horrific human tragedy unfold (hence traffic jams around car crashes by "rubberneckers") and purposefully creating that tragedy by wantonly subjecting people to grave risks for the "entertainment" value.
He goes on: "It seems to me that if you can enjoy somebody in pain, somebody being humiliated, somebody making a fool of themselves, I'm not sure you've got all the genes necessary or all the cells necessary in the brain to appreciate the fact something terrible has happened even when it happens."
Yet, again, Maiman himself admits he has run water-drinking contests. So how do you live yourself, Bruce? "Blame isn't equal," he admits, "but nobody's hands are clean here."
Well, nobody who runs the contests or encourages them, anyway. The rest of us who refuse to play along can sleep plenty well at night.
But I'm with him when he says he's "saddened that Entercom Communications… chose to fight this matter in court rather than admit its degree of culpability and immediately make significant financial amends to the family, which might've been, in the minds of some, far more equitable than the almost $16.6 million awarded in the lawsuit." Hear hear. While it's noble in not appealing the verdict, Entercom should have done the right thing from the start.
It's indeed sad that Strange should be remembered as Yet Another Example of What Not to Do, but perhaps when people read this, they'll think before performing some stupid stunt, and live because they don't want to end up like her. Let's hope, anyway.
(Sources: Los Angeles Times, Sacramento Bee, and Digital Journal)
Update: The End of KDND
KDND first went on the air in 1945, and the stunt led to the station's death. The Strange family's attorney petitioned the Federal Communications Commission to revoke the station's broadcast license on the grounds that the station had not operated in the public interest — a requirement for a broadcast license in the United States.
The FCC apparently took no action, but when the station's license came up for renewal in 2013, a local activist (and former radio/TV producer) contested the renewal on the same grounds. It took the FCC three years to take action: it placed the renewal of the station's license "under review" — subject to a public hearing. Entercom decided instead to turn the license in and flee the market. But that didn't hurt them too much: as of 2018, they own 235 radio stations in the U.S.
KDND shut down at 12:01 a.m. on February 8, 2017. Its call letters have not been reassigned.
– – –
Bad link? Broken image? Other problem on this page? Use the Help button lower right, and thanks.
This page is an example of my style of "Thought-Provoking Entertainment". This is True is an email newsletter that uses "weird news" as a vehicle to explore the human condition in an entertaining way. If that sounds good, click here to open a subscribe form.
To really support This is True, you're invited to sign up for a subscription to the much-expanded "Premium" edition:
Q: Why would I want to pay more than the minimum rate?
A: To support the publication to help it thrive and stay online: this kind of support means less future need for price increases (and smaller increases when they do happen), which enables more people to upgrade. This option was requested by existing Premium subscribers.